| | |
| --- | --- |
| Terriers excited for trip to Death Valley | |
---
| | |
| --- | --- |
| Thursday, September 3, 2015 8:27 AM | |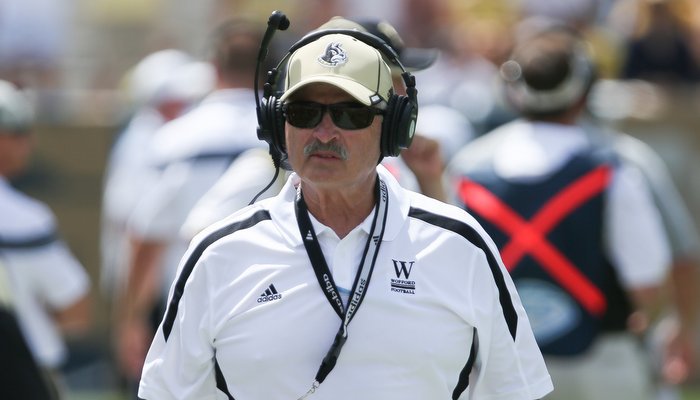 Mike Ayers' Wofford program doesn't run away from games against FBS programs in big-time environments.
In fact, Ayers embraces the kind of game his team will face Saturday at Clemson to open the 2015 season. The longtime Terriers head coach hopes his players will also.
"We have played a ton of these games. Whether it's playing Clemson or South Carolina or West Virginia or N.C. State or whoever, these games mean a lot for our kids," Ayers said during this week's Southern Conference coaches teleconference. "For us as a staff, it's an opportunity to see what kind of job we're doing, as well."
Ayers certainly has done a good job during his time at Wofford, winning 181 games in 26 seasons with the program. If not for the Tigers surviving a scare the last time the two teams played (a 35-27 win in 2011), Ayers would have 182 wins with the Terriers.
Clemson leads the all-time series 11-3 and has won four straight.
"We're excited about going to Death Valley," Ayers said. "That's a great team in Clemson, a tremendous group of athletes that they have, and it's going to be a great challenge for our guys. It's a fun time, the start of a new year, and we will go over there and give it our best shot.
"Oh gosh, it's a tremendous venue. They have a lot of bells and whistles. They come down the Hill and balloons are flying up and the crowd is going crazy. It's just a real neat game venue. The thing we try to emphasize to our guys is to embrace it. We know the deck is stacked against us, and we know if they have 82,000, 80,000 of them will be yelling be against us."
The Terriers have had a powerhouse program in the Southern Conference for years, but they have struggled the past two seasons. They were 5-6 in 2013 and 6-5 last year after reaching the FCS playoffs the three previous years.
But this season's team has 10 returning starters on offense and eight on defense.
"I think we're better than we were last year. We were very young last year; we had two seniors who played for us, and the rest were younger guys," Ayers said. "We're a year older and hopefully a year wiser. When you feel the pulse of the team, I think the kids are excited about the season. They're a close-knit group."
The Terriers' option attack is keyed up front by junior Anton Wahrby, a preseason first-team All-Southern Conference pick, and T.J. Chamberlain, a senior who was a second-team pick. Lorenzo Long, a junior fullback, also was a second-team all-conference pick, along with senior halfback Will Gay.
The defense is led by nose tackle E.J. Speller and linebacker Drake Michaelson.
"I think we've got a good two deep on both sides of the ball," Ayers said. "The big thing is to go over (to Clemson), come out of the game healthy, and hopefully, you do everything you can do to give yourself a chance to win the game.
"We're a team, I think, as the year goes on, we will have the opportunity to get better. Where are we at right now? Give me three hours over in Death Valley, and I will let you know exactly where we're at right now."
*Daniel Shirley is the sports editor of The Telegraph in Macon, Ga., and co-host of The Morning Show on FoxSports 1670 AM. Follow him on Twitter at @DM_Shirley and read his blog at macon.com/peachsports.