| | |
| --- | --- |
| Ten to Watch: Isaiah Battle | |
---
| | |
| --- | --- |
| Tuesday, July 1, 2014 8:31 AM | |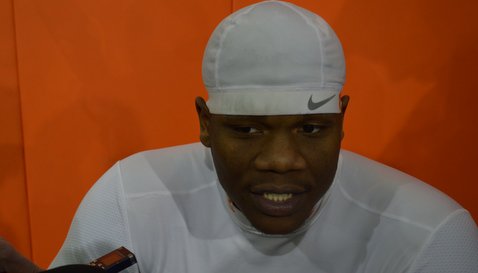 With fall camp still a little over a month away, the media and the fans have begun looking for ways to satisfy their football craving and have turned to analyzing every little aspect of their favorite team's upcoming season.
With that in mind, we sat down with several other media members and members of the Tnet staff over the last few weeks, and came up with Ten to Watch over fall camp and the season. These 10 players cover the gamut – from veterans who have proven themselves on the field of play to untested youngsters who will probably have to play a key role in the upcoming season.
We start with big left tackle Isaiah Battle

Isaiah Battle
Jr. Offensive Tackle
#79 6-6, 280
Brooklyn, NY
View Full Profile , who has battled inconsistency during his first two seasons. Battle, a junior out of Brooklyn (NY) has had his ups and downs during his young career, but showed last season that he can weather the storm after being suspended for punching an N.C. State defensive player and came back to play very well after being named the starter at right tackle for the Georgia Tech game.
"It was hard," Battle said recently. "I was in the doghouse a little bit. I had to fight through it. I had to listen to my teammates about my role when I wasn't able to play in the game. I had to get behind Joe (Gore) or Shaq (Anthony) and lead them and carry them. Sometimes they had to get behind me when my attitude got the best of me. That's how we got better."
It was Brandon Thomas

Brandon Thomas
Offensive Line (2009 - 2013)
#63 6-3, 305
Spartanburg, SC
View Full Profile that first got through to Battle and taught him how to grow both on and off the field.
"He talked to me off the field and taught me right from wrong and what's the best way to go about things," Battle said "The yes sir. Just being a humble person. When you listen, there is more to come and you learn things that you never learned before."
During the spring of 2013, the Clemson coaches wanted Battle to take hold of the left tackle spot so that they could utilize Thomas at another position, but the 6-7, 275-pounder failed to win the position. With Thomas off to the NFL, Battle didn't have a choice and this past spring showed a newfound maturity and poise.
He even took on the mantle of leader.
"Following BT and all of the veterans, we lost some good people," Battle said this spring. "Great athletes. Strong guys. We're trying to get there this year. I'm trying to become a leader and take these younger guys under my wing and tell them what you want to do and the best way to do things. I tell them all of the time [how to do things on and off the field]. They get better at it. I was a little hard headed, but they listen."
Despite his ups and downs, Battle will be looked at as the anchor of this year's offensive line and will be a key piece in protecting first-year starting quarterback Cole Stoudt

Cole Stoudt
Sr. Quarterback
#18 6-4, 205
Dublin, OH
View Full Profile , as well as opening holes for what could be a run-first Clemson offense.
Battle is the only player on the offensive line with any experience at left tackle – he was thrust into action as a freshman in the early part of the Clemson's win over LSU in the 2012 Chick-fil-A Bowl after right tackle Giff Timothy was injured, forcing Clemson to move Thomas to right tackle. In 2012, Battle played 153 snaps over five games. Battle played 359 snaps in 10 games and had 13 knockdowns, mostly at right tackle in 2013.
Battle said that the spring and fall camp will be valuable as the coaches try and find the five best players.
"There are a lot of young guys that are out there that haven't been in a game,"
Battle said. "There were a lot of veterans that left the o-line. We are trying to find that glue to make us stick together. We're trying to find that leadership. We've got young guys stepping up. The summer will be something to watch."