| | |
| --- | --- |
| "Tell me you love me." Guillermo keeps his quarterback loose | |
---
| | |
| --- | --- |
| Monday, November 2, 2015 7:27 PM | |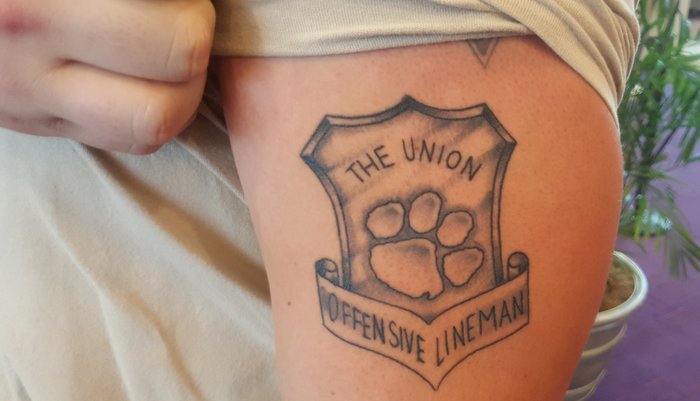 CLEMSON – Jay Guillermo keeps it loose and he makes his quarterback laugh.
Offensive coordinator Tony Elliott told the media last week that he depends on his junior center to keep the offense humming smoothly, saying that Guillermo's humor and affable nature puts everyone at ease. That includes his quarterback.
Sophomore Deshaun Watson is lauded for his calm demeanor on and off the field, shaking off turnovers and bad plays with a shrug of his shoulders and a smile. However, Guillermo admitted Monday that there are times when Watson gets frustrated, and that's when drastic measures have to be taken because the entire offense takes it cue from its quarterback.
"He is our quarterback and he is our offensive leader. We run off of him," Guillermo said. "It's our responsibility on the offensive line to hold him up, not only physically but mentally to let him know we have his back and we are going to keep him upright. Whenever he's confident, we're confident. That helps with him being such a cool, calm and collected guy. It helps everything run smooth and everything runs so much better."
However, Watson does get frustrated, and that's when Guillermo steps in.
"Obviously, he will get frustrated sometimes. And that's when Eric (Mac Lain) and I come over, and I make him look me in the eyes," Guillermo said. "If I ever see him getting frustrated I will make him look me in the eyes and I'll say, 'Hey man, I love you. Tell me you love me.' I always make him do that. Obviously we want to win a football game, but I worry about him. He has a lot of pressure on him and he's in the national spotlight all the time. He handles it very, very well and he handles it so well because he prepares so well."
Watson popped into the fourth floor of the WestZone Monday for a round of interviews, his arrival coinciding with the end of Guillermo's interview session. Watson sat down to do a phone interview with a reporter, and as Guillermo walked by he bent over to whisper something to his quarterback, eliciting a smile. Watson never wavered from the interview, however.
"I have to do that," Guillermo said with a laugh. "I just have to make him tell me he loves me. Once I see him smile I know it's gonna be ok."
Guillermo was sporting a new tattoo during the interview session, a symbol of his connection to his teammates and to Clemson.
"I wanted to get something for Clemson," he said. "I didn't want to just get a paw, and me and Eric were talking about tattoo ideas a few weeks ago. He said it would be cool if I got a patch. So we started thinking and looking up different military patches, and I got the one I wanted. I'm happy with it. We've been calling ourselves The Union since Coach (Chad) Morris got here, and we have a big banner in our room. I just wanted to honor that."