---
| | |
| --- | --- |
| Saturday, November 8, 2014 11:12 AM | |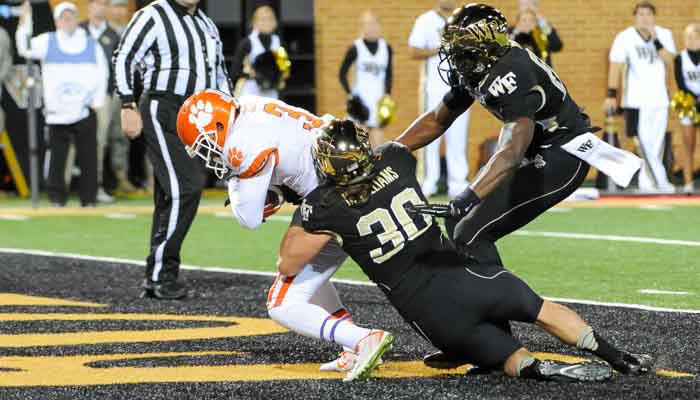 CLEMSON – It usually takes years for a player to mature into a force on the field and a leader in the locker room, but freshman Artavis Scott

Artavis Scott
Fr. Wide Receiver
#3 5-11, 190
Oldsmar, FL
View Full Profile is already making his presence felt.
Scott is Clemson's leading receiver – in terms of receptions – with 53 catches for 624 yards and five touchdowns and has already broken several Clemson records. Thursday night against Wake Forest, Scott scored two touchdowns as part of an eight catch, 122-yard night. It was his 68-yard reception - a simple pitch that saw him race down the sidelines for the score - that turned the game around.
However, it's how he has handled himself off the field and the leadership role that he has taken in the locker room that really sets him apart.
The season didn't exactly get off to the start that the Florida native – or anyone associated with Clemson's program – would have liked with the 44-21 loss to Georgia, and when Clemson got its chance for redemption three weeks later against top-ranked Florida State, Scott felt a calling to stand up and address his teammates.
The usually soft-spoken Scott told the media recently that his decision to get up in front of his teammates prior to the showdown with the Seminoles was just something he needed to do.
"After hearing coach [ Dabo Swinney

Dabo Swinney
Head Coach
View Full Profile ] talk and knowing that we had been going through some things, I felt like it was in my best interests," Scott said after a recent practice. "I don't know something was telling me – maybe it was God telling me that I should go talk to the team. I figured it's my time to speak to the team and let them hear where I'm coming from. I just felt it in my heart that I should go up there in talk."
Scott is used to letting his actions on the field speak for themselves but he knew that if he wants to be the player he wants to be on the college level, he would need to make himself uncomfortable.
"I've never been a person to go out and talk but as I came here and learned new things, I got out of that comfort zone to do something that I'm not used to doing," Scott said. "It was just something I felt like it I needed to do."
With all of the senior leadership on Clemson's team Scott's decision wasn't an easy one, but he thinks he might have gained a little more respect from the elder players as a result of his actions.
"I think [the older players] responded well," he said. "Most people don't do that, so I think they kind of look at me with a different perspective. I'm still maturing but I think they respect me a little more. As we go on, they don't need that."
The outcome of the Florida St. game may not have been what Scott wanted but his message can still be applied as Clemson enters the home stretch of the 2014 season.
"I just said that we're going to get back to where our goal is. We have best as our standard and we're going to get back to where we want to be," he said. "We want to win a national championship one day, and just get back on those goals we have. We know we have to build on some things, and in order for us to get there, we have to come together as one."