| | |
| --- | --- |
| Tavien Feaster: "I'm still 100 percent committed to Clemson" | |
---
| | |
| --- | --- |
| Wednesday, July 29, 2015 2:29 PM | |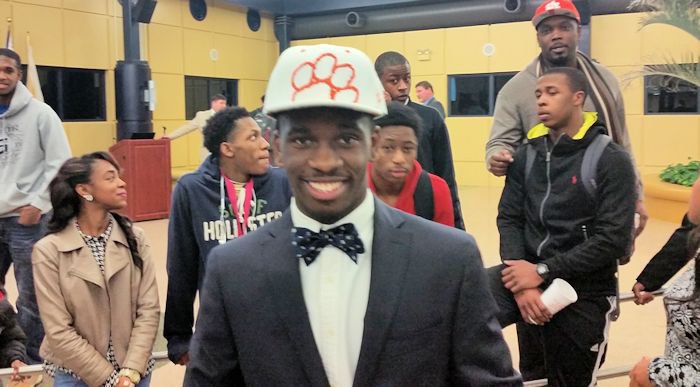 Sometimes we have to go back before we go forward, something Tavien Feaster

Tavien Feaster
Running Back
6-0, 202
Spartanburg, SC
ESPN:


View Full Profile is finding out.
The 5-star running back and Clemson commit out of Spartanburg (SC) took a trip to Tennessee last weekend and created an internet stir. However, Feaster told TigerNet Wednesday afternoon that he's now had time to think things over and realizes he has to get back to where it all started.
Feaster said that things are now beginning to settle down, and he and his mother will be on Clemson's campus Thursday.
"It's going good. I just took a little trip to Tennessee last weekend," Feaster said. "I'm actually going to be at Clemson tomorrow with my mom. We're going to Clemson tomorrow to talk with the coaches and Coach Swinney."
Feaster said he isn't going to deny he had a good time on his trip to Tennessee, but he said he also understands there is more to life than fun. He also understands that Clemson has been there since the beginning.
"I had a great time at Tennessee," he said. "At the time it was fun, but I understand my future and the bigger things in life beyond just football. I believe that I just have to keep listening to Coach Swinney because he led me down the right path so far. I can't just go astray and abandon what he's been telling me, because Clemson has been there from the start. Honestly, I had a good time at Tennessee. I'm going to have a good time tomorrow at Clemson."
Feaster hasn't been on Clemson's campus in months, and he said he's looking forward to the visit.
"Honestly, I just want to get back down there," he said. "I haven't been to Clemson all summer. I haven't been to Clemson in a really long time, as a committed guy. I'm really just looking to catch up with the coaches and talk to them. I haven't been on campus because, honestly, I haven't really even been in South Carolina. I've been traveling a lot and doing a lot of things and when I get some time to myself I just really want to spend some time by myself. That's the real reason."
What is his commitment status?
"I'm still 100-percent committed to Clemson. I had a good time, like I said," Feaster said. "You can't forget the things that happened before you committed. I had a good time, but I go back to where everything was before I made my decision."
NOTE: We will have a follow-up to the visit later this week.