| | |
| --- | --- |
| Tavien Feaster: Coach breaks down his star pupil | |
---
| | |
| --- | --- |
| Thursday, January 8, 2015 8:30 PM | |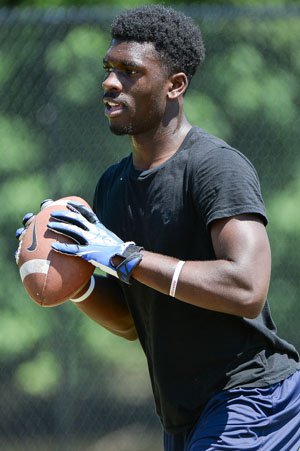 One of the top players in the state of South Carolina for the 2016 recruiting cycle may be ready to make a decision, but what kind of player will his next school be getting? A pretty good one according to his current head coach.
Spartanburg (SC) standout running back Tavien Feaster

Tavien Feaster
Running Back
6-0, 190
Spartanburg, SC
ESPN:


View Full Profile helped lead the Vikings to a state title this past November, and while Feaster is busy taking his shots on the basketball court he's apparently also close to making a final football decision. His father tweeted out earlier this week that a big decision is coming soon, and asked for people to respect that decision.
Feaster rushed for 1,153 yards with 15 touchdowns this past season, but also had 1,016 receiving yards with 11 receiving touchdowns despite missing several games due to a separated shoulder. The Vikings limped out to a 3-3 start, but a nine-game winning streak capped the title season.
He has offers from Alabama, Auburn, Clemson, Florida, Florida St., North Carolina, Penn St., South Carolina and Wisconsin, but has long been considered a Clemson lean.
Spartanburg head coach Chris Miller told TigerNet recently that Feaster is one of the more special athletes that he's coached.
"He is just a phenomenal athlete. There aren't many times in a coaching career that you have a chance to coach kids like him," Miller said. "Fortunately, I have had a couple and have been around a couple that could play that way. He is just a guy that if he's in space, it's hard to get him. He would be hard to tag in a phone booth. He has great speed and vision and he can play on both sides of the ball. But he is definitely one that wants the ball in his hands and can make things happen."
One particular running back that Miller has been around is former Byrnes and South Carolina standout Marcus Lattimore, and he was the first name brought up when Miller was asked who Feaster compares to but also cautioned that every running back has his own style.
"Like I said, I have been around a few of them and they are all unique in their own way," Miller said. "I think that he is definitely that way. He reminds me a little of Marcus in that he is learning now how to run the zone play, and he sees it. Marcus was so good about seeing it and seeing the hole and then making his cuts. Tavien is getting really good at that. Tavien is really good in space catching the ball, and then he can make so many things happen in space. I think he is getting a whole lot better at being able to read that, but open field is his main thing."
Miller said that Feaster earned the respect of his teammates by coming back from his injuries and wanting to play.
"He never wanted to be out. He is one of those guys that is going to try and work through it and unless he just definitely can't go, he wants to be on the field," Miller said. "He is going to work his way through it, and no injury is going to keep him off the field unless he just can't go."
What kind of offense would fit Feaster best on the next level?
"You would think a spread, but I think a lot of teams could build an offense around him," Miller said. "He can do so much, like catching the ball and running the ball. There are so many great offensive teams out there that would love to have him for sure."