| | |
| --- | --- |
| Tavaris Barnes on this season: "It's do or die" | |
---
| | |
| --- | --- |
| Thursday, August 7, 2014 11:29 AM | |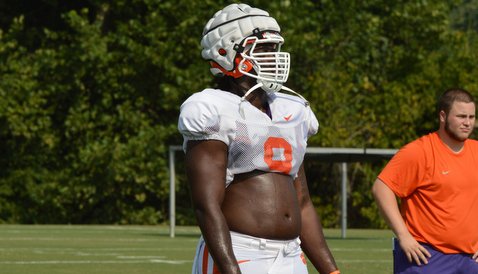 CLEMSON – People across the country may not know Tavaris Barnes

Tavaris Barnes
RS Sr. Defensive End
#9 6-4, 273
Jacksonville, FL
View Full Profile ' name at this point in August, but when December rolls around he expects his name to be in the conversation as one of the top defensive ends in the country.
The redshirt senior out of Jacksonville (FL) has appeared in 34 games and registered 45 tackles, 4.5 tackles for loss, two sacks and nine quarterback pressures during his Clemson career. However, a renewed focus during the spring and a stark realization that this was his last go-round as a college football player has allowed Barnes to develop improved confidence and work ethic.
Barnes told TigerNet Tuesday evening after practice that he realizes his time is now and that he has one final chance to make an impact at Clemson and prove that he is capable of playing at the next level.
"It's basically either you do it or don't. Either you is or you ain't," Barnes told TigerNet. "That's just something that I've developed over the spring. It's do or die. I've got to do it. I know I can do it now. I've got confidence. Like I said during the spring, I'm tired of taking a backseat to people. That's not happening anymore."
The 6-4, 275-pounder has already set his eyes on his goals for the 2014 season and will allow nothing to stand in his way.
"I know I can be a consensus All-American," Barnes said. "I want to be the top defensive end in the nation. That's something that I know I can do, but I have to go out there and show it. It's about being mentally tough and I have that. I have all of the qualities and all of the tools to be able to do that. People are sleeping on me and I'm tired of that. People aren't mentioning my name and that's okay, but I'm letting you know that I'm coming."
Barnes didn't have the focus needed to be a big-time college football player during his first four years a Clemson - plagued with off the field issues – but as he entered his final spring as a Tiger the light finally came on.
"I've matured in a lot of ways," Barnes said. "From previous years, there were off the field distractions. I was letting home issues affect what I did on the field - just dumb stuff. You have to be able to turn it on and off. When you hit that field you have to focus on football, that's what Coach Swinney always says. I didn't really get that until this year."
That sense of urgency was apparent during the spring when Barnes worked out three extra days during the week to make sure he was prepared for his final season.
"When we had practice on Monday, Wednesday and Friday in the spring, I was with Scott Littlejohn – my personal trainer - on Tuesday, Thursday, and on Saturday mornings," Barnes said. "This is my last year. Burnout or not, you have to bring it every day. That's what I learned; just being at Clemson - a top program - you have to be ready to go. You have to have that motor and that's something I brought during the spring and tried to work on that during the summer."
Barnes said the work ethic and maturity that he developed during the spring carried over into the summer as he continued to work with Littlejohn, and he returned to campus in July in shape and ready to prepare for the season.
"Just working out every day. I actually didn't come summer one, but I was working out with my own personal trainer," Barnes said. "I developed a close, personal relationship with him during the spring. I was working out with him every other day. Everyday, I was with him grinding in June. When I came back Coach Swinney told me that they were going to keep a close eye on me to make sure I was in shape. I passed all of my conditioning tests. They thought I was going to be a step behind, but I showed them that I was ready to work. I was a little bit inconsistent when I came back, but since then I've been locked in."
With Corey Crawford

Corey Crawford
Sr. Defensive End
#93 6-5, 276
Columbus, GA
View Full Profile suspended for the opener against Georgia on August 30th, Barnes will have the opportunity to capture the attention of his coaches and fellow players, as well as Clemson fans and the college football world.
"I would be lying if I said that I wasn't. Corey is a great player, a great guy, but at the end of the day, it's about competition," Barnes said. "It's about that player, that top guy. Who's going out there first?I'm just going to put myself in a position to where I can go out there and not come off the field. Go out and enjoy the game and ball out, I want to do that the whole season. It's all about the consistency."