| | |
| --- | --- |
| Targeting: Smith out for first half at GT after questionable ruling on hit | |
---
| | |
| --- | --- |
| Friday, November 7, 2014 12:00 PM | |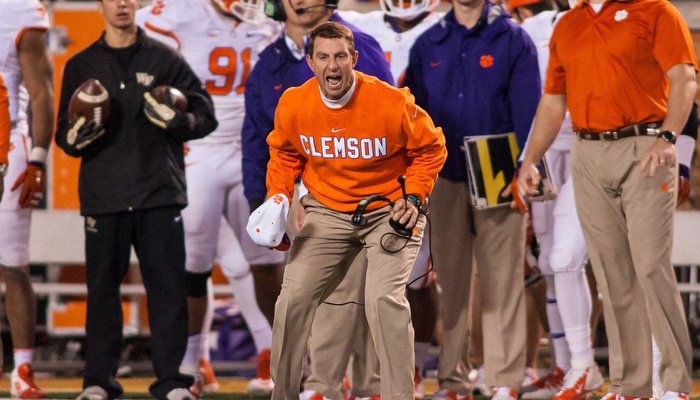 WINSTON-SALEM, NC – Senior safety Robert Smith

Robert Smith
Sr. Safety
#27 5-11, 211
St. George, SC
View Full Profile walked out of the Clemson locker room following the Tigers' win over Wake Forest Thursday night with a dejected look on his face, and even the best efforts of the Clemson fans left in the area did little to change his countenance.
Smith will miss the first half of next week's Georgia Tech game after a fourth-quarter 'targeting' flag, and Smith was tossed after the hit he put on Wake tight end Cam Serigne. The third-down play also resulted in a personal foul and automatic first down. The play was reviewed, and despite angles that appeared to show a clean hit, the call was allowed to stand.
The call allowed the Demon Deacons to drive down the field and tie the score at 20-20.
Clemson coach Dabo Swinney

Dabo Swinney
Head Coach
View Full Profile said during his postgame press conference that he thought it was a clean hit.
"I saw a good football play. Everybody's got an opinion," Swinneys said. "I saw a good football play. That's why they wear the stripes or whoever in the box. It's disappointing. That's just football. They're going to make calls the way they see them and you have to live with the call. Me personally, I thought it was a good football play.
"I'm the coach – not the ref. It's disappointing you got a guy that's gotta miss a half of football for what looked like a good play to me. I don't know how to coach it different. I've got to figure something else out. It was kind of a bang-bang play. They saw something that I guess I didn't see."
Swinney said that he was proud of the way Clemson's defense responded after the call.
"That's the way it is," Swinney said. "They have to do their job and our guys have to respond and our guys did. We got off the field and came back and the offense took it over again and we found a way to win the game."
Swinney said he was disappointed for Smith, a standout in both the pass game and in run defense.
"I hate it for Robert," he said. "There's not a better player, better person and a cleaner football player on our team than Robert Smith. I hate that he has to miss a half next week. Last year we could have (appealed). With the change they've made (this off season), I don't think we've got an appeal. We have to live with it."
Senior corner Garry Peters

Garry Peters
RS Sr. Cornerback
#26 6-0, 194
Conyers, GA
View Full Profile said he watched a replay of the hit on the BB&T Field scoreboard with one of the officials, and the official told Peters he was sure the call would be reversed.
"I don't feel like the call on Robert was targeting at all. It's crazy," Peters said. "I was out there talking to one of the refs that didn't call it and he was saying that it was perfect form tackling and that it doesn't get any better than that. He said that they would reverse the call and the next thing you know they came out and said that it was targeting. It really hurt Robert and it's really getting to him. I feel like that was a bad call. Some of the pass interference calls – sometimes you're going to have that out there."