| | |
| --- | --- |
| Tanner Muse talks baseball, football and spring plans | |
---
| | |
| --- | --- |
| Tuesday, March 17, 2015 7:01 AM | |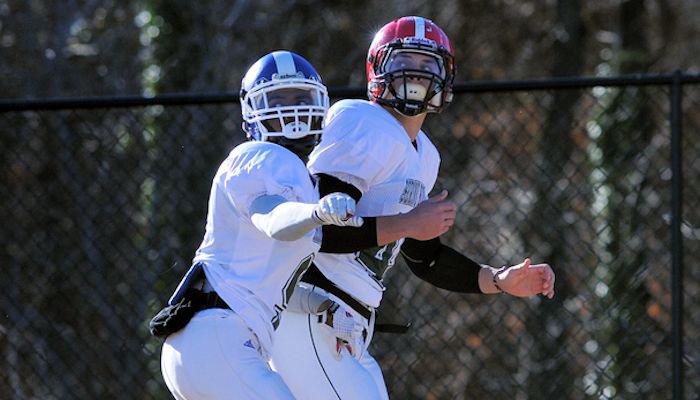 Tanner Muse is a two-sport athlete whose favorite pastime simply depends on the season. In the fall it's football and in the spring it's baseball.
The Belmont (NC) South Point safety/outside linebacker and 2015 Clemson signee decided not to enroll at Clemson for the spring semester in order to pursue opportunities on the diamond, but with the season not going quite how he would've liked Muse can look to what lies ahead at Clemson.
Muse told TigerNet Monday evening that baseball season has been a disappointment thus far, but for the time being he's focused on finishing out the season before he can wear the hat of a football player once again.
"It's been rough both individually and team wise," Muse told TigerNet. "We're 2-2 and the games we lost we shouldn't have. We've lost on comeback wins for the other team. I haven't been hitting the ball very well, so it's just been bad all around. Honestly, I'm just going to see how this turns out baseball wise and just keep playing and anything more is a blessing. After baseball season, I'll be locked into football and I'll be a football player."
Muse is still a few months away from enrolling at Clemson, but he said that he's kept an eye on what's going on with the Tigers through the first part of spring practice through his frequent conversations with recruiter and defensive tackles coach Dan Brooks

Dan Brooks
Assoc. Head Coach / Def. Tackles
View Full Profile .
"I talk to Coach Brooks once or twice a week," Muse said. "We always try to keep up with each other and see how each other is doing. All of the football talk was during my sophomore and junior years - it was football, football, football. Now we've been talking to each other for so long and we've known each other for so long, it's more about life and how we value it.
"I've been keeping up with spring practice. I really need to get up there soon. I've been really slacking, but with baseball season it's been kind of hard on weekends and weekdays. I'm going to try to make it up there soon."
He also said that he has been keeping up with the Clemson baseball team and hopes that head coach Jack Leggett

Jack Leggett
Baseball Head Coach
View Full Profile will give him a chance next spring.
"The baseball coaches just tell me to play the best that I can," he said. "They're supposed to come watch me soon now that my conference has started. They just tell me to play the best that I can and they'll work with me when I get to Clemson. I hope that I can come in and help the baseball team. It's just a matter of how well I'm hitting when I come in or if I'll be able to get it back after football season and be able to get it to that level."
The 6-3, 207-pounder said the he hopes to make it to Clemson several times over the next couple of weeks in order to spend time with both the football and baseball staffs.
"I'm definitely going to come down for the spring game," Muse said. "I'm going to try to come down for the [North] Carolina series in baseball and maybe another series. I know there's a Louisville series coming up soon in baseball, so I'm going to try to come down to talk to Coach Leggett and Coach [Bradley] LeCroy and then be able to sit down with [defensive coordinator] Coach [Brent] Venables and watch film."