| | |
| --- | --- |
| Tanner Muse: Plenty of options but plan is still to enroll at Clemson | |
---
| | |
| --- | --- |
| Monday, May 25, 2015 7:01 AM | |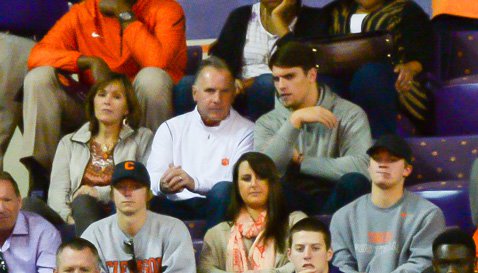 Tanner Muse

Tanner Muse
Fr. Linebacker
# 6-4, 205
Belmont, NC
View Full Profile has plenty of options as May heads into June, but as of right now the 2015 Clemson football commit expects to be on Clemson's campus to begin classes and summer workouts in June.
The Belmont (NC) South Point safety and Clemson signee is still in wait-and-see mode regarding baseball and the upcoming draft but after his senior season didn't live up to his expectations, the plan is to play both football and baseball for the Clemson Tigers.
Muse hit .379 with two home run and 18 RBIs last season but told TigerNet Saturday afternoon that those numbers were off the mark for what he was looking to do.
"I don't feel like I did as well as I could have. I didn't hit the ball as well as I wanted to, but it was a good year," Muse told TigerNet over the weekend. "I was kind of disappointed team-wise and individually. I wanted to top last year's numbers because I felt like I hit it pretty well. My goal was to be higher in every category than I was last year."
However, the numbers were good enough for Muse to be selected to play for the Gastonia Grizzlies - a collegiate baseball summer team - and for head coach Evan Wise to fight the NCAA to have Muse included in the opening day lineup.
Muse didn't receive word that he was cleared to play - fearing his participation would affect his Clemson eligibility - until hours before first pitch; however that didn't affect his performance, as he singled in his first at-bat.
A good performance in this summer league, could help Muse in this summer's upcoming MLB amateur draft, but again, he's just going to wait and see how it goes.
"There are a lot of mixed opinions. There's nothing for sure, so I'm just going to wait it out and see what happens," he said.
Clemson coaches and fans shouldn't be worried as Muse said he is sticking to his plan of enrolling in Clemson in mid-June
"I told the coaches that I was going to play with them [Grizzlies] and they were okay with it," he said. "They understood. The 21st of June is when I will be reporting as planned. I'll just play a couple of games and then leave. It's kind of more for publicity than anything. I was asked to do it and just told them, 'yes.'"
Muse recorded 109 tackles and returned two interceptions for touchdowns on defense and rushed for 1,230 yards and 17 touchdowns as a running back during his senior season. He assured recruiter and defensive tackles coach Dan Brooks

Dan Brooks
Assoc. Head Coach / Def. Tackles
View Full Profile that he was doing everything he needed to do to be prepared to make an impact on the Clemson football team.
"I talked to them yesterday about this whole situation," he said. "I talk to Coach Brooks once or twice a week and we just kind of talk and see how each other is doing and that kind of stuff. Coach Brooks just wants to make sure that I'm preparing myself for when I get to Clemson."
Once football season is over, it will be right back to the diamond for Muse
"They're [the Clemson baseball coaches] telling me that I'll be able to play both football and baseball. I'll play football and once that's done, I'll head over to baseball," he said.