| | |
| --- | --- |
| Syracuse coach says Orangemen "excited to attack" top-ranked Tigers | |
---
| | |
| --- | --- |
| Wednesday, November 11, 2015 1:33 PM | |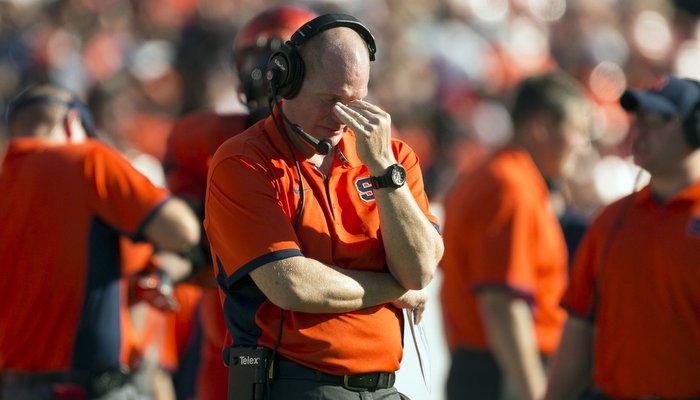 The Syracuse football team got off to a 3-0 start this season, the best start for the program since the same start to the 1991 season. That team started 4-0 and finished 10-2, including a win over Ohio St. in the Hall of Fame Bowl.
This season has turned out different for the Orangemen – they've lost six in a row since that 3-0 start, giving up at least 40 points in three of those games and 34 in another. It doesn't get any easier for Scott Shafer's squad as they host top-ranked Clemson this week in the Carrier Dome, something that Shafer says is a "heck of a challenge."
"The team has continued to work extremely hard. They are fighting the good fight to get better with all the things we are coaching them up to do," Shafer said during his weekly press conference. "We know that we have one heck of a challenge with the number one team in the country coming into the Dome. It's a great opportunity for us to go head to head with the best. It's not easy when things aren't going the way that you want it. It's also an opportunity to judge your character, dig down from the depths of your mind and your guts and keep fighting. Let's find that extra energy. Let's do the opposite of what a lot of people do when times are down. We are never going to throw the towel in. We are never going to hang our heads. We will keep fighting until there is no time left on the clock."
Syracuse is 101st nationally in total defense (430.8 yards per game) and 92nd nationally in scoring defense (30.7 points per game) and must contend with Clemson's potent offense.
"First and foremost, if you look at the offensive side of the ball, everything starts with Deshaun Watson," Shafer said. "He's a great football player. He has been extremely decisive in his choices and decision-making on the football field. They have done a very nice job of coaching him and he is taking the coaching and you can see that he's really grown. You can see that he has been eager to be one of the best quarterbacks in the country.
"He has had some great people to throw it to. You look at some people like Artavis Scott and say, boy what a great athlete on the outside as well as [Charone] Peake or Ray-Ray McCloud who is a very good football player that can make plays. They have a lot of depth at the wide receiver and slot receiver positions. There is just a lot of talent. I think their offensive line is as good as we've ever played them. They are obviously big kids, but they are also extremely athletic and are all on the same page. You have to give big credit to the job that coach Swinney and his staff has done."
The Syracuse offense is 117th nationally, gaining just 331.6 yards per game, and will deal with Clemson's top five defense.
"When you flip it over to the defensive side, you have a typical Clemson defense with speed and length up front at the defensive end position with Shaq Lawson on one side and [Kevin] Dodd on the other side," Shafer said. "They have some backups who are young freshmen that are extremely talented young men."
Clemson started out as a 26-point favorite, but Shafer said his young players will be excited to have the opportunity to "attack the best team in the country."
"I think this is all what we grew up hoping to happen in working hard to get to this point. These young players in their career have the opportunity to play against the best in college football," he said. "Like I told the kids on Sunday, those opportunities don't come easy. All of the hard work that they put in to get to this position to sit in this team room and have the opportunity to play an unbelievable schedule including this week against number one Clemson is what you dreamt about when you were a young man and now you're living the dream. Let's not forget that and let's go out there and leave everything we have on the football field. We are all excited to attack the best team in the country."