| | |
| --- | --- |
| Syracuse Travel Blog: Day Two | |
---
| | |
| --- | --- |
| Saturday, October 5, 2013 12:42 PM | |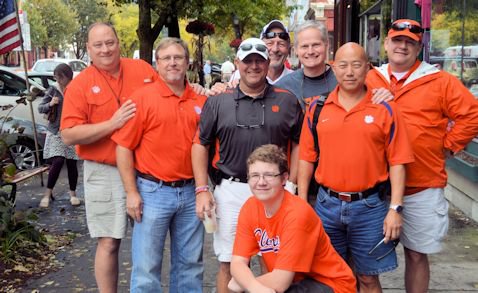 SYRACUSE – Dear Atlantic Coast Conference, can we make sure that whenever Clemson plays at Syracuse every other year, it's early in the month of October?
Day two of our travel to Syracuse started late – Brad Brownell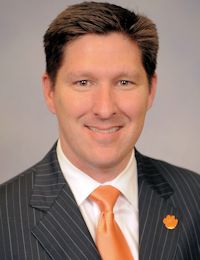 Brad Brownell
Head Coach
View Full Profile had a commitment from a 4-star and football had a commitment, so we didn't get on the road to Cooperstown until after 11.
The first part of the trip was down the toll road – it was the quickest route – and let me say something about the toll routes up here. In the South, it seems like we have an exit every two miles or so, with a McDonald's or Waffle House at every single one of them.
On these toll routes, the exits are few and far between, but they have Travel Plazas like you see in Europe. The one we stopped at was one big building – you had gas pumps on the outside, and then there are Starbucks, Burger King and Sbarro on the inside. They also have a Travel Mart with different items – it truly is one-stop shopping, and the places are clean and convenient.
Here is a link to the one where we stopped: http://www.thruway.ny.gov/travelers/travelplazas/tp-oneida.html
We exited at the town of Mohawk, and we followed Highway 28 all the way to Cooperstown. Let me get this out of the way right at the start – the leaves have changed up here, and the foliage is absolutely gorgeous, and that drive down 28 is one of the prettiest I've seen. There are big farms, old barns and little villages with old homes that are two and three stories, and the scenery is spectacular.
The people up here – maybe because they actually have cooler temps sooner than we do – really get into Halloween and the whole feel of autumn. Most of the houses had some kind of seasonal decoration, and several went all out with the Halloween decorations.
Just a little over midway between Mohawk and Cooperstown is Canadarago Lake – do a Google image search. There are several lake houses that abut the lake, and with the fall foliage and the foothills of the Catskills in the background, the views are quite picturesque. I stopped what seemed like every half mile and snapped a picture.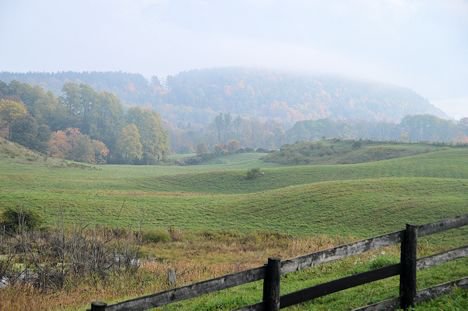 Once we reached Cooperstown, I noticed there are several Bed and Breakfasts located up and down the streets, and if you had the time and money, any one of them would be a perfect place to stay if you wanted to stay a couple of days in Cooperstown. Look up Baseball Bed and Breakfast, and you will see what I mean.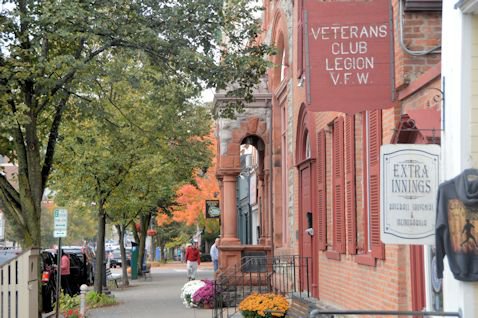 We parked downtown – really close to the National Baseball Hall of Fame – and the parking was free on the day we were there. I was told that it costs $10 to park all day during the peak of the season. Once we parked, it was a quick walk down to the Hall of Fame, and we spent several hours looking at the exhibits and plaques. For a baseball guy like me, it was nirvana. It wasn't crowded at all, and because we had on Clemson shirts, we were stopped quite frequently.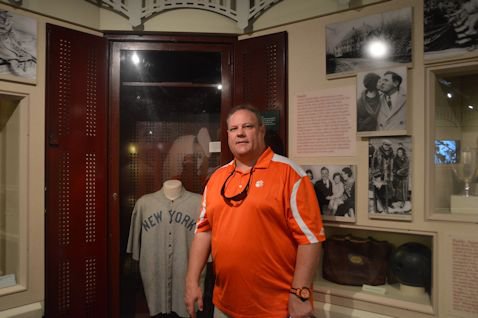 Perhaps the most interesting of those stops was one of the technicians there at the Hall – it was obvious right away that he hailed from Ireland, and when I asked he said he came from Belfast during the "Troubles." He met a girl from Cooperstown, and now they live there and he works at the Hall of Fame.
However, the reason he stopped me was because he is also a Buffalo Bills fan, and he showed me a picture of his car, which has the vanity license plate CJ28 on the back. It turns out that he and his two sons are huge C.J. Spiller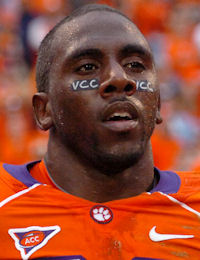 C.J. Spiller
Pro Running Back
#28 5-11, 195
Lake Butler, FL
View Full Profile fans, and each weekend that the Bills play at home they make the 428-mile round trip to cheer on C.J. and the Bills.
Once we finished in the Hall of Fame, we walked over to the Cooperstown Bat Shop, where if you buy a bat you get two free lines of engraving. I bought a mini-bat ($13) that was a replica of Wonderboy from the movie The Natural, and we got the engraving. On the bat rack behind the cash register, there was a Clemson two-dollar bill that the owner was quite proud of. She said Clemson fans had been in and out all morning, and she was keeping that bill on her "wall of honor" for everybody to see. She told us that everybody in Cooperstown follows Clemson because of former baseball player Phil Pohl, who was from Cooperstown.
Bat in hand, I wandered over to Doubleday field, and we walked around the grandstand and took some pictures before heading out. On the way back to Syracuse, we opted to avoid the Thruway and we took Route 20 back to Syracuse, and we had more of the little towns and villages and fall foliage.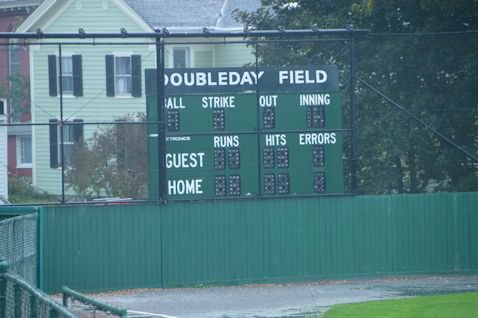 Cooperstown was wonderful – it's exactly what you would expect it to be, with all of the souvenir shops and tourist attractions that are built around baseball and the Hall of Fame. But the village itself is gorgeous, Main St. is well worth the drive, and if you get out and walk or drive around the neighborhoods, you will enjoy yourself immensely.
We saw dozens of Clemson fans in Cooperstown – my buddy Jim Storey was a surprise as he and a group was in line in front of us at the Hall of Fame. The group that we met at Niagara Falls? We met them again in the plaque room. There was also a very large group outside on Main St. that we stopped and talked to. Heck, I even had a guy in a Syracuse shirt with a very New York accent stop and boo me as I walked past. He then told me to tell the Tigers to take it easy on Cuse.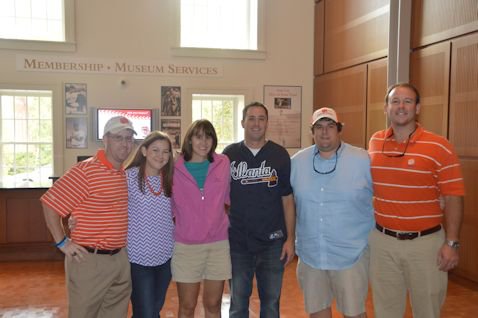 The drive to Cooperstown from where we were staying was about 90 minutes on the toll road. The drive back via Route 20 was about twenty minutes longer. Is it something I will do when we come back in two years? Absolutely.
Day one of the Syracuse Travel Blog