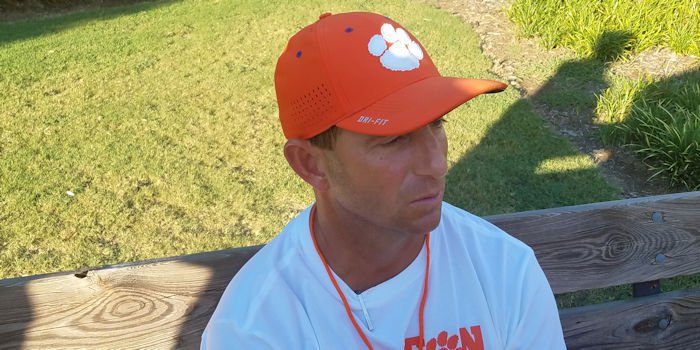 | | |
| --- | --- |
| Swinney updates injuries as Tigers are Takin' Care of Business | |
---
CLEMSON – Bachman Turner Overdrive's hit song Takin Care of Business blared from the loudspeakers on Clemson's practice field Wednesday afternoon, and head coach Dabo Swinney says the song is one that is frequently played before a game.
The third-ranked Tigers finished up this week's practice for Friday night's game at Boston College with a two-hour session, and Swinney said taking care of business has always been the message.
"That's been the message. We've played that the last period of practice for the last eight years. That's how we finish practice every Thursday since I've been the coach," Swinney said after practice. "And then the first one we play on Monday is Another One Bites the Dust on Monday if we win. We've been doing that for eight years. Two great songs. Every time I hear them I'm like, 'Alright, another great week of prep behind us' and when the next one plays its well, we got another win.
"We have had a good practice this week and we're looking forward to a great trip up there. We've got some guys that have never been up there - we only have 14 of the 72 that are traveling that have been to BC. They are excited about going up there. It's a new place for a lot of them. We have to play well. We have a lot of respect for these guys. For us it's trying to play our best game and play with that same hunger we had to win last week and see if can cut out some of those turnovers and mistakes."
Swinney said the team is focused on beating an Eagle team that will be honoring 9/11 hero Welles Crowther. The game also marks the site of Swinney's first win as head coach.
"This is the Red Bandana Game. It's Friday night and there will be a great crowd. I am looking forward to it," he said. "The continuity of our schedule has been hard. I am looking forward to that after this game, to just get back into our routine. They haven't really had a day off, but today I felt like they were dialed in. We will get them out of here and get them up there and they can rest tomorrow night and Friday morning. We are just anxious to go play another game. This is six of 12 and it's the next game.
"I was telling C.J. (Spiller) and those guys earlier today that was the first game I won as a head coach. Things didn't go well early, but C.J. took back that kickoff and didn't get it quite to the goal line and Aaron Kelly punched it in. Then old D-Mac (DeAndre McDaniel) and the defense held on. That was win number and now we're closing in on win number 81. Boston has always been a special place to me."
"He has been good. He will travel with us and be ready to roll."
"He's doing really good. He's actually a little ahead of what I thought he would be. He's coming and telling me every day that he's playing against NC State. That's his mindset and that's good. I think he's grinding every day."
On ACC Athletic Directors voting to stick with 8-game conference schedule
"I think it's great. To me, that makes the most sense for us right now and where we are. I guess anything can happen in the future, but that's the best route."
Would he like to work Tavien Feaster in this week?
"I'd like to get Adam Choice and C.J. Fuller in there first because they are in front of him right now. It's not that he's not ready, we just have some good players there, and we want to play those other guys. I want to play those other quarterbacks, too, but No. 4 (Watson) is our guy. But as the game dictates, we'd like to get three or four of them in there this week if we can."
Christian Wilkins playing at home
"Christian has never been more excited for a game than this one. He will be geeked up and ready to play, and it's a good thing for him we only have one player from the state of Massachusetts on the roster. I think a lot of people have a hard time getting to Boston so every available ticket I think the players have were given to Christian Wilkins. Hopefully he will play well and give them something to cheer about."

Upgrade Your Account
Unlock premium boards and exclusive features (e.g. ad-free) by upgrading your account today.
Upgrade Now