| | |
| --- | --- |
| Swinney to personally watch prospect with 5-star heart and 5-star attitude | |
---
| | |
| --- | --- |
| Friday, June 5, 2015 7:01 AM | |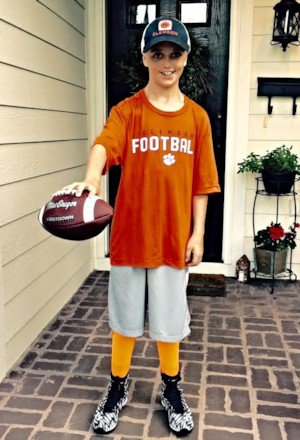 Dabo Swinney

Dabo Swinney
Head Coach
View Full Profile 's summer camps are the time when the Clemson coaching staff takes a look at some of the younger players across the region as they consider submitting offers. It's also a chance for the coaches to get another look at current or prospective commits in an effort to get the best players in the program.
This Saturday will be a little different as the coaches take a look at a young running back who doesn't have five stars from ESPN or any recruiting service, but has a 5-star heart and 5-star attitude.
Before we get to that story, however, we need to do a little background.
THE BEGINNING
In 1990, a young wide receiver named Roman Colburn walked on at Alabama and met a young wide receiver named Dabo Swinney, forming a lifelong friendship.
"I walked on in 1990. I got there the same year that Coach [Gene] Stallings did," Colburn told TigerNet this week. "I was kind of in the walk-on locker room in 1990. In those days, it was separate. They had it segregated. You had the walk-ons and the scholarship players. Dabo was one of the first guys that kind of took me under his wing. He played the same position I did - receiver. He had been there two years prior and he said, 'Hey Roman, this is kind of the deal. This is what you're going to face. It's going to be tough. The first two years you're probably going to be on the scout team and getting pushed around.' And, that's really what happened. In 1992, I started playing on special teams and that was the year we won the national championship."
It didn't take long for Swinney to earn Colburn's respect.
"That was Dabo's senior year and Dabo had already kind of earned his spot the year before and in 1992 - playing receiver sparingly and being on special teams," Colburn said. "He was just a guy that went all out in everything he did - in practice, whatever. He wanted to see how many balls he could catch in one day without dropping one. He was a guy that I looked up to and tried to pattern myself like, because he earned a scholarship and that's what I was trying to do.
"I got real close with him and he left in 1992 and came back as a graduate assistant and helped out with my receiver coach Woody McCorvey and we became closer even then. When I left in 1995, I had earned a scholarship, lettered three years and had a national championship ring. I went on into the Army and became an officer and lost track with everybody."
Once Swinney took over the Clemson program Colburn was able to reconnect with several of his friends.
"When Dabo started coming up with Clemson, becoming the head coach, and Coach McCorvey was over there and my special teams coach, Danny Pearman

Danny Pearman
Assist. Head / ST / TE
View Full Profile , is over there as well," he said. "I know Dabo's brother. It kind of all fell into place a couple of years ago and I took my oldest son to his camp, instead of Coach (Nick) Saban's. Even though I was an Alabama graduate, I just don't know too many people under Coach Saban's staff, but on Dabo's staff it was like a homecoming for me. I took my oldest son two or three years ago and had a great time. We got to hang out with Coach McCorvey and Dabo and got to see his brother and Coach Pearman. It was a great deal. When the Reese thing came along, there was no doubt who I was going to pick up the phone and call and ask for a favor. I've met Coach Saban a couple of times but I felt closer to Dabo Swinney as a friend and a teammate - somebody I knew would step up when I needed him."
REESE
Ten years ago, Colburn and his wife Jennifer welcomed Reese into the world, but Reese was born with Hypoplastic Left Heart Syndrome. In children with HLHS, for unknown reasons, the left side of the heart does not develop properly while the baby is in the mother's womb. The parts of the heart that are usually affected are the mitral valve, the left ventricle, the aortic valve and the aorta. In the normal heart, red blood returning from the lungs, flows from the heart's left upper chamber called the left atrium through the mitral valve to the left ventricle where it is pumped through the aortic valve and out to the body. In babies with HLHS, the left side of the heart is underdeveloped and cannot pump enough blood to meet the body's needs.
Reese was flown to Boston the day he was born, the first of many surgeries.
"He's had three open heart surgeries. The day he was born, they put Reese and I on a medical Leer jet and flew us straight to Boston and had a full medical staff," Colburn said. "Jennifer - my wife - who had just given birth had to stay back. She was still recovering. Jenn came up two days later. Next thing we know, we're in open heart surgery. The reason they had to do that is because with hypoplastic kids, in the 1980s it was called Blue Baby Syndrome and they didn't really have a surgery for that, so kids would only live three or four days because they weren't getting enough oxygen to the brain.
"It's a three-part series. You have one when you're born and then you come back six months later as the heart develops a little bit more and then you come back at two years old when the heart is almost fully developed and more mature and able to take on that final procedure. He survived all three of those and is doing well. Since then, we've been back two more times for some catheters. They've said that he's done exceptionally well. We may have to get a pacemaker in the future and maybe in his late 20s he might be eligible for a heart transplant if he so desires. We've kind of held back from that because it's a major, major undertaking. We've already been through a lot and we're just glad he's alive. We're not really concerned if he ever plays athletics again. It's been tough on him."
PLAYING RUNNING BACK
The condition means that Reese isn't allowed to play football, and doctors tell him if he really wants to play sports he needs to limit himself to baseball and golf. That hasn't stopped the inspirational 10-year old from wanting to follow in his family's footsteps, however, and eventually one day suit up for the Crimson Tide.
"I didn't let (older son) Rocky play Pee Wee football. My dad was a high school coach here in Alabama and we just didn't believe in doing that, so it's been easier on Reese because he hasn't seen his older brother play," Colburn said. "Rocky started this year playing middle school football and I think that was tough on Reese - him sitting in the stands watching Rocky. Now he's in the third grade and some of those kids are starting to play Pee Wee football. It's been very difficult for him, especially during P.E. class."
It also makes it hard for Roman to say no.
"I don't know where he gets it from but he's got this drive and heart about him that he goes full throttle. He wants to be the best at everything. He wants to be a UFC fighter. He loves WWE wrestling," Colburn said. "The doctor told him, 'Hey Reese, you can only play these sports - golf or baseball - because of the cardiovascular restrictions.' For Reese, that just kills him. We put him in golf and did baseball but he said, 'Dad, I don't get hit anybody. I don't like that sport.' So, I asked him what he wanted to do and told me he wants to play running back."
"I don't have the heart to tell him no. What I do is every six months we go to pediatric cardiologist here in town and I say, 'Reese, you write down the sports you want to play,' and I make that pediatric cardiologist be the one to tell him. He told him, 'Reese, you just cannot play football.' This past time it really affected him. He was really depressed about it and we even had a child psychologist meet with him. I didn't know where to turn."
And then Colburn thought of a former teammate who is doing special things in the foothills of South Carolina.
"The first person I thought of was Dabo, so I picked up the phone and texted him. I said, 'Dabo, he's really hurting and anything you can do.' I thought Dabo may say that he'd send him a t-shirt or something like that but we can't take a risk like that at camp," he said. "I would've understood that and it would've been fine and Reese would've been excited. But, Dabo texted me that night and told me to get 'Reese up there for camp and not only is he going to be in the camp but he will stand me and we'll make sure he has a great time. I'll put him in for one play and we'll pull him back out.'
"You'll never know what that meant to us for him to take the time to do that and say that. When I got off the phone and told Reese that, it was like his whole world changed. It meant a lot to him. Today, we went out and bought his cleats. He's really excited to just be a part of it. It means a lot to me and Jennifer just to see that, because I know athletics was all I ever had. I grew up around it my whole life with my dad being a coach. I couldn't imagine not having it and I know it's tough on him. It kills him and it kills us for him not to be able to do it. It's a big deal to us. It's a big deal to him. It's all he talks about."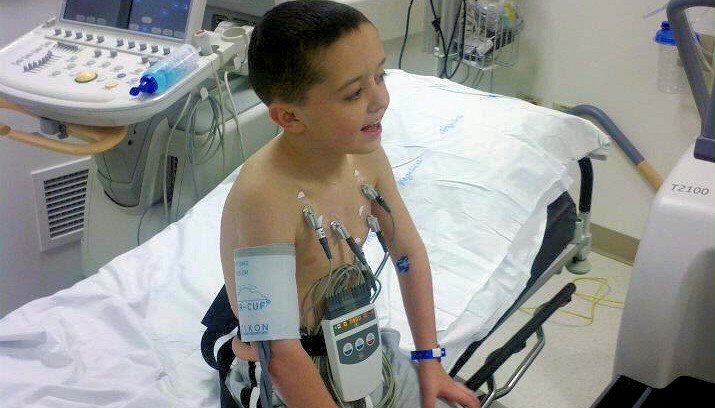 Reese and his family will make the trek from Alabama to Clemson Friday, and Reese will suit up for his chance to play running back for Swinney Saturday.
"We're avid Alabama fans, but we will be wearing Clemson gear when we show up on Friday," Colburn said. "It's a big deal. I don't even know if Dabo knows how important it is. It's all Reese has talked about. We've been practicing out in the yard and going over different plays."
Reese even asked if it the opportunity means he will receive a scholarship offer from the Clemson coaches – if so, he has a lot to think about and might decide to go with Alabama.
"He even asked, 'Dad, does this mean they're going to offer me a scholarship, because I might need to think about that,' because he was wanting to go to Alabama," Colburn said. "I told him to just take it one day at a time. He's pumped about it. We'll come in Friday evening and be there with him Saturday and Sunday."