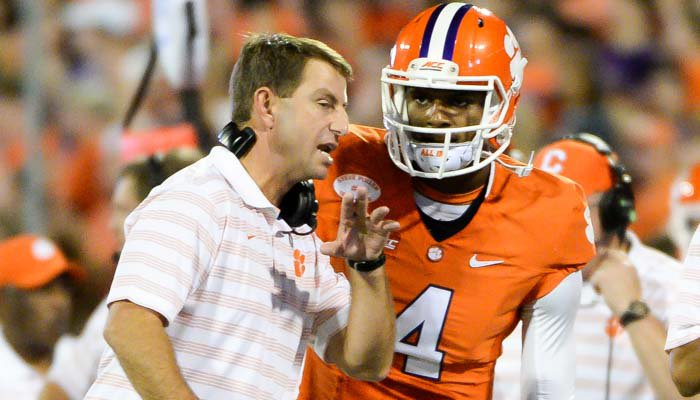 | | |
| --- | --- |
| Swinney talks Watson, new coordinators and bowl game | |
---
| | | |
| --- | --- | --- |
| Sunday, December 7, 2014, 8:40 PM | | |
CLEMSON – Clemson head coach Dabo Swinney

Dabo Swinney
Head Coach
View Full Profile fielded questions from a plane early Sunday evening, and his high-flying question and answer session with the media regarding the Tigers' invitation to the Russell Athletic Bowl covered a lot of ground.
The Tigers will face off against Oklahoma on Dec. 29th in the bowl game, but Swinney had to first field questions about his coaching staff and the status of freshman quarterback Deshaun Watson
Deshaun Watson
Fr. Quarterback
#4 6-3, 204
Gainesville, GA
View Full Profile .
It was revealed after the win over South Carolina last week that Watson beat the Gamecocks with a torn ACL, and Swinney said after the game that Watson would play in the bowl game. However, he sounded a little less certain Sunday afternoon and said the coaches may want Watson to get a head start on his rehabilitation.
"Deshaun is available for the bowl game," Swinney said. "We are going to make a decision. We might go ahead and do surgery and try to get a three-week head start on his rehab. He has a good eight months of rehab and we want him available for skills and drills this summer. So we will visit on that, and make a decision in the next day or so on that. We will make a decision in the next day or so. I have literally been on the road every day since the South Carolina game, and I haven't had an opportunity to be involved in that. But I am off until Thursday and we will talk about that tonight and tomorrow and make a decision and keep moving forward."
Swinney also talked about his two new offensive coordinators – he promoted wide receivers coach Jeff Scott

Jeff Scott
Asst. Coach (WR) / Recruiting Coord.
View Full Profile and running backs Tony Elliott

Tony Elliott
Assistant Coach / Running Backs
View Full Profile to replace Chad Morris
Chad Morris
Offensive Coordinator / QBs
View Full Profile , who took the head coaching job at SMU last Monday.
"I am really excited about the opportunity to promote Tony and Jeff. Those guys have been a huge part of our success the last couple of years," Swinney said. "I will be finalizing the staff here pretty soon. Tony will be calling the plays and he will do a great job with that. I will have an announcement shortly on how I am finalizing my staff. I will say this, this is a plan I have had in place for quite a while knowing that Chad would have an opportunity somewhere. We are going to move forward quickly, but right now it's about the bowl game and this football team and the chance to sneak out a tenth win and Top 15 finish."
He then said that the bowl game and bowl practice will be a good time to iron out the new wrinkles with the new-look staff.
"This is a great opportunity for us to develop our staff and get a head start heading into spring practice and next year," Swinney said. "I am really looking forward to it. There will be a lot of great energy for bowl practice, and once we get it all finalized here in the real near future it will all come together. This is a great opportunity to get a head start on spring ball and the next season and iron a few things out."
Other notes
On the bowl game
"Just really excited about coming to Orlando and being a part of the Russell Athletic Bowl. I played in the Blockbuster Bowl one year, and I think that game eventually moved up that way. I've been in the former Champs Bowl and the Citrus Bowl as a player and a coach and it's been one of the best trips I've ever been a part of. We have a staff and not to mention 115 players who will be excited to see all that Orlando has to offer and also have a chance to play a great football game against a great opponent. We are looking forward to going to Orlando and taking a bunch of Tiger paws with us."
On Brent Venables

Brent Venables
Def. Coordinator / Linebackers
View Full Profile facing Oklahoma
"Brent and I are sitting on a plane together right now, and we have been flying together all day. When you are in this profession, this happens quite a bit where you are asked to coach against a friend or a school you have worked for at some point. We are very familiar with the Bowden Bowl here with father and son, and I know Brent has great respect for Oklahoma and his time there. As for Coach Stoops, it's an honor to coach against one of the best in the business. This is a huge challenge for us, a team that a lot of people picked number one in the country. I think they have had two overtime losses and had some injuries like we did. This will be as good a team as we have played."
Stephone Anthony
Stephone Anthony
Sr. Linebacker
#42 6-2, 244
Polkton, NC
View Full Profile will miss the first half of the bowl game
"He will have to sit out according to the rules. There is no appeal. That was not a cheap shot. At the very most you throw a flag and say he put his hands on him. But to call a targeting, that is very poor and not what the intent of the rule is. We have to go back and do a better job of saying what that rule should look like. I have two players thrown out for two hits that in no shape or form resembles the rule."
Jay Jay McCullough
Jay Jay McCullough
RS So. Tight End
#89 6-3, 248
Fort Mill, SC
View Full Profile
*Tight end Jay Jay McCullough missed the last three games of the regular season, and Swinney said that McCullough is still "suspended indefinitely."