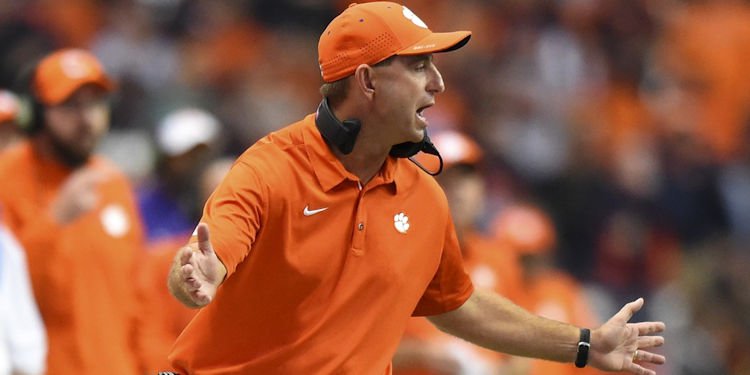 | | |
| --- | --- |
| Swinney takes the blame for desultory performance | |
---
SYRACUSE, NY – Clemson was outplayed, out-coached and out-executed Friday night at Syracuse and a loss was the inevitable result, but head coach Dabo Swinney says all of Clemson's goals are on the table.
Except for going 12-0.
Unranked Syracuse defeated Clemson 27-24 Friday in the Carrier Dome, and Swinney made sure to compliment the Orange and head coach Dino Babers on a big win.
"Obviously, very disappointed. A lot of pain in our locker room. This is a story about Syracuse. This ain't about Clemson. This is about Syracuse. They outplayed us, out-coached us," Swinney said. "Give them a ton of credit. This was a football game that they just flat out wanted more than we did and that's 100-percent on me. The story of the night is Syracuse. Outplayed us, out-coached us. Incredibly disappointed. We've got to move forward."
As well as Syracuse played, Clemson played just that bad and that was a perfect storm in the Orange's three-point win.
"There's a lot we're going to talk about, a lot we've got to fix, a lot of mistakes, a bunch of penalties, third down we couldn't stop them and we couldn't stay on the field on third down," Swinney said. "We just didn't do the things you've got to do to win games. That's my responsibility. There's plenty to correct and all of that, but it starts with me and I didn't have them ready to play. That's just where it is. At the same time, I told them in the locker room, my love for them is not conditional. It is completely unconditional. It's not based on the scoreboard. These guys lay it on the line every single week. We came up short.
"We had opportunities. We missed kicks. We didn't take advantage of opportunities and they did. Give them credit. I love my team. I love these guys. This one is going to hurt. A lot of pain for a couple of days here, but you move forward. Failure is a part of your journey, unfortunately. You win with class. You lose with class."
What's next for a team that has to live with this loss for two weeks?
"We've got to go back to the drawing board. The players have a couple of days here and then we'll get back to work on Monday and get ready for the biggest game of the year against Georgia Tech," Swinney said. "This one is behind us. Ain't nothing we can fix now. All we can do is grow from it, learn from it, get better from it.
"The only thing off the table for this team is we're not going to be 12-0, that's for sure. That's not going to happen. Other than that, there's nothing else that we can't strive for. Still got an opportunity to win the division. Every goal we have, I think is still there for this team. We've got to make the right decision, regroup and come back together and get better from this. If we do that and respond the right way as coaches and players, then hopefully we'll move on and have the type of season we want to have."
The Tigers missed two field goals and committed 11 penalties for 119 yards.
"It's a big story of the game tonight and one of them was a very disappointing penalty with the celebration, the bad gesture there. It's not who we are. That was costly," Swinney said. "These guys have won 12 in a row on the road. It wasn't our night tonight. They had won 11 in a row. They lost a game so we're not going to do anything other what we always do, and that is whether you win or lose, we've got a plan we believe in. We try to get better every week. Even when we win, there's always a lot of mistakes to correct, there's a lot tonight, particularly on third down, the penalties, but first and foremost me and making sure I have the team ready."
On the failed fake punt
"It was my decision. Everything out there was my decision. It's a very safe play. It's a rugby punt and you only throw the ball if it's wide open. He felt like he can drop it in there but it was really just a punt the ball situation. Again, that's a freshman, I put him in that situation. It's on me. Obviously, I didn't do a good enough job of coaching that. It's a safe play where you rugby the ball if they cover it, which they did. We just didn't execute it and that's 100-percent on the coach."
On Alex Spence
"We didn't have a lot of working stats to go with our field goal situation. Nobody is more disappointed than Alex (Spence). He hasn't had a lot of experience in his time here. He had two inside the 20 and those are kicks we need to make and we didn't make them. They did. We're back to the drawing board with that. It is what it is. We can't heal Greg (Huegel) and have him ready for Georgia Tech. We've got to get better. Our other option is (Christian) Groomes. We'll reload. That's one of the things we've got to get better at in this open date - develop some confidence to make those kicks."

Upgrade Your Account
Unlock premium boards and exclusive features (e.g. ad-free) by upgrading your account today.
Upgrade Now