| | |
| --- | --- |
| Swinney surprised by 2012 and 2013 offensive comparisons | |
---
| | |
| --- | --- |
| Wednesday, October 23, 2013 8:23 PM | |
CLEMSON – Head coach Dabo Swinney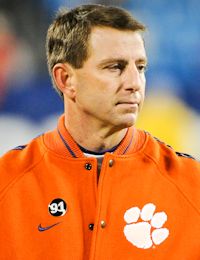 Dabo Swinney
Head Coach
View Full Profile described his offense as having been on hiatus the last few weeks, but despite the lack of production, the Tigers are still on a pace to match last year's numbers.
Swinney spoke to the media following Wednesday's practice, and I asked him if one bright spot could be the fact that the Tigers are 6-1 but still haven't played their best football. He said yes, and then said he asked Clemson football Sports Information Director Tim Bourret to do a statistical analysis comparing the production of the offense through seven games last year to this season's first seven games.
The results were surprising.
"We had Tim Bourret do a statistical analysis because we were curious. He did a statistical analysis of exactly where we were last year offensively after seven games and where we are this year. We are almost identical," Swinney said. "Kind of shocks you, doesn't it? Because we haven't done anything offensively the last two weeks. We have been on hiatus. We are almost identical to where we were after seven games last year, and we are better in several areas, including red zone. We are scoring more points, which is crazy because we have scored more touchdowns. Last year, we scored more field goals. I just wanted to see because I thought we were awful, so it was good to know we have done some pretty good things. It was almost a mirror image."
Swinney then said he said of all that to point out that his team can recover from last Saturday's loss.
"But my point is, we can play a lot better. We have five games left. It's a long season," he said. "We had a bad day. It's like I told my team, if Phil shoots 62 and Tiger shoots 75, does that mean Tiger is awful? No, he comes back the next day and shoots 60-something. It's called competition. That is what great competitors do. That is the way these guys look at it. This is a one-game season every week, and every game is a season of its own. The reason they have been so consistent is because they have bought into that. It hurts when you lose."
Other notes
* Tajh Boyd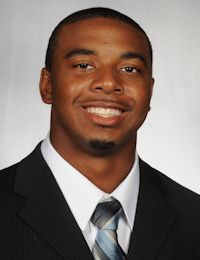 Tajh Boyd
RS Sr. Quarterback
#10 6-1, 225
Hampton, VA
View Full Profile was back at practice Tuesday and Wednesday and Swinney said that Boyd was "really focused."
*Swinney split the teams up following Wednesday's practice and held an "overtime" session complete with coin flip. Swinney said the team hasn't practiced an overtime session since early in the season, and he said the team has responded like he expected.
*Swinney said he reminded his team that they have been ranked in the Top 15 for 20 straight weeks, second-longest streak in school history. The record is 25 weeks. He said he felt like his players needed perspective after last week, and he wants the team to get back to playing good, clean football.
"It starts with being physical, taking care of the football and playing smart," he said. "If we do that we will be okay."
On playing the last time at Maryland
"This is my 11th season at Clemson and I've been a part of a bunch of those games, been up there several times, had some crazy games up there, that's for sure. Hopefully we can play our best game and send them on to the Big 10 in good ACC fashion."
On Maryland's Caleb Rowe
"I remember him coming to our camp and I was very impressed with him, but we had Chad Kelly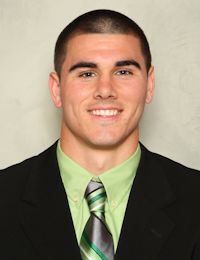 Chad Kelly
RS Fr. Quarterback
#11 6-2, 210
Buffalo, NY
View Full Profile committed. Unfortunately, that's just part of the recruiting deal. There are a lot of guys you evaluate that you like, a lot of guys that you like and would love to have. But you only have so many scholarships and so many numbers, and you have to make it all work. We felt like Chad was the best out there. It wasn't a knock against [Rowe]. We knew he was a division one guy. I thought he was very smart, very accurate, throws a really nice ball."