| | |
| --- | --- |
| Swinney says open date has come at a good time for the Tigers | |
---
| | |
| --- | --- |
| Friday, October 31, 2014 7:01 AM | |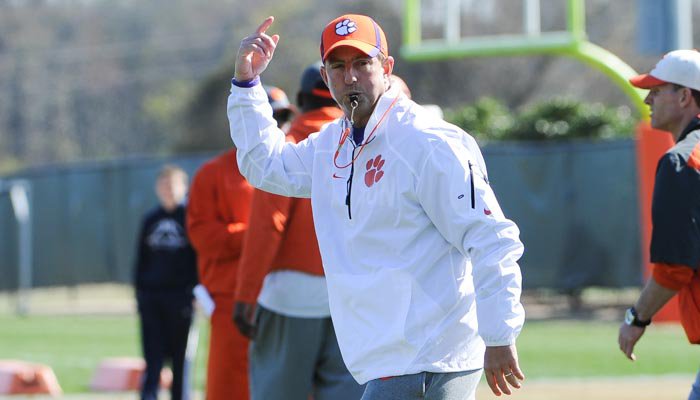 CLEMSON – An open date was just what the doctor ordered, according to head coach Dabo Swinney

Dabo Swinney
Head Coach
View Full Profile .
The Tigers are off this week as they prepare to play at Wake Forest next Thursday night, and Swinney said the off week has helped his team recover from the bumps and bruises and injuries of a long season.
"I think it has been good. I am glad we got a break in the monotony," Swinney said in the WestZone Thursday. "It has come at a good time for us, especially with all of the guys that have played a lot of snaps or guys that have been hurt. It has been good for both of them."
Swinney then said he has scaled back the Tigers' practice schedule in an effort to keep his players fresh.
"There hasn't been a lot of physical work," he said. "This is the first time I haven't had a practice on Tuesday - whenever we've had a Thursday night game we've always practiced on a Tuesday-Wednesday-Thursday and they have been off on Monday and Friday and then we come back in on Saturday and we've had a normal game prep. This year, we didn't do anything other than a walk-thru on Tuesday. We had good meetings Monday and Tuesday and went out to the stadium on Tuesday and just had a good crisp walk-thru and teaching and I see a little bit of that in some of our catapult numbers, which is a system we use to calculate their output and burst and velocity and how fast they are bursting and running and that kind of stuff. It was some interesting data, and we had some guys yesterday that really looked good and I think that is a benefit of taking their foot off the gas pedal a little bit."
The Tigers have spent time preparing for the Demon Deacons – but also working on Clemson.
"We will work a lot on Clemson - we will have some game work prep, too - but we have some guys we are challenging a little bit out there in some spots," he said. "Friday they will be off and the coaches will go recruit, and we will come back in Saturday and kind of have a fresh start to a normal game week with a couple of days in the practice in the bank already on these guys."
Other notes
On Brent Venables

Brent Venables
Def. Coordinator / Linebackers
View Full Profile getting a look as a head coach
"I think Brent is a great coach, and he will be a great head coach. I love that people ask me about our coaches all of the time. That means you have good people and hopefully that's always the case."
MacKensie Alexander

MacKensie Alexander
RS Fr. Cornerback
#2 5-11, 190
Immokalee, FL
View Full Profile thriving in pressure situations
"He loves it, He thrives in that environment. Just to sum him up, and I am the last one to leave here because I do the coaches show. I come down and there is Mackensie in Mike Reed

Mike Reed
Assist. Coach / Defensive Backs
View Full Profile 's office watching the game. Most people are out doing what young people do in college. He is sitting there watching tape and grading and critiquing himself. That is just his mentality. That is how he is wired. He likes to practice and study the opponent and it translates to the field. What he went through last year? He is a better player now because of what he went through last year. His mentality is different. His appreciation is different. He will give up some plays along the way, but he will bring it every snap."
Charone Peake

Charone Peake
RS Jr. Wide Receiver
#19 6-3, 204
Moore, SC
View Full Profile
"Getting better. He is better. He is another one I want to see today do a little more running, do some different things running. He just got back on the surface on Tuesday. They pushed him a little bit. They pushed him a little more yesterday. I'm encouraged about where he is at...I'm hopeful that we get him back for Georgia Tech for sure. Next week [Wake Forest] I don't know."