| | |
| --- | --- |
| Swinney says Watson among best freshmen he's ever seen | |
---
| | |
| --- | --- |
| Friday, April 18, 2014 4:41 PM | |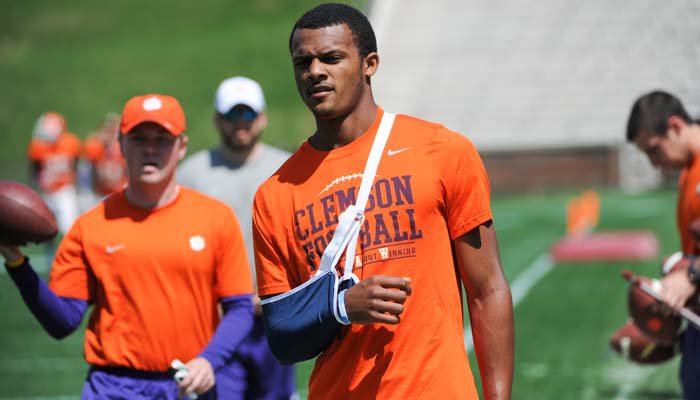 Deshaun Watson

Deshaun Watson
Fr. Quarterback
#4 6-3, 190
Gainesville, GA
View Full Profile is different than most freshmen football players.
The Gainesville (GA) native enrolled early in order to get a head start learning the playbook and be a factor in Clemson's quarterback race.
Dabo Swinney

Dabo Swinney
Head Coach
View Full Profile spoke to Mickey Plyler Monday morning about Clemson's spring practice, and said that Watson is just different than almost all of the other freshmen that have come through Clemson.
In fact, Swinney says, Watson is one of the top two or three freshmen he's seen.
"He's special. He's probably – just being around him, watching him this spring and having the first chance to really coach him, watching him absorb, develop, lead, transfer information from the meeting room to the practice field, learn from his mistakes, watching him take mental reps – he is easily and by far one of the top two or three freshmen that I've ever been around," Swinney said. "He's just a different guy – very mature. His demeanor and his poise really set him apart for a young guy. You don't see many freshmen rolling in here that have the confidence, knowledge, demeanor, and poise that this guy has. He was very well coached in high school."
Watson played in a system at Gainesville that is very similar to what offensive coordinator Chad Morris

Chad Morris
Offensive Coordinator / QBs
View Full Profile runs at Clemson and he put up the kind of numbers usually reserved for video games – as a four year starter he set state records for total offense yards (17,134), and total touchdowns (218) while also rushing for 4,057 yards and throwing for 13,077 yards.
Doing all of that in the same kind of system run by Morris is something that Swinney said has helped the 6-3, 190-pound freshman in his transition from high school to college.
"You've got to understand that he's been starting since he was 14 years old," Swinney said. "I think his first start, he was going against the University of Buford (Buford High School) down there in Georgia, as a 14 year old. What we do – the ball handling, the mesh points, the reads as far as what your eyes are on, the timing of the snap, the movement – that stuff is not easy. It takes a lot of work and tons of reps.
"He's had great training in high school, has a really good foundation for the little things at the position, like ball handling. He is a smooth operator. It's natural for him. He's been doing it a long time. Very impressed with him, but he's got a long way to go, but he has improved every single day. You can just see his command. He studies. I mean, he is a bookworm when it comes to studying his responsibility in this offense."
His high school background sets him apart from even the best signal callers in Clemson history.
"It took Tajh [Boyd] a while before he got comfortable with that kind of stuff because it was very different than what he had done," Swinney said. "He didn't have the training or the background. But with Deshaun, it's not even a discussion. He's been doing it so long that it's just natural to him. It comes very easy to him so he was able to move on to other things."
Unfortunately, Watson was sidelined for the final week of spring practice after fracturing his collarbone during a scrimmage. However, Swinney said that Watson's spring practice overall was a success.
"I'm really proud of what he got done," Swinney said. "I hate that he got hurt, but really happy that it was right there at the end because he got some great work and got better and better and better everyday. He worked with all three groups and worked well with all three groups. I think he is a young player that has a very, very bright future ahead."
Swinney then left no doubt that he thinks Watson is special.
"You know he's going to be special," Swinney said. "No doubt about it, clearly, he's got all the qualities you could ever want in a young quarterback in particular. I don't know that we've ever signed a guy with more talent. He is the real deal. He can run, he is big, and he has a chance to develop physically. He has a chance to be a 220-pound type of kid. He has a great foundation with the program he is coming from and the system that they ran. He will represent this program in a great way."