| | |
| --- | --- |
| Swinney says Tigers got better on National Signing Day | |
---
| | |
| --- | --- |
| Wednesday, February 3, 2016 5:52 PM | |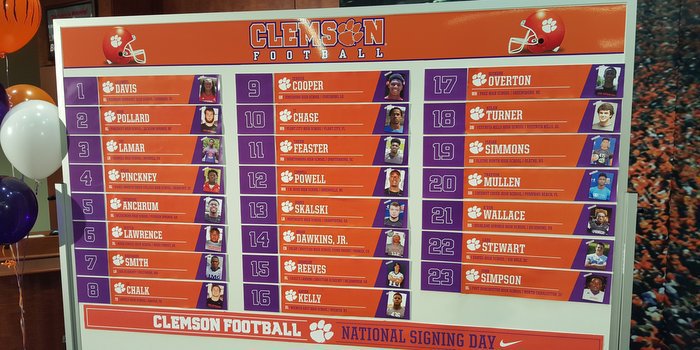 CLEMSON – A team that played for the National Championship just a few weeks ago got better Wednesday.
Clemson reeled in what should be another Top 10 recruiting class with the addition of 16 players on National Signing Day. The Tigers already had seven mid-year enrollees on campus, and head coach Dabo Swinney smiled when he told the media about the Tigers' success on the recruiting trail.
"It's real simple. We got better today. That's what we are always trying to do as a program, continue to improve and continue to get better. I thought we did that today," Swinney said in the team room at the WestZone. "Something that never gets old for me is when a young person chooses to be a part of our program. I love that. I don't think there's anybody that's more transparent in the recruiting process than we are. We try to be very thorough, and we try to lay everything out as to who we are and the way we do things and the expectations. That way there are no surprises. So for guys to choose to become a part of our program each and every year is something that is special and something we take pride in. It never gets old. I want to officially welcome all of them to the Clemson family.
"This is another great class for us. This is maybe our sixth Top 12 or Top 13 class we've had in a row, and I don't think it's a mistake that the consistency we've had in recruiting has helped us have consistency on the field. This is the group that top to bottom fills our needs. I think we have a bunch of championship people that just happen to be good football players. That's what I like. I am really excited about these guys coming in. We have seven mid-years and it was good to embrace those guys today."
Swinney said the Tigers filled needs with the class.
"We had 23 guys sign up with us. Right now one is slated to be a grayshirt - Cade Stewart - and we'll see how it all plays out between now and August whether he'll be able to come in during August or not with this group," Swinney said. "This was an interesting year for us. We needed offensive line - that was a huge need for us. We needed to make sure that we got a couple of linebackers and we hit a home run with the three that we signed. Wide receiver was an area that we needed to pick up multiple players and we got three guys. We got our number one draft pick at quarterback, at running back, at tight end - we got the number one guys on our board at those positions. We focused on getting one great defensive and we got that with Xavier Kelly. And with Nyles Pinckney and Dexter Lawrence we continue to get better in the trenches. But the four offensive linemen - five counting Cade - really solidified what we were trying to do there."
The Tigers lost a total of five members of the secondary in the last month – safeties Jayron Kearse and T.J. Green opted to leave early for the NFL while backup safety Jefferie Gibson transferred out of the program. Cornerback Mackensie Alexander also opted for the NFL. Travis Blanks – who played the hybrid nickel/SAM position – decided to end his Clemson career a year early and he will also see what the NFL has to offer.
That caused the Tigers to scramble to find secondary players.
"The interesting thing - defensive back wasn't a need for us going into the season," Swinney said. "We didn't have a senior on our roster in the secondary. It's kind of hard to go recruit when you don't have scholarships for guys and you have to plan on all of your guys to come back. We certainly knew we had some juniors that might go pro early but you don't know. We knew pretty early that Travis Blanks was going to make this his senior year and graduate in December. Jayron told me the week of the national championship game of his decision and T.J. and Mack didn't tell me their decisions until after the game. So we had to hit the ground running with just a couple of weeks to go get it done in January."
The Tigers went back into the fertile recruiting grounds of North Carolina, Georgia, and Florida to nab recruits, but the additional exposure of the "Clemson brand" led to a signing class that hails from 1/5th of the country.
"The breakdown of our class - we went to 10 states, and I think it's the first time since 1994 that we've had that many states represented in our class. That speaks to the strength of our brand and people want to see Clemson," Swinney said. "We're not just going to load up and go to Kansas, but you've got somebody expressing interest. They want to see our campus, and we all know if we get them on this campus then we have a real shot. We signed 11 offensive guys and 12 defensive guys - five offensive linemen, one tight end, one quarterback, three wideouts, one running back. The 12 defensive guys - four defensive linemen, three linebackers, and five defensive backs. Great class. It was a lot of fun, and I got to go to some place that I had never been in the recruiting process. There are always a lot of great moments. I'm just thankful and appreciative of the job that our staff has done. It's a really difficult thing to do."
Swinney and the coaches will get the bulk of the credit for the impressive class, but Swinney said there were a lot of people who work together to make days like Wednesday happen.
"We've got a lot of people that work really, really hard. You just look at our social media headed up by Jonathan Gantt and his whole group and what they've done this past year in helping us build our brand. You look at what Thad Turnipseed and Jordan Sorrells have done down there in Clemson Google land. All of the students that work for us back there, they just do an unbelievable job," Swinney said. "Brad Scott, Woody McCorvey, Jeff Davis, those guys are so impactful in the recruiting process. Not to mention the job that our coaches and our team do. Our players are the best part of our whole recruiting process. I'm just really appreciative to all of them. It's been really fun to watch (Brandon) Streeter come in.
"This time last year we were throwing him into the grease pit after Jeff Scott had been heavily involved in the recruiting around here. I thought Streeter did a great job all year long of being that good liaison between the staff and what was going on down in the recruiting world and helping to keep us all on task. I'm proud of everybody for the job they did. And, the administration - President Clements - we've got the best president in the country. Our president is tremendous and incredibly supportive with our recruiting efforts. He takes a lot of pride in it. I can't thank President Clements enough for the time he gives us in meeting with families and meeting with these recruits. He's passionate about it. And then obviously our administration in Dan Radakovich and our board and IPTAY. They give us the resources we need to compete at the highest level. It's a true group effort. It's a lot of fun to be where we are after seven years."