| | |
| --- | --- |
| Swinney says Stoudt gives Tigers best chance to win in Tallahassee | |
---
| | |
| --- | --- |
| Monday, September 8, 2014 11:48 AM | |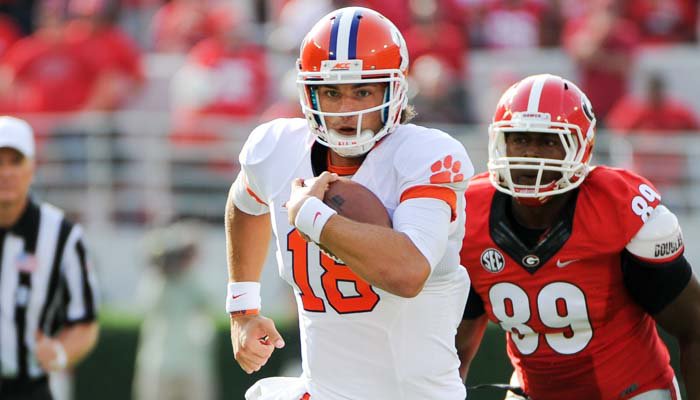 CLEMSON – Clemson head coach Dabo Swinney

Dabo Swinney
Head Coach
View Full Profile didn't mince words Monday morning when asked if quarterback Cole Stoudt

Cole Stoudt
Sr. Quarterback
#18 6-4, 231
Dublin, OH
View Full Profile would be the starter at Florida St. in 12 days, saying that he thinks Stoudt gives the Tigers the best chance to win on the road.
Clemson travels to Tallahassee to take on No. 1 Florida on Sept. 20th, a game that will likely decide both teams' fate in the race for the Atlantic Coast Conference Division title. Freshman Deshaun Watson

Deshaun Watson
Fr. Quarterback
#4 6-3, 204
Gainesville, GA
View Full Profile has been impressive in limited action – both at Georgia and at home this past weekend against South Carolina St. – leading many fans to question whether Watson would give Clemson the best chance to upset the Seminoles.
Watson completed 8-of-9 passes for 154 yards and three touchdowns Saturday, while Stoudt completed 22-of-31 passes for 302 yards and one touchdown.
Swinney responded by saying that he doesn't coach to please the fans, he coaches to win games.
"Cole is our starter. I'm not into pleasing the fans, that's for sure. I probably wouldn't have this job still if I was into pleasing the fans," Swinney said in response to the question. "That's the last thing I'm worried about. I'm worried about doing what's best every single day for this team, for these players to give the whole team the best chance to win. I'm sure people want to have some big controversy, but we're not going to have a controversy. The best player is going to play.
Cole Stoudt is our starter and that's just the way it is. If something changes, then it will change on the field through performance. It has not changed to this point. We knew coming in that at some point this would be all anyone wanted to talk about. All anyone ever wants to talk about is the backup quarterback. It doesn't matter where you are or who you are, that's the story. Cole Stoudt has played well for us. We know what we're looking at and we know what we're asking him to do. He hasn't played perfect, but he's played very well as the starter. It's frustrating when people don't want to recognize that."
Swinney said that just because Stoudt is the starter now, however, doesn't mean that the job is his until the end of his career.
"Does that mean he's going to be the guy the rest of his career? No," Swinney said. "He's got to perform at a high level just like every other position out there. We know we have a very special talent in Deshaun Watson. That's why we recruited him. It's not some big, shocking thing to us. We knew that. He has to play well with his opportunities. It's not just the games. Practice counts too. We watch everything."
He continued by saying that Stoudt has to continue to perform, but called out the fans for booing Stoudt when he would enter Saturday's 73-7 win over South Carolina St.
"We've been doing this since January. Cole Stoudt won the job and you take it as far as you can from a practice standpoint and the next thing you do is you go out and you play games," he said. "We've only played two games to this point. Cole Stoudt's job is to play at a high level and try to make us keep him as the number one guy. Deshuan Watson's job is to try to beat him out. Our job as coaches is to evaluate that. That's what we do every day.
"We don't listen to the fans. I do think it's sad when you have fans boo a player. I think that's really sad. I didn't know that happened until after the game. When a guy is playing his butt off for you and he's a dedicated, disciplined player that is playing well and he gets booed and then you have another guy come in and he gets cheered. I just think that's bad. You cheer for all of your guys and trust the coaches to do their job. If the coaches don't you hold them accountable, but love the players."
Swinney said that he and offensive coordinator Chad Morris will play the best player, and right now that is Stoudt.
"We'll continue to evaluate and manage that situation, like every other coaching staff in the country," he said. "I've got a pretty good quarterbacks coach and offensive coordinator that I have a lot of confidence in. His input is obviously of paramount importance in all of these decisions. That's why Cole Stoudt is the starter. He and I both felt like he [Stoudt] gives us the best chance to win. We're excited that we have another great quarterback. There's not a problem here. It's a good thing that we think is going to continue to produce good quarterback play for us. If there's a change somewhere down the road, there will be a change. It will happen but let's go play the game and see where we are as we move through the year. I'm very pleased with how Cole Stoudt has performed and I'm very pleased with how Deshaun has performed. That's where we are."