| | |
| --- | --- |
| Swinney says Jackets' offense presents a "big challenge" in Atlanta | |
---
| | |
| --- | --- |
| Tuesday, November 11, 2014 12:40 PM | |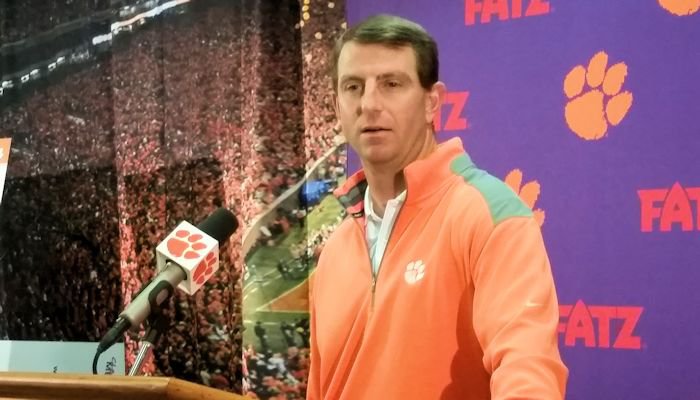 CLEMSON – Dabo Swinney

Dabo Swinney
Head Coach
View Full Profile and the Clemson Tigers will make their first trip to Atlanta to play Georgia Tech since 2011, and Bobby Dodd Stadium is a place in which Clemson hasn't won a game in 11 years.
This year's Yellow Jacket team may be Paul Johnson's best since 2009, making Clemson's challenge all the more difficult.
In his Tuesday press conference, Swinney said that Georgia Tech's offense is playing as well as they have in a long time.
"Big challenge this week," Swinney said Tuesday morning in the WestZone. "Always a tough opponent. You can go back forever in Clemson history and this game has always been a great game. A tough opponent. Offensively they are really flying at a high level. They do a great job of executing. They average six yards a carry and score 38 points a game. It's a huge challenge for our defense.
"The biggest thing when you look at them is their quarterback is playing lights out. They have done a great job of establishing the dive play. They have almost 1,400 yards rushing between the main guys. Their receiver is the leading scorer on the team. That hasn't been the case in the past. They've done an excellent job in the passing game. Their QB can throw, he's made some big, timely throws for them. Very impressed with how they're executing offensively. They're averaging right at 20 yards a completion."
Clemson's defenders will need to play their assignments and take the right angles if the Tigers are to be successful.
"It all starts with them being able to run the ball and the QB's decision-making," Swinney said. "You have to win the line of scrimmage. You have to. What they do is all about angles. We have to defeat blocks and stay on our feet. This is a game where everybody better not get bored of doing their jobs over and over. We have to leverage the ball outside."
Defensively, the Yellow Jackets are an older group and have 13 interceptions and two fumble returns on the season.
"Defensively, for them, they're a bunch of seniors and juniors," he said. "They've got some good experience over there. They're knowledgeable as far as what they're doing. They're doing a good job of creating turnovers. And they've scored on defense. Defensive coordinator Ted Roof does a great job of putting them in position. They do a good job of mixing their coverages. Special teams - defensive back and return man Jamal Golden is one of the best in this league. We're looking forward to going down there."
The good news is that Clemson will have Deshaun Watson

Deshaun Watson
Fr. Quarterback
#4 6-3, 204
Gainesville, GA
View Full Profile back at quarterback for the first time since early October.
"I hope he picks up better than where he left off," he said. "We played pretty good defense and we thought we had a touchdown call and he ended up throwing it to the back. He knew something wasn't right and got rid of it. He's got some experience now. He's played. There aren't as many unknowns for him as there were at the start of the season. He's played on the road and has been in difficult situations. The biggest thing with Deshaun is he has done a great job of staying totally engaged with the game-planning process and during the games he has been focused and dialed in mentally. He has made good suggestions during the game. Physically he's ready to go. I think he'll play good. He practices good. We'll find out."
Other notes
Happy Veteran's Day
"First of all just want to wish all of our veterans Happy Veterans Day. Want to wish them all a great day. I want to thank them for allowing us to have the opportunity to do what we do. It's something we take for granted in this country all the time - the freedoms we have and the price that was paid for that freedom. Also, I want to thank Daniel Rodriguez

Daniel Rodriguez
RS Jr. Wide Receiver
#83 5-8, 175
Stafford, VA
View Full Profile , one of our very own.
On Robert Smith

Robert Smith
Sr. Safety
#27 5-11, 211
St. George, SC
View Full Profile 's targeting penalty
"No, I don't have an explanation for it. I'm on the record with my comments on it. I just think - again - the intent of the rule was to take the crown of the helmet out of the game and the obvious cheap shot, not the big hit. Those are the things the intent of the rule was for. We just need to go back and make sure we have it defined properly. Sometimes it's a bang-bang call and refs may not know. I just felt it was a good play, but we have to live with it. We have a good player who will not be available in the first half in a critical game at a critical position for us. That's a challenge."
On the possibility of Jay Guillermo

Jay Guillermo
RS So. Center
#57 6-3, 314
Maryville, TN
View Full Profile and Charone Peake

Charone Peake
RS Jr. Wide Receiver
#19 6-3, 204
Moore, SC
View Full Profile playing Saturday
"They practiced yesterday. Charone was in my office a while ago. He felt good today. Guillermo took the second team reps at center. We're hopeful both will be back and available this week. We'll get into the grind today and tomorrow."
On Ryan Norton

Ryan Norton
RS Jr. Offensive Line
#58 6-3, 292
Simpsonville, SC
View Full Profile 's performance after being benched
"I thought he played really well last week. Guillermo has been out and we haven't had quite the competition there. For whatever reason he had a couple of games where he wasn't playing to his standard. It was good to see him last week get back to playing with that edge we were looking for. Good to have Jay back, though. We'll know more after tomorrow. He is 300+ and it's different him coming back from that injury as opposed to Garry Peters

Garry Peters
RS Sr. Cornerback
#26 6-0, 194
Conyers, GA
View Full Profile ."
On Adam Humphries

Adam Humphries
Sr. Wide Receiver
#13 5-11, 193
Spartanburg, SC
View Full Profile job at punt returner
"Yeah. Oh yeah. He had a bad day. He's been solid for us all year. He just made a poor decision. Just let it go. It's hard enough to catch a punt. That was just a poor decision by a veteran player. He came back and was a little gun shy and should have handled that ball. He had two critical errors. We'll work hard to get his confidence back this week. He has been very solid for us all year. Not going to fire him. Everybody makes mistakes. I'm glad I didn't fire Ammon Lakip

Ammon Lakip
RS Jr. Kicker
#36 5-10, 200
Alpharetta, GA
View Full Profile after his big mistakes. He's a Groza finalist now. At the beginning of the year, he was a goat. Adam, look at the consistency he has performed with. We're confident there."
On T.J. Green

T.J. Green
So. Safety
#15 6-3, 205
Sylacauga, AL
View Full Profile and the other young safeties
"Not at this time last year but when the season was over and I was contemplating making that move, I thought it might be good to look at him at safety. He and I talked about it. He thought about it and we decided he should do it. We felt long-term it might be the best spot for him. He's going to be a great player. He is an incredible athlete. He's got a lot to learn. He's like a freshman. He's about where Jayron Kearse

Jayron Kearse
So. Safety
#20 6-4, 215
Fort Myers, FL
View Full Profile was last year, mentally. He's just going to get better. He's done some good things for us. It's not just him. Korrin Wiggins

Korrin Wiggins
So. Defensive Back
#12 5-11, 190
Durham, NC
View Full Profile , Jadar Johnson

Jadar Johnson
So. Defensive Back
#18 6-1, 207
Orangeburg, SC
View Full Profile and T.J., those three have to step up for us. Korrin will move back in this game. They'll all have to step up for us."

Tags:
Garry Peters
,
Adam Humphries
,
Ryan Norton
,
Charone Peake
,
Robert Smith
,
Ammon Lakip
,
Jay Guillermo
,
Daniel Rodriguez
,
Jayron Kearse
,
Jadar Johnson
,
Korrin Wiggins
,
T.J. Green
,
Deshaun Watson