| | |
| --- | --- |
| Swinney refutes Florida rumors, says goal is to make Clemson the model program | |
---
| | |
| --- | --- |
| Saturday, November 22, 2014 10:02 PM | |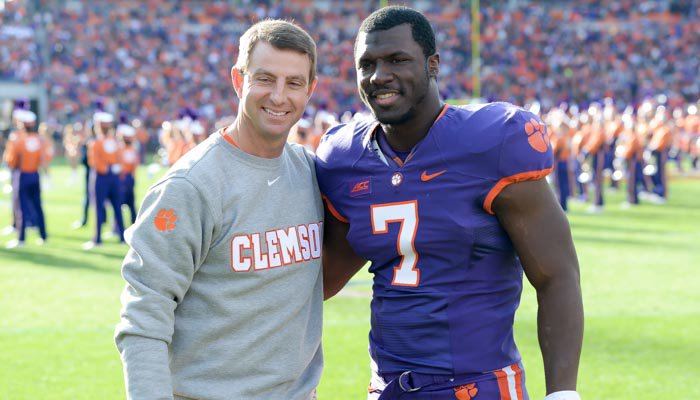 CLEMSON - Head coach Dabo Swinney

Dabo Swinney
Head Coach
View Full Profile spent the latter part of his postgame press conference Saturday talking about a team in the Southeastern Conference.
Instead of his comments surrounding arch-rival South Carolina and the game against the Gamecocks next Saturday, Swinney spent a few moments addressing the rumors that have popped up this week that intimated he would be interested in taking the head coaching vacancy at the University of Florida.
Former Florida head coach Will Muschamp was let go after the Gators' loss to South Carolina last week, and Swinney's name has popped up as a possible replacement - although the reports haven't been exactly credible.
Swinney was asked if it has been a distraction, and he said that anybody who posts online can throw a name out there without fear of recrimination.
"Only when y'all ask me things like that is it a distraction because I don't pay attention to that stuff," Swinney said after Saturday's 28-0 victory over Georgia State. "What I said the other day is exactly how I feel. Every time there's a job opening somebody - it could be anybody, Joe Schmo from Idaho - can go online and throw a guy's name out there and if I've got to run and do a press conference then it's just a waste of time. It's the same thing with the assistant coaches. There's a time and place for that kind of stuff."
Having coached at Clemson for 12 years, Swinney's family has planted its roots in the Clemson area and he made it very clear that he wouldn't leave Clemson for just any job.
"I'm fully invested. I've put a lot into it," Swinney said. "I've been here 12 years. I know some guys take jobs and it's kind of the next job but I've never been that guy. I bloom where I'm planted and Clemson has been a special place for me and my family."
However, Swinney said that he would be disingenuous if he said that he would never leave Clemson because dynamics change and the fans may want to get rid of him.
"Dynamics can change - athletic directors, presidents," he said. "There are a lot of things that can change when coaches make decisions on certain things. Never say never because I don't think that's genuine. But I love it here."
At the end of the day, Swinney said he believes that he has one of the best jobs in the country and it would take a very special job offer for him to uproot his family and leave the place he's raised his children.
"I'm not going to stand here and be one of those coaches that says, 'I will never leave Clemson,' because that's not genuine, he said. "I have no idea. I'm not going to be that guy, but I will tell you this - I love Clemson. I love my job. I love it here. It would be very, very, very hard for me to leave Clemson. Some people may be ready to pack me up and are ready to move me. The bottom line is that my kids have grown up here. My baby was born here and they have gone to preschool, kindergarten, middle school, and I've got two in high school."
For Swinney, being in Clemson isn't just about coaching football, it's about building a life and his work his far from over.
"This isn't just a job to me. I'm passionate about Clemson and I really feel like there's nothing we can't achieve here," he said. "I think we can win at the highest level. We can recruit at the highest level. My goal is to make this the model program in college football. This is not some stepping stone job. I don't see it that way."
Swinney he doesn't get caught up in all the internet chatter that surrounds job openings and instead concentrates on what is being built at Clemson.
"People throw names out and all of that kind of stuff but I just keep on moving forward," he said. "I don't pay any attention to that. It's a credit to our program, first of all. There's a time and place for all of that. There may be another job open up next week and everybody starts throwing names out for that one, too. You can't get caught up in all of that stuff. At the end of the day, this is much more than just a job. I truly, truly love the people, love my players. I think there's nothing we can't do here. I know sometimes we want it yesterday but we're building something special."