| | |
| --- | --- |
| Swinney recaps Virginia, talks about preparing for Georgia Tech | |
---
| | |
| --- | --- |
| Monday, November 4, 2013 1:43 PM | |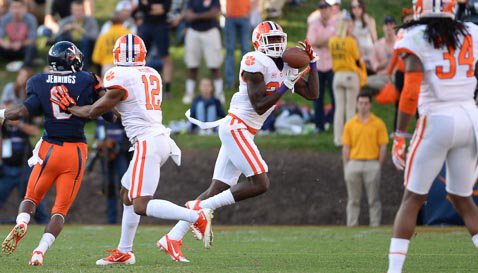 CLEMSON – The Clemson Tigers will take a brief rest from the rigors of the college football season early this week, and then build off of their 59-10 victory at Virginia by building a house later this week.
The Tigers have an off day Saturday and will host Georgia Tech next Thursday in a nationally televised game on ESPN. Clemson head coach Dabo Swinney

Dabo Swinney
Head Coach
View Full Profile gave the players Sunday and Monday off, the team will practice Tuesday, Wednesday and Thursday and take Friday to help build a home with Habitat For Humanity.
"We have a lot of guys beat up right now. We have to get them fresh," Swinney said during a Monday morning teleconference. "It's not like we have a true open date where we play the next weekend. That's the biggest difference for us. We'll tweak our practice schedule a little bit. We'll practice, Tuesday, Wednesday and Thursday and then on Friday we'll do some community service together as a team. We'll have a normal game week starting Saturday morning. From a practice schedule standpoint, there will be a couple of tweaks going into the 10th game."
Swinney said he thinks building the house will help make a difference in the community.
"We're actually going to go build a house, a habitat home. I'm excited about it. We'll have the whole team. We'll give them a couple of hours of good, hard labor," he said. "We're looking forward to making a difference in our community."
Other notes
On win at Virginia
"Proud of our guys for how they competed Saturday. Very impressive win. Definitely our best game in quite a while and was a great start to November. A total effort and our most complete game. I thought we were close up at Maryland in putting it all together. That's two weeks in a row we've gotten better. And a great job in turnover margins. Just a lot of good things.
"Defensively I was pleased with our focus and effort. We had a season high tackles for loss and pass-breakups. We had 10 three-and-outs. Our guys competed much better on the back end. They were much more physical. It was just a total effort. We had some young guys go in and they continued to play with the intensity we want."
The offense
"Offensively we've gotten better two weeks in a row. The young guys, especially Jay Guillermo

Jay Guillermo
RS Fr. Center
#57 6-2, 290
Maryville, TN
View Full Profile , did an excellent job. It's the fewest mental errors that we've had. A lot of good things throwing and catching the ball well. We played everybody. It was just a good solid performance and the same thing on special teams. It was a complete team win for us. "
The schedule
"I think our schedule sets up good as we finish this month out. We have a chance to get some guys healthy this week. We'll start the process of getting things ready for Georgia Tech. I know people think it's an open date but it's really a work weekend for us because we have a Thursday night game."
Injury update
"Injury-wise, we came through the game pretty good. C.J. Davidson

C.J. Davidson
RS So. Running Back
#32 5-11, 185
Clemson, SC
View Full Profile was an MCL. He'll have a brace on it. If he gets comfortable, he can get back in there. Ronnie Geohaghan was the other one. We're treating his as an MCL as well. Both felt better today. And we'll get Garry Peters

Garry Peters
RS Jr. Cornerback
#26 6-0, 195
Conyers, GA
View Full Profile back in practice this week. I'm excited to get him back this week and in time for Georgia Tech. We've got a good nucleus of guys back."
Georgia Tech
"They do what they do. We've just started studying them. They do what they do. There's not a whole lot differently. They're a little different defensively and they're playing solid football. It's always tough to beat these guys."
Jayron Kearse

Jayron Kearse
Fr. Safety
#20 6-4, 205
Fort Myers, FL
View Full Profile
"Yeah, he definitely sparked us. Really, really pleased with him. The game has slowed down for him. He's getting more comfortable. That's been the biggest thing for him. Just his athleticism and confidence, it's just shining through. That's a product of him getting experience and practicing the right way. He's very engaged in the whole process. I feel good about his development. That's probably the best our safeties have played all year. Robert Smith

Robert Smith
Jr. Safety
#27 5-10, 210
St. George, SC
View Full Profile played really well, Travis Blanks

Travis Blanks
So. Defensive Back
#11 6-0, 190
Tallahassee, FL
View Full Profile played well. I'm feeling really good right now. Jadar Johnson

Jadar Johnson
Fr. Defensive Back
#18 6-1, 180
Orangeburg, SC
View Full Profile went in there and graded about 90-percent and got in about 27 plays. But definitely Jayron is emerging and you'll continue to see him."
Extra week to prepare for Tech
"It helps a lot. It's so different from anything else. When you start game planning, you have your base system of what you do. You study tape and you start pulling up those things, things you've done all year that you think can apply but then you forget everything you know when it's time to get ready to face the triple option. This game is truly a season of its own. There's little carryover in how you defend these guys. And they know what they're doing and they're really, really good at it. Just having a few extra days is helpful."
MacKensie Alexander

MacKensie Alexander
Fr. Defensive Back
#2 5-11, 185
Immokalee, FL
View Full Profile
"Yeah, Mackensie was set back and Adrian Baker

Adrian Baker
Fr. Cornerback
#21 6-1, 170
Hollywood, FL
View Full Profile was too. Adrian would have played. Mackensie got hurt the first day of practice. We haven't really had a chance to see him. Same thing with Adrian who was well on his way to playing. Those are two special guys. And then Marcus Edmond

Marcus Edmond
Fr. Defensive Back
#29 6-1, 180
Hopkins, SC
View Full Profile , we almost played him. Those three guys were very close to playing and two of them got hurt. Ryan Carter

Ryan Carter
Fr. Defensive Back
#31 5-10, 175
Grayson, GA
View Full Profile is getting better and better. Mackensie is doing fine. He's had surgery and has just now been back in practice on the scout team over the last week or so doing drill work. We expect that young man to be healthy as the calendar flips back to 2014."

Tags:
Adrian Baker
,
C.J. Davidson
,
Garry Peters
,
Jadar Johnson
,
Jay Guillermo
,
Jayron Kearse
,
Mackensie Alexander
,
Marcus Edmond
,
Robert Smith
,
Ryan Carter
,
Travis Blanks