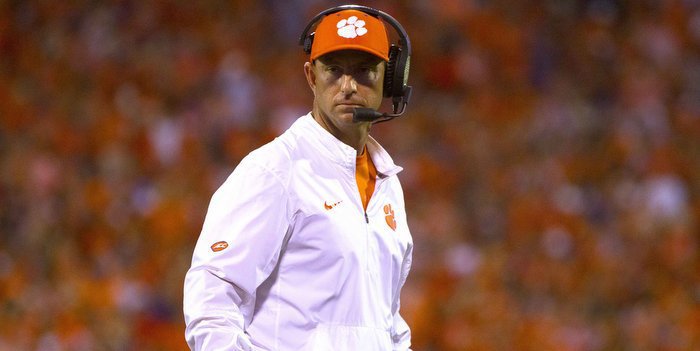 | | |
| --- | --- |
| Swinney ready for Homecoming in Death Valley | |
---
CLEMSON – Homecoming at Clemson is a special time, one that even a football coach can appreciate.
The homecoming floats are being built on Bowman, the weather has turned cooler and thousands of Clemson alums will make their way back home for this weekend's noon kickoff against N.C. State.
It's also another chance to be in Death Valley and there's nobody more excited than Clemson head coach Dabo Swinney.
"We're excited to be back in Death Valley this week. It's Homecoming. I always enjoy this week," Swinney said during his weekly press conference. "I rode by Sunday by Bowman and looked at all the stuff, the habitat home being built, all the students and floats. It's really a fun time. You can just feel the energy and the planning that goes into it. There is an enormous amount of planning that goes into it."
Swinney took his excitement a step further in challenging the fans to show up just as they did two weeks ago for the game against Louisville.
"Our fans are Death Valley [referring to a T-shirt]. There is no Death Valley without our fans, and the standard is kinda been set high, and I know there is a lot of people or some people out there that aren't happy with playing a noon game and we don't have any control of that," Swinney said. "Sometimes I think people don't understand that. I love night games too, but we don't have any control of that. That is what I tell my players. We got to play great whenever we play if we play at noon, three, eight, nine, one in the morning, we got to play great. That's what we are supposed to do. I would say the same things to our fans because they make such a huge difference. A huge difference. We started the Louisville game out with two penalties in a row right out of the gate.
"So my message to the fans is this week is that same fervor and intensity and will to win and spirit we had at 12 at midnight against Louisville, we need it at 12 noon against NC State. This is a huge game. It's a battle of first place in our division. It gives us an opportunity to get to 7-0 and stay on course to accomplish our goal and win this division. That's what we got to do so we can have the opportunity to go play for the ACC championship. We don't get many home games. I want to challenge our fans to show up and let's be ready and let's get up and eat a biscuit and be ready to roll."
Quarterback Ryan Finley is 84-of-116 for 1,018 yards and nine touchdowns with no interceptions and he's running a familiar system with Eliah Drinkwitz, who both came to Raleigh from Boise State.
"Their quarterback is a transfer from Boise State. They're playing well and with a lot of confidence," Swinney said. "This is the best team that coach (Dave) Doeren has had. They've done an excellent job. There are only two undefeated teams in our division. We'll be battling for that top spot. Someone will leave Saturday in control of their destiny. This is a championship-caliber game this week. They're averaging 34 points a game, they have a new coordinator, a new offensive line coach and their QB graduated and transferred. They're familiar with what they're doing system-wise. They want to run the ball first of all. They have a lot of formations and personnel groupings, speed motions."
The Wolfpack also have running back Matt Dayes, Jaylen Samuels and Nyheim Hines at the skill positions.
"The QB is fourth in the country in completion percentage. He has thrown nine touchdowns, no interceptions," he said. "Their running back, No. 21, he's top 15 or so in the country averaging 113 yards a game. He's tough, he's a guy who could play anywhere. Their line is athletic, physical and they've added a few receivers to their corps this year, big wideouts. They've got big tight ends. That hasn't changed. The guy – and I don't know what to call him – No. 1, he's a great football player. They use him in a lot of ways. It's hard to classify him. He's kind of a tweener but man oh man he can run it, catch it, he blocks, he does everything. He's a dynamic player that hurt us last year, too. Last year, our worst game defensively was against these guys."
Defensively, N.C. State is very experienced and laden with juniors and seniors across the depth chart.
"Defensively, they are eighth nationally in total defense," he said. "It's another good defense. This one and Auburn have the two best fronts we've seen. They're active, good quality depth, they have a couple of guys we recruited hard here. It's a very good group on defense."
And, on special teams, they can make teams pay.
"Special teams, their punter leads the ACC in averaging 46 yards a punt. We were very poor in this game in special teams last year," he said. "We gave up a big return for a touchdown. Their return men, we're very familiar with them. It's going to be a big challenge."
OTHER NOTES
Jalen Williams
"I think he will be released this week. He was in green last night and again today. He'll go full speed today in pads. I think maybe he's probable this week. Whether we play him, that's a different deal. He's very probable."
Improvement in kickoff coverage
"Yeah, same two coaches we had coaching it last year – Marion Hobby and Brent Venables - are coaching it this year. Our guys have taken more pride in their roles. They understand how a play can change a game. They've taken ownership. We've worked really hard on it ... guys who have some experience now. We've mixed in new guys, guys like Tanner Muse and Jamie Skalski. J.D. Davis is doing a phenomenal job. Chad Smith has emerged in there. He has earned our confidence there. They've taken a lot of pride in what they're doing."
How has Tavien Feaster handled being a backup?
"Great. We don't have a guy with a better attitude than Feaster. He's a low-maintenance player. He doesn't demand a lot of attention. You never hear him. He just shows up and works. He has great respect for the veterans. He has made great progress since our camp. He has a bright future."
Does he see Ben Boulware as a dirty player
"No. Not at all. He's a great player. Ain't nothing dirty about Boulware except that beard he's got. That's pretty nasty. (joking)"
The play of Jake Fruhmorgen
"Played awful at Boston, worst game he's ever played maybe since Pee Wee. He's a heck of a player. We don't have a more talented guy or a more committed guy than Fruhmorgen. He'll respond. He did a poor job up there, a poor job with his technique. He overset and got beat inside and over the top. He had some bad plays. He did a lot of good things, too. He's everything you want. He's a first-time starter, he's started just six times. He'll be a great player. What I care about is how guys respond. No one has more pride in his performance than Jake. I don't have to worry about him. He may have his best game of the year this week. He's done a good job for us over the course of the season."
Seeing four ACC teams in the Top 20
"I think it's great. I've got North Carolina in there, too. They're in my poll. I think they're pretty good. This league is a tough league. It's played out that way in out of conference games, playoffs, and in the NFL Draft. It's played out in college awards, too. The coaches in this league are tremendous. When I was at the meetings back in the spring, I was looking around that room and man, there were a lot of great coaches in there. I don't think people are excited when they play an ACC team. People in our conference have understood that for some time. Anybody can beat anybody any given time."

Upgrade Your Account
Unlock premium boards and exclusive features (e.g. ad-free) by upgrading your account today.
Upgrade Now