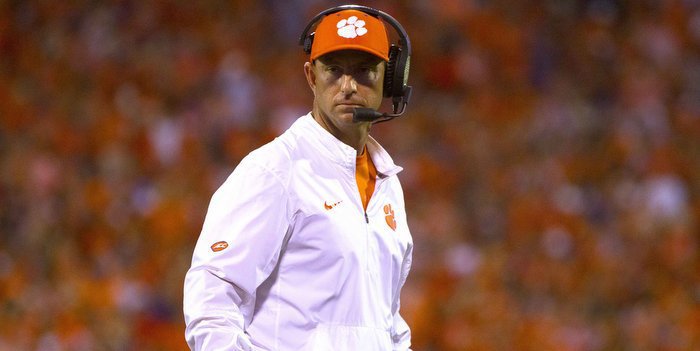 | | |
| --- | --- |
| Swinney reacts to "special moment" and critical mistakes | |
---
Clemson narrowly escaped Death Valley with a 42-36 win over Louisville Saturday night, but according to Dabo Swinney the Tigers made enough mistakes to lose three games.
Five turnovers – two in the redzone – and busted coverages contributed to some of the malaise, but Swinney said he's just happy his team is sitting at 5-0 with a trip to Boston College on the horizon.
"A quick turnaround for us here. I'm not sure many people got a lot of sleep last night here," Swinney said during his Sunday teleconference. "What a special moment that we all had the privilege of being a part of. That's what it's all about. We beat a really good team, no doubt about it. We made enough mistakes to lose three games. A lot to improve on, for sure.
"I can't say enough about how proud I am of our team and our staff, our toughness and resolve and never quit attitude that I saw, especially watching the tape. Our guys played with incredible heart and effort. We're 5-0 and looking forward to continuing to get better. I think our best football is certainly in front of us. At some point, we'll put it together. We made some mistakes and there's a lot to improve on, but the bottom line is we really rose up when we just had to have it and made the plays to win."
The brightest spot might have been special teams – a total team effort that included a 77-yard kickoff return by Artavis Scott.
"I'm pleased with all aspects that we had contributions from. Special teams is probably the most consistent area right now," Swinney said. "I'm really proud of what we're doing there. Three touchbacks on kickoff coverage. Andy Teasdall had his best game. Our kickoff return, I felt like it changed the game. We had a blocked kick. A lot of good things there that we can continue to build on."
Offensive, Clemson moved the ball well on Louisville, racking up over 500 yards of total offense, but there were still miscues and turnovers that need to be cleaned up.
"Offensively, we averaged 8.2 yards per play and we only had two tackles for loss for minus-four yards. We did a really good job up front handling the pressure," he said. "We had no sacks against a really good defense. Because of the balance, we had 200-plus yards of rushing and passing and because of our balance our explosive plays really took off. We had a lot of explosive plays. Our offensive line played outstanding. The run game, Wayne Gallman, did well. We threw and caught the ball pretty good. We only had one drop and obviously, that was an interception. I'm so proud of our quarterback and his resolve and poise and will to win.
"It was a tremendous night from him with five touchdown passes and his impact in the running game. I'm disappointed that we weren't able to do what we needed to do in taking care of the football. We had five turnovers, and two of them were in the redzone where we had two other opportunities to come away with points where we didn't. As a result, we didn't have enough plays, but when we had to have it, we got it done."
Swinney said the defense made the big plays when they needed to in the second half.
"Defensively, it was a dominant first half - three turnovers, five sacks to their none and 52 yards of tackles for loss to our four," he said. "Just incredible effort. We had 105 gradable plays as coaches and I've never been a part of that. Guys got tired but basically we played two games of defense in one game, but they gave all that they had all the way til the end. We made some mistakes in the second half and were not as sharp and we had a couple of busts. The offense and the turnovers, we put them in a bad situation. Just proud of them and their heart and desire."
Now the Tigers turn their attention to a feisty Boston College team as they travel to Massachusetts for a Friday night matchup.
"It's a quick turnaround. We're about to go out to practice in about an hour or so. We've got a tough trip up to Boston College, but for us it's continuing to do what we do around here," he said. "We have good momentum. We have that windshield mentality and will continue to have that daily focus and trying to play to a standard that we talk about. This is the biggest game of the year for us and we know we're going to have to play well. We were very lucky to win up there two years ago. We're just getting started in evaluating BC, but they are 3-2 and they're coming off a big win. They will be excited to play on national TV up there Friday night and so will we."
Other Notes
Injuries
"Injury-wise, Tre Lamar just sprained his ankle. They didn't think it was too serious. I'll know more tonight. We hope to put Adrian Baker back in practice this week as far as take him out of green and cut him loose and see how he does. The same with Denzel Johnson and Austin Bryant. We want to cut Austin loose in practice this week and evaluate whether he's ready to go help us win this week or do we cut him loose and bring him back next week. We've got a lot of things we need to evaluate there, but we came through the game pretty good."
Players of the game
"Players of the game were offensively Wayne Gallman. It was his birthday. He just played with a lot of toughness. It was a tremendous job. Defensively, it was Ben Boulware and Jadar Johnson. Those two guys were outstanding. Ben had 18 tackles and Jadar had the big interception and a big pass-breakup . Artavis Scott was the special teams player of the game."
On the decision to put Scott at kick return late in the game
"As I said last night, I felt like we had, and Tavien (Feaster) did a good job, but I felt like we missed one. There was one that I just felt like we missed it. First of all, I hoped we didn't get another kickoff return but if we do I am going to go with Artavis here. Artavis is a very confident, veteran guy and I was just looking for a spark. And he just did a great job for us and the guys did a great job blocking. We had the double team that started with Milan Richard and Grant Radakovich. They did a great job. It was just a great job of Artavis hitting it and making the big play which was the spark we needed."
On using the hype surrounding Lamar Jackson to motivate the team
"I don't think anybody thought he was a second class citizen or anything like that. But I think they are young people. First of all Lamar Jackson has earned all of the praise that he has gotten. He played tremendous football through five games. We did a really good job with him right up until but in the fourth quarter he had three long runs that really hurt us. But again we were tired and he got stronger. He is a tough, tough competitor.
"Our guys were motivated to play well. Our guys were motivated to win, not to make some statement about Deshaun Watson. Our guys just wanted to win the game and we are playing the No. 3 team in the country. We had a lot on the line. We wanted to stay undefeated. We wanted to stay in control of our destiny in the division and all of those types of things. That is what our focus was."

Upgrade Your Account
Unlock premium boards and exclusive features (e.g. ad-free) by upgrading your account today.
Upgrade Now

Tags: Clemson Football
,
Wayne Gallman
,
Ben Boulware
,
Jadar Johnson
,
Adrian Baker
,
Andy Teasdall
,
Deshaun Watson
,
Milan Richard
,
Artavis Scott
,
Austin Bryant
,
Denzel Johnson
,
Tre Lamar