| | |
| --- | --- |
| Swinney praises the offense after "fun" and competitive spring game | |
---
| | |
| --- | --- |
| Saturday, April 11, 2015 6:46 PM | |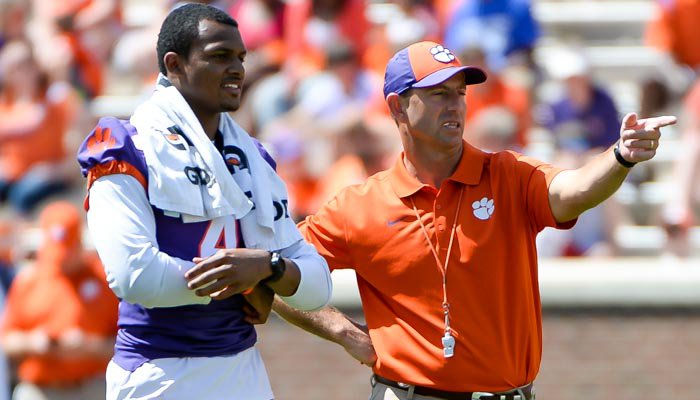 CLEMSON – It came as no surprise that head coach Dabo Swinney

Dabo Swinney
Head Coach
View Full Profile mentioned offensive players first during his post spring game comments Saturday afternoon, especially after the two offenses combined for 52 first half points.
The White held on for a 35-24 victory in front of a record crowd of 37,000 fans on a warm, sun-drenched day in Death Valley that Swinney said was fun to watch.
"It was fun. It was competitive. I think for the most part it was a pretty clean game - not a lot of penalties," Swinney said after the game. "We had one bad snap. Didn't really have any turnovers until right there at the end - had the one late pick and then fumble. I thought both teams competed hard. The bottom line is that the white team just made more big plays.
" Artavis Scott

Artavis Scott
So. Wide Receiver
#3 5-10, 190
Oldsmar, FL
View Full Profile was amazing. Mike Williams

Mike Williams
Jr. Wide Receiver
#7 6-4, 210
Vance, SC
View Full Profile was great for his team. Just more big plays. Very pleased with the quarterbacks. I thought Nick Schuessler

Nick Schuessler
RS Jr. Quarterback
#12 6-3, 195
Grayson, GA
View Full Profile showed what he showed all spring and really finished up a strong spring for himself. Those two young quarterbacks, I was anxious to see them respond and they both made some really nice throws. Tucker (Israel) had a huge throw down the sideline and Artavis had a great catch. Kelly Bryant

Kelly Bryant
Fr. Quarterback
#2 6-4, 205
Calhoun Falls, SC
View Full Profile took his team down a couple of times for a couple of scores and had a great touchdown throw to Germone Hopper

Germone Hopper
RS Jr. Wide Receiver
#5 5-11, 175
Charlotte, NC
View Full Profile . The backs ran hard. I thought the line did a nice job at the point of attack with some of our zone blocking stuff."
Swinney then said the play of the defense was hard to gauge with the teams split.
"Defensively, we had some guys stand out and make some plays. At the end of the day, when you split your team like that you're not going to be quite as sharp in some areas," he said.
The Tigers have struggled in the return game in recent seasons, so Swinney opted for live returns during Saturday's contest and liked what he saw.
"Really pleased with our return game. That's why we did that today," he said. "We wanted to put those guys in some situations and I'm very pleased with G-Hop and Artavis. Those guys can help us in the kicking game, along with T.J. Green

T.J. Green
Jr. Safety
#15 6-3, 205
Sylacauga, AL
View Full Profile . (Andy) Teasdall punted the ball well. Ammon (Lakip) made all of his kicks. Overall good day. I think everybody came through healthy, so that's the best blessing because in this game you just have to go play. It's good to be able to have everybody go into the offseason for the most part pretty healthy and we'll add to it this summer."
Wayne Gallman

Wayne Gallman
RS So. Running Back
#9 6-1, 205
Loganville, GA
View Full Profile had seven carries for 71 yards and C.J. Davidson

C.J. Davidson
RS Sr. Running Back
#21 5-10, 200
Clemson, SC
View Full Profile led all runners with six carries for 100 yards. Swinney said Gallman would get the start if the season started today.
"If we were playing today, he'd go out there," he said. " Tyshon Dye

Tyshon Dye
RS So. Running Back
#22 5-11, 215
Elberton, GA
View Full Profile looked excellent. Saw some things from (C.J.) Fuller. C.J. Davidson had his best day of the entire spring. He missed the first part of spring with injury and has really just gotten going the last half. Zac (Brooks) and everybody did some good things. We've got a good situation and I'm confident with all of those guys. We can win with all of them."
Nick Schuessler played for both teams, going 11-for-16 for 201 yards and two scoring tosses.
"He better be ready to start. He's definitely the backup coming out of spring ball. He's had a very consistent spring," Swinney said of Schuessler. "He has to prepare himself to be the starter and if he's not then he's cheating himself and our team. The same thing with those two young guys. They have to prepare to be the starter. Nick had a solid spring. The two young guys got better all spring and that's what the goal was - get them exposed, teach them the installation, put them in as many situations as we could. I thought they responded well but both of them have a lot of work to do this summer. Deshaun will be ready to go, so don't worry about that."
Swinney then said it was too early to tell if the freshmen would redshirt.
"I don't know that we can redshirt anybody because we've got so far to go until we get to September," he said. "All four of those guys need go into the summer thinking that they're the starter and they need to prepare like that. The national champion was on their third team quarterback. We've got to have everybody ready to go and develop the experience"
Swinney ended by saying the starting 11 on the defense will be good, but the backups and younger players have to step it up.
"We've got a lot of work to do. Our first group, you're not going to notice a lot of difference from last year," he said. "When those first 11 go out there - or the 13 or 14 that we have - you won't notice much difference from where we finished off. The biggest difference is going to be, who runs in there to sub them - not in talent, but in experience and knowledge. We've got to sure up the gap between the ones and twos."
Clemson Spring Game Stats Summary
Saturday April 11, 2015
Clemson Memorial Stadium
Scoring Summary
White 14 21 0 0 35
Orange 10 7 0 7 24
Attendance: 37,000 (Clemson Spring Game Record)
Orange: Mike Williams, 19 pass from Nick Schuessler (Lakip Kick), 1st, 14:05
White: Wayne Gallman 1 run (Grooms Kick), 1st 11:53
Orange: Ammon Lakip 22 FG, 1st, 3:03
White: C.J. Davison 1 run (Spence Kick), 1st, 0:58
White: Artavis Scott 20 pass from Nick Schuessler (Grooms Kick), 2nd, 11:52
White: C.J. Davidson, 54 run (Spence Kick), 2nd, 7:35
Orange: Mike Williams 6 pass from Kelly Bryant (Lakip Kick), 2nd, 2:50
White: C.J. Fuller 1 run (Grooms Kick), 2nd, 0:38
Orange: Germone Hopper, 20 pass from Kelly Bryant (Lakip Kick), 4th, 4:34
Individual Statistics
(Note: Schuessler played for both teams at quarterback)
Rushing
Orange: Dye 13-43; Bryant 7-29; Schuessler 5-21; Brooks 10-18; Hopper 2-1
White: Davidson 6-100-2; Gallman 7-71-1; Fuller 13-48-1; Israel 3-12: Schuessler 2- (-19)
Passing
Orange: Schuessler 6-11-116-1-1; Bryant 10-16-95-2-0; Williams 1-1-8-0-0
White: Schuessler 5-6-85-1-0; Israel 8-16-110-0-0
Receiving
Orange: Williams 5-105-2; Hopper 4-42-1; Dye 2-24; Brooks 2-18; Leggett 2-10-; Bell 1-12; Bryant 1-8
White: Scott 4-75; Peake 3-32; Smith 2-18; Renfro 1-24; McCullough 1-20; Thompson 1-18; Mac Lain 1-8
Tackles
Orange: Dodd 6, Tankersley 5, O'Daniel 4, Green 4, Jalen Williams 4, J.D. Davis 4, Register 4, Yeargin 4, Carlos Watkins 4; Sterling Johnson 3
White: Joseph 6, Gibson 6, Kearse 6, Ogundeko 5, Wiggins 5, Chad Smith 5, Byers 5, Carter 4, Alexander 3, Burrell 3, Rogers 3, Lawson 3
Tackles for Loss
Orange: Kevin Dodd 2-9
White: Rogers 1-7, Ogundeko 1-6; Kearse 1-2, Carter 1-2, Joseph 1-2, Chad Smith 1-4, Lawson 1-3
Sacks
Orange: Carlos Watkins 1-11; Kevin Dodd 1-7
White: Ogundeko 1-6; Rogers 1-7
Interceptions
Orange: None
White: Gibson 1-16