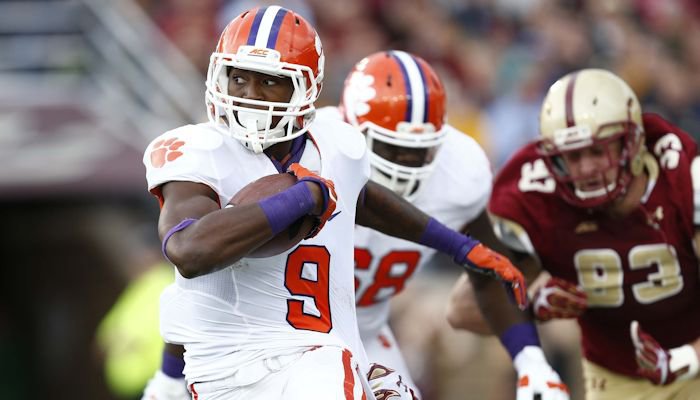 | | |
| --- | --- |
| Swinney on playing Friday night: "I don't like it" | |
---
| | | |
| --- | --- | --- |
| Tuesday, October 4, 2016, 12:37 PM | | |
CLEMSON – Boston College and Clemson will kickoff at 7:30 p.m. Friday evening and Dabo Swinney doesn't like it.
Clemson's head coach didn't hide his feelings when asked about playing on Friday – a night that is known for high school football in South and when his sons Will and Drew play for Daniel High School.
"I don't like it. I don't like it. I want to be watching my sons on Fridays," Swinney said. "I don't like the fact that it takes away from the high schools on Friday night. I've never liked it, but I don't control it and Dan Radakovich doesn't control it. Those are TV contract stuff, and I understand all of that stuff. We don't have any control over it, so I don't really fret about it or worry about it. We just do what we do. I don't like it, and it doesn't mean I have to like it."
Clemson's early season schedule has been wacky – a late night start at Auburn (past nine), two noon games, a Thursday night game at Georgia Tech, another late start last Saturday and a Friday game this week.
"We've had a Thursday on a Tuesday and now a Wednesday on a Tuesday, so we're getting closer to having Tuesday be Tuesday, so I'm looking forward to that as we get through the season where we can actually come in here and have an actual Tuesday," Swinney said. "It's a crazy schedule this year with a couple of short weeks - playing on a Thursday and playing on a Friday. We're excited about going to Boston.
"It's another big challenge for us. They always play tough and every time we go up there, it is always a battle. We've had two or three times up there that we've been fortunate to come away with a win, especially a couple of years ago. We know what we have in store for us and have great respect for Boston College. They're a 3-2 football team, but they're 4th-and-20 away from being 4-1. Georgia Tech on the game-winning drive converted a pass that allowed them to go on and have the game-winning drive in Ireland. They're a good football team that has improved over the first few games."
Swinney said that the Eagles present a challenge offensively despite being ranked 113th nationally in total offense – 76th in rushing offense and 110th nationally through the air.
"Offensively, they present a lot of challenges with how they use their personnel. It will be a game of adjustments," Swinney said. "They have multiple tight ends and fullbacks. They're a physical, big, force the issue, run the football, play-action type of a team. The big challenge for us this week is matching their physicality and the mentality that you've got to have to play against an offense like this and secondly, because of all of the personnel groupings and shifts and formations and the motions they use, you have to make a lot of adjustments.
"You have to be disciplined, and we didn't do a very good job of that a couple of years ago. We've got to do a better job of playing with better discipline on the back end, especially with their play-action game. The quarterback is big and impressive. He's a grad transfer from Kentucky where he threw for over 5,000 yards at Kentucky. They play two or three running backs who are all big and physical, and if you try to arm tackle them, it's not happening. You better center them up and have help on the way. They have four starters back on the offensive line, so they're very experienced."
However, the Eagles rank first nationally in total defense, giving up just 202 yards per game and 17 points per game.
"Then you flip over and look at their defense and it's the same old Boston College. I don't know where these guys come from but it's the same old Boston College," he said. "They're number one in the nation in total defense again this year. They finished the year last year number one in total defense with Alabama third. It's a really stout defense - big, strong, physical defensive linemen that gobble people up. They've got some fast-twitch guys on the edge. Two of the best linebackers we've seen on tape. Boston College always has great linebackers. They've got four veterans back in the secondary. They've got a new defensive coordinator. This is a confident bunch on the defensive side. They're seventh in the nation in rush defense and first in the nation in pass defense."
Red Bandana Game
"I didn't know what the Red Bandana game was all about. I did a little research and watched a video, and it's unbelievable. It's one of the most inspirational stories I've ever seen or heard about. The video I watched was powerful. As a father of three sons and knowing the love you have for your children and how fast they grow up and the memories you have of your kids, watching his mom and dad brought me to my knees. It's a real honor to be able to play in a game like this in a moment where it worked out that this is the game they chose to be the Red Bandana game. It's an inspiration. You're talking about a real hero. We look forward to being a part of that special moment with all of the folks at Boston College."