| | |
| --- | --- |
| Swinney on the 'Noles: It's the biggest because it's next | |
---
| | |
| --- | --- |
| Tuesday, November 3, 2015 2:29 PM | |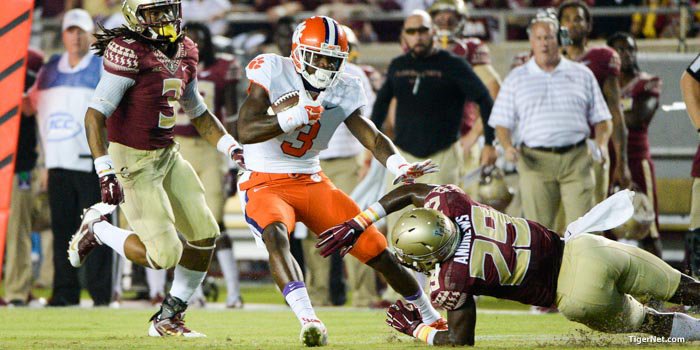 CLEMSON – The biggest game of the year is here. Again.
Clemson head coach Dabo Swinney addressed the media during his Tuesday morning press conference in the WestZone, and said that Saturday's home contest against 17th-ranked Florida St. is the biggest game of the year, but not because an ACC Atlantic title is on the line or what it means nationally.
It's because it's the next game, a recurring theme this season as the Tigers have roared out to an 8-0 start.
"I just want congratulate our team once again for a great job; back-to-back road wins. We had a clean game down in Miami and then a hard-fought game at N.C. State where there were a lot of momentum swings," Swinney said. "I am so proud of our team for the stretch that we've had though I am glad to be home. I'm excited about being back in front of our home crowd. This is always a big game. For us, it's the biggest game of the year because it's the next game. Some games have more juice to them and this is one of them. I look forward to competing against those guys."
Swinney said the Seminoles shouldn't be overlooked.
"Florida State is same ole same ole - well coached, got fast dudes all over the place. They know what they are doing. Defensively they are very talented up front," Swinney said. "They have recruited very well and have gotten better as the year has gone on. Outstanding in the secondary. They got some guys that can run and have great length. 6-2, 6-3 guys back there. So it's the same ole challenge. Offensively, a big strong offensive line. Dalvin Cook, y'all know how I feel about him. He's an amazing player. He leads this league in all-purpose yards. He leads the league in scoring and averages 8.2 yards a carry, so those are some freakish numbers. They do a great job on involving him in the passing game. They probably screen to the backs as good as anybody that you will see. Dalvin didn't play last week. Number 9 is a different guy. He's 235 plus pounds, big, strong outstanding back. Excellent receivers like they always have. I mean really, really good football players. They always do a good job with their tight ends.
"I know (Everett) Golson didn't play last week. They don't really do anything different. They run their offense, and both those guys are very capable of running their offense. Obviously, (Sean) Maguire beat us last year. Golson has had a heck of year for them this year. He is second in the league in passing. It is just a really good football team. Their kicker has been there for going on eight years I think. 2 terms. He's an amazing talent. Their punter is back, and they have excellent skill in the return game. We have great respect for Florida State. They've been the best in our league the last few years and they have earned it. They have won the national title and played in the first college football playoff last year. We have to find a way to beat these guys. Not many teams have been able to do it. We will have to find a way to finish. We look forward to it."
Other notes
On Tuesday's initial College Football Playoff Rankings
"I don't care, not unless they're going to give us an exemption like a pass. It's just so irrelevant. Three of the four teams in the first poll didn't play in the first playoff. Unless they're going to change the rules, no. I know they have to fill air time, and they need to sell advertising, but it has nothing to do with us. We're honored. We've had a great season, so we're excited about that. The only poll we're excited about is December 6. We'll open up Death Valley and have a poll party and serve everyone pizza on December 6 to celebrate that. Our focus now is trying to beat Florida State."
Was last year's loss at FSU your toughest?
"They're all tough. That was one of the toughest. 2010 was tough. We led the entire game. The only time we trailed was when we lost when the ball went through the uprights from about 82 yards out. All losses are tough. At Auburn in 2010 was tough. I could go on and on. Those things stick out in your mind. That's life. You have good days, and you have bad days. Football teaches you how to respond in life. You can pout about it, or you can do something about it and respond. Life is about how you respond. It's how you respond to what happens. When you have success, how do you respond? When you have failures, how do you respond? We've won 17 out of 18 since that time. That, to me, is how you measure what a person is made of. It's not the success or failure. We're so quick to praise and judge. To me, it's how you respond."
Tony Elliott's maturation as a play-caller
"He's done a great job but Jeff Scott calls a ton of plays. He called two touchdowns the other night. We have a lot of collaboration. Tony manages it from up top, but it's not just Tony. We have a true co-coordinator situation here from game-planning and developing to calls and the way we do things over the course of the game. Both of them have been tremendous."
Do you like the fact your team plays with an edge?
"Yeah. I love that. Every game is huge for us. I know I say that every week. Sometimes people have a mentality that we're going to coast through these games. If you don't show up with that type of juice, you will get beat. Every game is the Super Bowl every week, every single week. As you go through the season, and you climb that mountain, the margin for error gets smaller. It just comes with the territory. I like to play every week. I love to play. This team loves to play. They don't care if it's a noon game or a night game or a Hurricane. They like to play. We don't have to play Florida State to get excited about playing a game. Our fans don't either. We sell out Wofford and App. State. It doesn't matter who we play. That's the focus. Am I pumped about being 8-0? Yeah. Heck yeah. If we were 4-4, I'd be just as excited about playing this week. Now, the stakes wouldn't be as high. Your opportunities would be different. But we're in the championship phase of our journey. November and December is our championship phase. Man, what a great opportunity we have to compete for this."
What went wrong on special teams?
"Just execution. We've done a nice job outside of that one kick outside of Louisville. Lakip has been tremendous. Covering a kick isn't rocket science. It's 90-percent want-to and 10-percent technique. The big one they had the other night, we had some really poor effort. I assure you, we've addressed that. No one should ever question your effort. They've got full scholarship players, too. They've got good coaches and 85 scholarships. It's not like people can't block us. You have to give them some credit, too. That particular play was very disappointing. We didn't play with the effort that we demand and expect. Coach Venables and Coach Hobby were not happy about it. We addressed that yesterday."
"He is a great preparer. He can beat you with his heart, his mind, his arm, his legs and that's what makes him special. I don't know if there are many with the aptitude and work ethic that he has. He has tremendous poise and confidence, and it comes from how he prepares. He takes great pride in his performance, and we grade him. Streeter has done an unbelievable job. The little things lead to big things and he takes pride in the little things. He is a very detailed guy. It's like having a 10th coach on your staff. He's like a player-coach. He's at that level. Dealing with him last year, it was like dealing with a senior. He's just gotten better and better. He's not perfect. He makes mistakes. He mishandled a ball the other night. When he makes a mistake, he does not panic. He doesn't get distracted. He embraces his role and understands the platform that he has. He knows his success comes from his attention to details."
Terry Allen's impact on the backs
"He has been a great addition. It's been great having a lot of former players around. We have a great group of students helping us out there on the practice field. Terry has been great for our young guys. He has done great developing relationships with them. Our guys have great respect for him. He's had as much fun as anyone in terms of being engaged and being back at Clemson. A great job for us."