| | |
| --- | --- |
| Swinney on success as a recruiter: "I love what I do" | |
---
| | |
| --- | --- |
| Wednesday, July 30, 2014 8:06 AM | |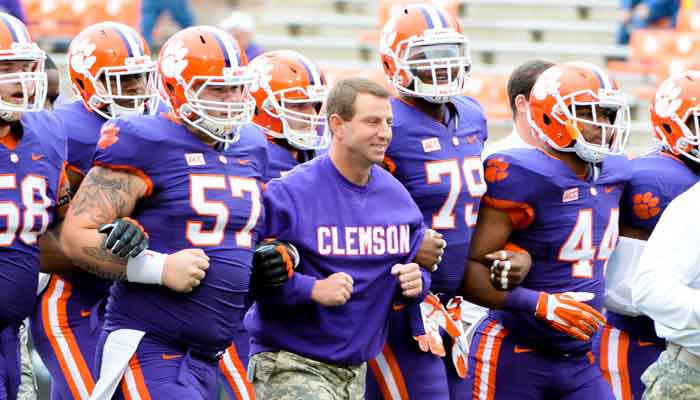 Clemson's 2015 recruiting class is already ranked in the top five nationally, and with the addition of Tampa (FL) Sickles standout Ray Ray McCloud Monday evening, the Tigers aren't likely to fall too far in the rankings despite the fact that the class is almost finished and there are still seven months until National Signing Day.
Head coach Dabo Swinney

Dabo Swinney
Head Coach
View Full Profile is known as one of the best head coaches on the recruiting trail, and there is no doubt that mommas not named Nkemdiche love what Swinney has to sell. In 2013, Yahoo Sports released an article that listed Swinney as one of the nation's best recruiting head coaches, listing him third behind Nick Saban of Alabama and Urban Meyer of Ohio St.
The Yahoo report stated:
3. Dabo Swinney, Clemson: Remember when Swinney was considered overmatched as a major-college head coach? What he has done on the recruiting trail with the Tigers has been fantastic, and it's his enthusiasm for his players and winning that has recruits taking notice. Remember his celebration (insert any big Clemson win here) after his team beat LSU in this past season's Chick-fil-A Bowl? Recruits love those types of moments, as Swinney's enthusiasm is nothing short of contagious. The Tigers head coach has also been able to get top recruits out of rich states such as Florida and Georgia, including electric receiver Sammy Watkins

Sammy Watkins
Wide Receiver (2011 - 2013)
#2 6-1, 205
Fort Myers, FL
View Full Profile . His tireless work ethic has paid off not only on the recruiting front but as the face of a program.
Tuesday afternoon, Swinney was a guest on ESPN Radio's SVP and Russillo show, and he was asked why he has recruiting success.
"I think first of all, we've won and I think that's the biggest thing," Swinney said. "I've got experience as a head coach now. When I first got the job, I signed 12 guys. Tajh Boyd was one of those 12 and all of those guys just graduated and really impacted our program and helped me build the culture the last five years. But through that, we've been able to win the league, win the division, have 10-plus win seasons and end up in the Top 10 the last couple of years."
Swinney then listed Clemson's recent success – including back-to-back 11-win seasons – as another reason for the program's success and his track record as a recruiter.
"I think that I have always had the ability to recruit, but people listen more now," he said. "I guess we have more credibility nationally. And then the investment by the university into our facilities. Our facilities are incredible and getting better. And then Clemson is such a special place. I know Clemson, and it's more than just a job to me. I am passionate about it and love what I do and where I do it and that resonates well."
He then stated that the final pieces to the puzzle are the stability of his coaching staff and Clemson itself.
"We have an unbelievable staff. We have a great staff with great continuity and that has allowed us to recruit at a high level," he said. "It's a cool place and when people come visit we usually have a shot at them."