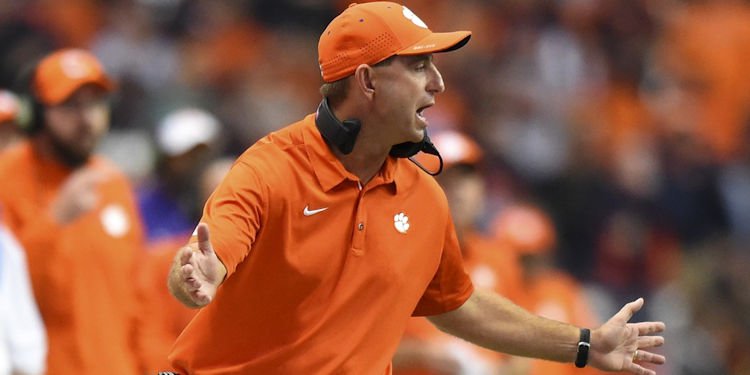 | | |
| --- | --- |
| Swinney on loss to 'Cuse: "We earned our butt whipping" | |
---
Clemson head coach Dabo Swinney wasn't in the mood to make excuses Monday on his weekly teleconference. The Clemson football team got its butt whipped Friday night at Syracuse, and it was a butt whipping that they earned.
Unranked Syracuse defeated Clemson 27-24 Friday night in the Carrier Dome, and Swinney said there aren't excuses that can be made.
"You're not going to get any excuses from me. We got our butts kicked and we deserved it and we earned it. Let's just compliment Syracuse," Swinney said on a Monday teleconference with the media. "There are no excuses on this end. None. Everybody had the same opportunity we did. They just out-coached us and out-played us. They earned it and we earned our butt whipping. There's no excuses."
Swinney said he's glad he has a program that hates to lose.
"Been a long weekend. A lot of evaluating and really disappointed obviously in the loss," Swinney said. "It's never good to lose. I'm glad that we've built a program here that when we do lose one, you feel like the world is coming to an end and that's the type of program I want to have. I do think that it's important to keep a good perspective. Our players have been a part of a really, really, great run. We've won 37 of the last 40. I'm thankful that we haven't lost many but we got our butt kicked the other night that's for sure. We had won 12 road games in a row, so we lost the 13th one. We had won 11 games in a row and we lost the 12th one.
"I think it's important to keep perspective but you've also got to be honest and correct and evaluate and move on. The bottom line is we did a poor job. We really did a poor job as coaches. It's just disappointing in myself and us as a staff in general. We just flat out got our butts kicked. I think it's important to give Syracuse the proper credit. Everybody wants to write the stories about Clemson getting beat all of that and I understand because of where we are, but they just kicked our butt and that's needs to be the story. Sometimes you get your butt whipped and we did. We haven't had many of those, but we've got to own it and learn from it and grow from it and respond. That's what you do. You keep moving forward. Disappointed."
Swinney said that Clemson simply didn't play well in any area or phase of the game.
"A lot of mistakes. A hundred and something yards in penalties. We had eight penalties on defense," he said. "Did not play with great discipline on defense at all - the PI (pass interference), the late hits, the really unexcusable unsportsmanlike penalty on (Tanner) Muse. On third-and-seven, we line up in the neutral zone and makes it a third-and-two and it becomes a fourth-and-one and they end up getting points off of that. Those are plays that add up. We did not do a good job third down. A bad night defensively and it was really just discipline. It was the little things - not having our eyes on the right things. They got us on the screen and go three times. We didn't contain the quarterback when we did rush with just three. Their quarterback played lights out and their receivers made some plays and they just flat out beat us.
"Offensively, we were really poor on third down. We've been a good third down team. Was really poor with what I saw. We had a third-and-one, and we had missed assignments. Certainly hurt us with Kelly (Bryant) going out because he was actually playing pretty good. That was a big loss for us but plenty of big opportunities in that game."
The kicking game, where Clemson is trying to replace Greg Huegel, is an issue.
"The kicking game is a major concern," Swinney said. "You've got the ball on the 19 and 21, and you expect to come away with points there, so we've got some improving to do all across the board."
The Tigers are off this week and host Georgia Tech Oct. 28 at 8 p.m.
"I'm thankful we've got an open date right now. We've got to get healthy first and foremost," Swinney said. "We've got to own it and learn from it and use this hopefully as a stepping stone and have a strong finish. If we play like that, it will be hard to win another game. I think we've got a good group of guys here. They haven't lost much. A lot of these guys, it was their first or second loss in their career. I expect us to get back to work and have a good week, get healthy and get a head start on Georgia Tech and have a strong finish."
Swinney said it was quiet plane ride home from New York.
"There wasn't really anything that needed to be said. I said everything I needed to say in the locker room. I'm glad we have a program where we don't really know how to act after a loss," he said. "I expect them to respond. We'll have our first team meeting with them this afternoon, and that'll be a very important senior meeting and team meeting today to make sure we're all on the same page. It's important to keep perspective but you also have to correct, evaluate and be honest and that's for us as coaches, players and all of us together. Let's get it fixed, move forward and see if we can go win the next one. We've got a lot of opportunity in this season. We all want to 12-0. I've never had a season where I didn't want to go undefeated. That's all I know. We're not going to be 12-0, but that doesn't mean we can't be 11-1, but we're going to have to play a lot better to have a chance with that, and that starts with trying to win this next one."
The Tigers will practice three days this week.
"We've got a good plan that we believe in. We won't do anything different on our open week than we always have. They had Saturday and Sunday off. That was big," Swinney said. "They haven't had two days off since August before camp. Today is a late day because we don't get them til this afternoon. They have Fall Break today and tomorrow so there's no school. They will have had four days off after tomorrow with no school. That's a good break for them. It will really be five days because they didn't have school on Friday because we were in Syracuse. A little break from school is good for them. Just hit that reset button. Even if we would've won the game, it wouldn't be any different, but you hate to lose one ever. I think the open date is coming at a really good time for this team and where we are and what we've got to do to mature and get better.
"We'll be smart with how we practice. We'll practice Monday, Wednesday, and Thursday. They won't have any football on Tuesday, but we're doing community service tomorrow afternoon. We're going to work with the Harvest Food Bank. They'll have Friday, Saturday, and Sunday off. They'll have some good spring in their legs."
Swinney says placekicking spot is open

Upgrade Your Account
Unlock premium boards and exclusive features (e.g. ad-free) by upgrading your account today.
Upgrade Now