| | |
| --- | --- |
| Swinney on Winston situation: An asterisk okay as long as Tigers win | |
---
| | |
| --- | --- |
| Wednesday, September 17, 2014 7:32 PM | |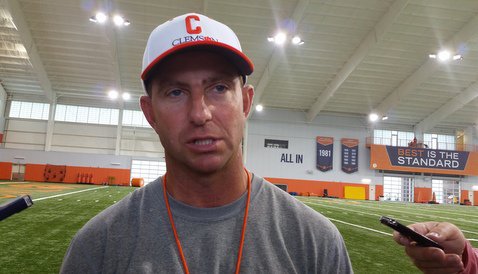 CLEMSON – Clemson head coach Dabo Swinney

Dabo Swinney
Head Coach
View Full Profile said Wednesday that if Clemson manages to pull off the upset Saturday night at top-ranked Florida St., he doesn't care if the record keepers put an asterisk next to the win….as long as the Tigers win.
Swinney spoke to the media at length following Wednesday's practice, and of course the big topic of conversation was the suspension of Seminole starting quarterback Jameis Winston, who is suspended for the first half of Saturday's primetime contest.
Asterisk? No asterisk? He doesn't care, and quickly told the reporter who asked the question his thoughts on the matter.
"Georgia beat us. Did we put an asterisk by that? We didn't have three senior starters," Swinney said outside of the indoor practice facility. "You don't think Corey Crawford

Corey Crawford
Sr. Defensive End
#93 6-5, 276
Columbus, GA
View Full Profile , David Beasley

David Beasley
RS Sr. Offensive Guard
#68 6-4, 323
Columbus, GA
View Full Profile and Garry Peters

Garry Peters
RS Sr. Cornerback
#26 6-0, 194
Conyers, GA
View Full Profile could've made difference? How about Sam Cooper

Sam Cooper
RS Sr. Tight End
#86 6-6, 250
Brentwood, TN
View Full Profile ? Do we put an asterisk by that Georgia win? Three guys from Georgia that game that were important too and I didn't have to sit them that game. Heck, no. They beat us. Period. There's no asterisk by that. Give me a break."
"I watched Alabama beat Texas a few years ago and Colt McCoy went out in the first couple of series. I don't think there's an asterisk on that crystal ball down there in Tuscaloosa. They won the game. I think we've got a national championship trophy in there where we beat Nebraska. I don't think they played Turner Gill in that game but it still says national championship. I'm not getting into all of that stuff. If we're good enough to win no matter who's on the field. If we're not, we won't. Bottom line."
Swinney said that Winston's suspension won't change Clemson's gameplan against Florida State.
"It doesn't change it at all. We have to defend what they do, not who they are," he said. "They're not going to change what they do. If he rolled his ankle the first series, they're going to continue to play. It doesn't change anything for us. We've got to be ready to defend what they do. They're a lot bigger than one player. Y'all remember that I sat Sammy Watkins

Sammy Watkins
Wide Receiver (2011 - 2013)
#2 6-1, 205
Fort Myers, FL
View Full Profile against Auburn and we won. I sat Martavis Bryant

Martavis Bryant
Wide Receiver (2011 - 2013)
#1 6-5, 200
Calhoun Falls, SC
View Full Profile and Sammy Watkins got hurt the second play of the game against LSU and probably one of the best defenses I've seen since I've been here and we won. You know why? Because our program is bigger than any one player and so is Florida St.'s.
"It's disappointing to them. It was to us when we played Georgia. I didn't have four starters. That's just the way it is. Other guys step up. Florida St. – you want to have your best player on the field, but they are a great team with or without him. They have great players. Jameis Winston doesn't play defense and doesn't play special teams, the last time I checked. That doesn't change anything for us. We're going to have to play very well whether he's in the game for four quarters, no quarters or whatever."
Swinney then said he wasn't surprised that the Florida St. program decided to discipline Winston.
"No. I wasn't surprised at all. Jimbo, I'm sure is not happy," he said. "It's not acceptable and certainly not representative of what you want your program to be about. None of us are bigger than the program or the university or the brand. He's obviously a guy that they think highly of. He got some experience last year because Coker suffered a season ending injury. He played a lot against Syracuse. You're not the second team guy at Florida St. if you're not a really good player. They've got good players. Obviously, we don't have a ton a film on him but he's a guy that they recruited to be a great player."
Swinney then reiterated that Clemson is playing Florida St., not just Jameis Winston.
"We're going to play Florida State. We're not playing Jameis Winston. It's more than just one guy," he said. "If we try to beat just one player it will be a long night for us. We're going to execute our plan. We're not trying to defend one guy. We're trying to defend Florida St. We're going to try to play a great four-quarter game. They've got great players. They're much bigger than Jameis Winston. He's a great player. Sammy Watkins was a great player, too. We were able to win without him in big games. They're a much bigger program than one player. They've got a great defense. They're dangerous on special teams. They have an outstanding offensive line. They've got some of the best receivers in the country. They've got an All-American tight end. They've got great running back. He's a critical player for them."
Sam Cooper injury report
"We got good news on Coop. We think there's a possibility that he could be back next week, but we think he'll definitely be back for N.C. State. We'll know more on Monday. That's really good news for us. We need him back because his physical presence is something we need."