| | |
| --- | --- |
| Swinney on Gamecocks: This game isn't any more important to them than it is us | |
---
| | |
| --- | --- |
| Tuesday, November 24, 2015 12:39 PM | |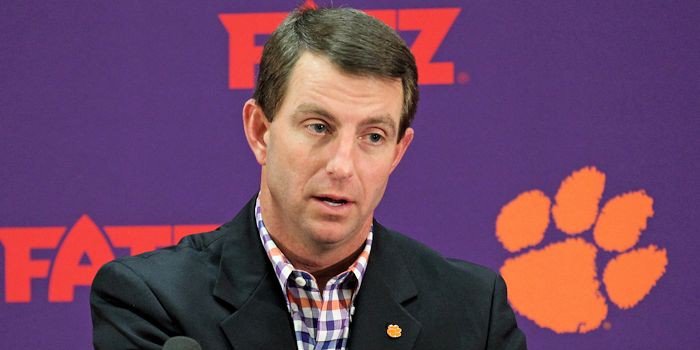 CLEMSON – Clemson faces off against arch-rival South Carolina at 12:01 p.m. Saturday in Columbia's Williams-Brice Stadium, and the teams are headed in different directions.
The Tigers are undefeated at 11-0 and sit atop the national rankings while South Carolina is 3-8 and is coming off a loss to The Citadel last weekend. One train of thought is that South Carolina might treat this game with even more incentive than normal and have a little more want-to than the Tigers, but head coach Dabo Swinney scoffs at that notion.
"It's funny. They said it last week - this is their national championship game was the rhetoric from Wake Forest. Well, it was our national championship game, too," Swinney said during his Tuesday press conference. "This game isn't any more important to them than it is us, I promise you. All I know is we're going to get everybody's best and our guys know that. That's why we don't get too distracted by the opponent. We're going to get everybody's best each and every week...South Carolina is going to play their tails off, I have no question, but so are we."
Swinney said South Carolina week is a season of its own.
"This is always a fun week. We talk about it all of the time," he said. "We have the season, and then we have South Carolina. It's a season of its own. I'm really proud of what our team has accomplished this year. It's been a great ride and a lot of fun to see them compete each and every week. I'm proud of them for being undefeated at home for the second year in a row. It's just a team that's been easy to coach - great leadership. All of the things that we've gotten done this year are in the rearview mirror. It's always about what's next - the next game, the next play, the next quarter, the next half, the next season. That's the mentality we have. Next up for us is South Carolina."
He then said the Gamecocks present a different challenge.
"A lot of challenges for our defense getting ready for them. They've presented a lot of different things. They've had two different coaches," Swinney said. "Different people calling plays. They've done a lot - the in-line, the zone read, the zone read option, empty, power. You name it, we've seen it, so it's a lot to get ready for these guys. They've got some good players. Pharoh Cooper is as good a player as there is in the SEC and as good a player as there is out there in the country. This is a dynamic guy that they're going to make him touch the ball a lot of different ways - the wildcat, screening it to him, throwing it to him the field, reverses. He's a heck of a football player.
"He only needs 100 and something yards to go over 1,000 for the season. He's got seven touchdowns. Wilds is a top 20 running back in the history of the school. He's had a ton of experience. Williams is a great player. Shaun Carson is a great player. They play all of those guys. Perry Orth has a good understanding of what they're doing in the passing game. Jerrell Adams is a big ol' giraffe running down the field. He's long and can fly. He's a problem in the passing game. They've done a nice job of trying to get him the ball, and he's made some big plays for them. They're good up front. We have a lot of respect for them."
South Carolina also has depth along its defensive line.
"Defensively, a ton of depth on the defensive line," Swinney said. "I don't know that we've played anybody this year that has played as many guys. They've played 12 guys, every bit of it up front. They are three deep at every position, and they play them. They've got a mixture of things as far as what those guys can do. They're good at linebacker. In the secondary, they've gotten more aggressive down the stretch and have been able to make some plays."
One reporter questioned whether South Carolina's loss to The Citadel would play a part in how they prepare for Clemson and Swinney laughed.
"Everybody wants to talk about last week's game, but that was one game and The Citadel is a good team. They're difficult for anybody to play," he said. "They've done a heck of a job down there. This is a team that went to Texas A&M and played a seven-point game and had a chance to win it. They went to Tennessee and had a three-point game and had a chance to win it. Had Florida at home and had a chance to win it. We've got a lot of respect for these guys. The bottom line for us is that it's the next goal. We've got a chance to achieve another goal on our board, something that's important to us. Our focus is on finishing strong. It's that simple. Having a strong finish and play the best four quarters of football this Saturday. Put our best four quarters together, that's what we want to do and continue to improve our team and accelerate through the finish line."
The good news is that the Tigers are healthy heading into the rivalry game.
"Health wise, we're in pretty good shape. We're going to have about all hands on deck this week," he said. "We tested Ray-Ray (McCloud) yesterday and he looked good from the testing they did so we'll ramp it up a little more today. He (Tyrone Crowder) got back in practice and actually repped. We're going to take it another step with Ray-Ray today. Wayne Gallman looks great. He could've played Saturday."