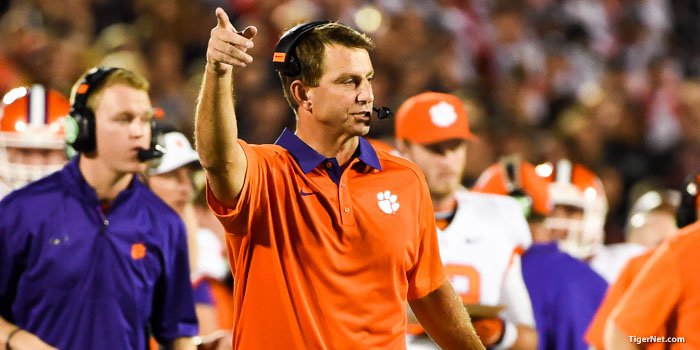 | | |
| --- | --- |
| Swinney on Clemson and FSU: "It doesn't get any better than that" | |
---
CLEMSON – The first seven weeks and an open date are in the books, and the first item of business is a trip to Tallahassee for a primetime matchup with 12th-ranked Florida St. It's a matchup he's looking forward to.
Head coach Dabo Swinney met with the media Tuesday to discuss the game, and he said even players know the crunch-time part of the season has arrived.
"They had a little spring in their step last night, so we're excited to get back going. These first eight weeks of the season have flown by so I know these next five will be the same," Swinney said in the team room from the WestZone. "I'm looking forward to each and every one of them. This is a great group of young men that I get to be with every day. I was just telling our coaches yesterday that you only get so much time with these guys and I appreciate the opportunity we have and how they've competed all year. This senior group is a lot of fun to be with each and every day.
"I'm looking forward to a strong finish and that's what we're focused on, starting with a huge challenge this week in Tallahassee. This is a good football team. Florida State is Florida State. They're as talented as anybody in the country. They're a top 15 team and obviously playing at home, a place that we've have not won in a long time, so it's a good challenge for us. We're going to have to play well to have a chance to win down there, that's for sure. They're just Florida State. It really never changes when you watch the tape on these guys - incredibly athletic, speed all over the field, playmakers everywhere."
The Seminoles are led by freshman quarterback Deondre Francois and talented junior running back Dalvin Cook.
"Offensively, they've got a young quarterback that's getting better every single rep. The one thing I'll say about them offensively is they've stayed patient all year, even when they've gotten down, they've not panicked and have stayed within their plan and they've always come back," Swinney said. "The Louisville game, that thing got away early and it was over. Whether it was Ole Miss or North Carolina, they just continued to play. They're a run the ball first type of team, create a lot of challenges with their play action game. They're a great screen team. A lot of boots. A lot of bunch sets. A lot of things that create some issues from a leverage standpoint and being able to match up with their receivers and with all of the crossers and heavy play action, so max protection and cross country type of routes, they do a great job schematically."
Swinney said Francois, who has thrown 10 touchdown passes with just three interceptions, is getting better as the season goes along.
"The quarterback has gotten more and more comfortable as the season has gone on, very good player, big arm, can make all of the throws and he's also dangerous with his legs," Swinney said. "He does a great job scrambling for them. They will run him with some design quarterback run stuff. A young player that's just blossoming and will continue to get better. They've got four out of their five starters back on the offensive line that we played against last year, so we know all about them.
"Their receivers, it doesn't matter what year it is, they always have great skill and always have great receivers. No. 15 (Travis Rudolph), 3 (Bobo Wilson) and 8 (Kermit Whitfield), they're just the three next guys. They're really good players and played against us last year and. No. 8 (Whitfield) can absolutely fly. He's a weapon in the return the game as well for them. Same thing with No. 3. Just a good all-around team. No. 4 (Dalvin Cook) is special. He's one of those guys. As I said last year, sometimes you play teams and there's a guy that you hold your breath when he touches it and that's how he is. They use him a lot like we used to use C.J. Spiller."
The defense is led by speed rusher DeMarcus Walker.
"Defensively, it starts with their line. They are as good as we've played," Swinney said. "Their two tackles are special. They're very difficult to move. No. 44 is kind of their Ben Boulware. He is the heart of their defense. Tremendous football player. He's a guy we recruited. He's a very dynamic guy. He is a matchup problem inside with his quickness and ability to play with great strengths. Second level, their backers are all 235 pounds, all 4 and 5 star guys. They've got one guy who leads the nation in interceptions back there. They're talented. Good kicker, good punter, good returners. Typical Florida State. They're one of the best teams in the country."
For Swinney, a Clemson and Florida St. matchup is as good as it gets, and it's at a place where Clemson hasn't won since 2006.
"I think you draw on all of your experience. Going to Jordan-Hare is a tremendous challenge," Swinney said. "Going to Atlanta, a place we hadn't won since I was in middle school, I guess, and we were able to do that. I think you draw on all of those experiences. It's a great venue. They do a great job and they'll show up. It will be rocking. An 8:22 kickoff in Tallahassee, Clemson and Florida State. It doesn't get any better than that. Our guys look forward to that. It will be awesome."
The game is usually played with an Atlantic Division championship on the line, but FSU has two conference losses and is out of the running.
That doesn't matter to Swinney, who says this game has plenty of "juice."
"No man, this is Clemson-Florida State. It don't matter what the records are. There is plenty of juice in this one. This is a team a lot of people picked to win the national championship," Swnney said. "That's good enough to win the national championship. This is a team that lost on a 54-yard field goal and obviously had one get away from them at Louisville against a great football team. There are always 10-12 teams out there that are good enough and this bunch is good as anybody in my opinion. You can throw the records out the book. To go on the road and have to beat a Top 15 team it don't matter what the standings are. There is a lot of pride involved in this game. Both teams understand what Clemson-Florida State means and the ramifications of this game. For us we want to win them all. We want to, but you can't win 12 till you win 8. We are just trying to win the game we are playing. Each and every week do the best we can.
OTHER NOTES
On if he had a response to Dave Doeren's comments"
No. I don't spend a lot of time watching coaches shows. I did hear that, though. I talked to Dave and we talked about that. We've moved on. We're getting ready for Florida State."
Will Hunter Renfrow have to wear a brace
"I don't think so (having to wear a brace on his hand). I think he's going to be alright. I think they were doing that yesterday or this morning, but I haven't heard back from Danny (Poole) on that. I think he's good. He was fine two weeks ago, too."
Wayne Gallman's status
"He's going to play great. He practiced the whole practice. He didn't miss a rep. We aren't going to let him do inside work today. We'll keep him out of that, but we'll let him do inside tomorrow. He'll be in pads today. Big news, Wayne Gallman is going to play Saturday at 8:22 p.m."
Player of the year
"Jadar to me has been the player of the year. He's that guy this year that has just taken us to another level. I can't stress that enough. Really proud of Jadar. He has been as consistent of a player as we have had on our football team. We were very hopeful that he would take that next step and boy has he. He starts on special teams. He's become a great leader. He needed that on that backend. He is a vocal guy. He really wasn't much that early on in his career but he has become pretty much a take care kind of guy on the backend. He and Van (Smith) have a great chemistry.
Dealing with the FSU crowd
"First you got have a great week of preparation. We try to prepare our guys. We will create crowd noise and all that type of stuff to make them really have to focus in practice the way they need to. That's the main thing. Then you just stay dialed in on what you are doing. You don't get distracted by all that stuff. If you are really locked in to what you are doing and you have had a great week of preparation that shouldn't be a factor for you. You have to stay locked in and you got to keep your poise. And if you do have a mistake just go to the next play. Don't let one mistake lead to three. Try to do the best you can to block that type of stuff out. The other thing is you draw on your experience. It's not like this is our first road trip. We played at a lot of places. Defensively it is always easier on the road. Actually, it is a little harder to communicate for our defense at home because it is so loud. On the road it is a little bit easier for our defense, harder on the offense obviously. But we try to prepare them in practice. Then again the experience. we played at Auburn this year. Maybe one of the best we have had, to be honest with you, offensively. Probably one of the most clutch games we have had. I know maybe the score didn't please some people but we had eight drop balls in that game and three dropped touchdowns in that game. So we didn't finish on some plays. I don't think we had one offsides in that game in an opening game."

Upgrade Your Account
Unlock premium boards and exclusive features (e.g. ad-free) by upgrading your account today.
Upgrade Now