| | |
| --- | --- |
| Swinney not pleased with the effort given at Wednesday's scrimmage | |
---
| | |
| --- | --- |
| Wednesday, August 13, 2014 2:18 PM | |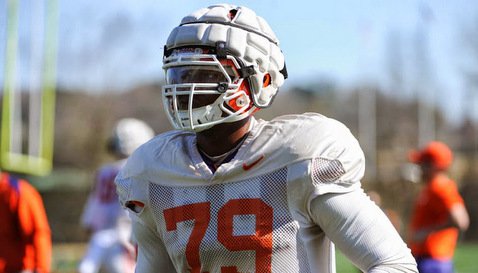 CLEMSON - Dabo Swinney

Dabo Swinney
Head Coach
View Full Profile was not pleased with the effort given at Wednesday morning's practice and he made it very clear that he was disappointed in the players, coaches and himself.
The Clemson Tigers are 13 practices into fall camp and it appears the players and coaches have hit a mental wall. Swinney told the media after the morning session that he is glad his team wasn't playing an actual game today because it would've been ugly from the beginning.
"I will just say it was a mixed bag today. We really focused on a lot of situations. It was a controlled scrimmage, but a lot of situational focus," Swinney said Wednesday. "Overall, I'd say I'm disappointed. I thought we hit the wall today. Disappointed in our coaching which is a reflection of myself. It starts with me and stops with me. Disappointed in our attention to detail as players - plenty of mistakes. If we would've played today, we would've gotten our butts handed to us. No question. It wouldn't even be close. Way too many mistakes and it's just disappointing. We've had a good camp, but today I was very disappointed in the enormous amount of mistakes."
Swinney said it's difficult when so many players are getting reps, but the drive-killing penalties from the offense, drive-extending penalties from the defense and the way the coaches approached the scrimmage were unacceptable.
"You're repping three groups so it gets magnified a little bit and I understand that," Swinney said. "The standard doesn't change when you change personnel groups. The expectation is the same. Just way too many mistakes and things that we can control - lining up off-sides defensively, receivers covering each other up on offense, illegal men down field, jumping off-sides on third-and-one, just some really, really poor football in all areas, letting people run by us with 20 seconds to go and no timeouts. Just things that weren't smart.
"I didn't think our coaches were sharp today either. It's hard for me to expect more from our players than what the coaches give. Today was really a poor day from all of us coaches. Today was hopefully something we can all learn from as coaches and players - too many penalties. We'll reset and come back tonight, learn from it and move forward. I'm glad we didn't play today. If we would've played today, it would've been a long day."
Swinney said that he is to blame for the lack of focus.
"I didn't think from a coaching stand point that we coached with the discipline that we expect our players to have," he said. "Our players are a reflection of us and the team is a reflection of me. This was a bad day because I did a poor job of having everyone ready to go."
Hitting the wall is something that usually occurs every year during fall camp, but Swinney didn't expect every one on the team to have an off day.
"It's a long camp and I've been doing this a long time," Swinney said. "I try not to remember those days if I can help it. There is always a point in camp when some guys hit the wall. Today, it just so happens that it seemed like everybody hit the wall. It's my job and I'm disappointed in myself more than anything. Between now and next Wednesday when school starts, we have to have the best, most focused practice, meetings that we've had all of camp. We've got start making some decisions. Saturday will be a big day."
The schedule will ease up a little over the next couple of days before the players scrimmage on Saturday and begin their final three days of camp with school starting a week from today.
"Tomorrow will be a mental day - I'm happy I planned camp the way I did - because they will probably need that mental break and the physical break," he said. "We've got to have a mentally and physically tough team if we're going to have the type of season we want. Tomorrow we're going to have a lot of meetings and walkthroughs. Friday, we'll have a good practice in the morning and then go have a little fun Friday afternoon as a team. We'll have a team outing just to get them away from here. Saturday, hopefully we can have a more focused scrimmage."
Tyshon Dye

Tyshon Dye
RS Fr. Running Back
#23 5-11, 214
Elberton, GA
View Full Profile injury update
"He's still coming along. He went back to the doctor yesterday and they want to take him back off of it for about a week. He's just grinding and working really, really hard. They are putting him in a boot and he will completely stay off of it for about a week - immobilize it and then start back next week. We're still hopeful that we will be available at some point during the season."
Turnovers, penalties and drops
" Ryan Carter

Ryan Carter
RS Fr. Cornerback
#31 5-9, 175
Grayson, GA
View Full Profile had a great pick six. We dropped a couple of interceptions that we should have had. We had the ball on the ground twice. We didn't lose it but we put the ball on the ground twice. We were not as good with ball security today and that's a huge part of what we were emphasizing. We had way too many penalties. We had a cornerback lining up offsides. Just things like that - a personal foul. Penalties that get you beat. We had two game winners that were dropped."
Movers and shakers
"I think at backer - clearly Tony Steward

Tony Steward
Sr. Linebacker
#7 6-1, 236
Hastings, FL
View Full Profile has been outstanding. A guy like D.J. Greenlee

D.J. Greenlee
RS Fr. Tight End
#87 6-1, 240
Clemson, SC
View Full Profile has really come on lately and he can really help us. He has shown some improvement - not really a starter yet but he has shown improvement. Seeing what's happening at safety - the battle with Jayron [Kearse] and Jadar [Johnson]. That's a bring your hard hat every day battle. I love what I'm seeing at corner. I think we have a bunch of corners we can win with. It's impressive to watch Martin Jenkins

Martin Jenkins
RS Sr. Cornerback
#14 5-9, 185
Roswell, GA
View Full Profile and Cordrea [Tankersley] and Garry Peters

Garry Peters
RS Sr. Cornerback
#26 6-0, 194
Conyers, GA
View Full Profile and Mackensie [Alexander], [Adrian] Baker, [Marcus] Edmond, Ryan Carter. Ryan Carter, I think in time will be an outstanding player for us. He just keeps making plays. "
On left and right and tackle
" Joe Gore

Joe Gore
RS Jr. Offensive Tackle
#73 6-5, 283
Lake Waccamaw, NC
View Full Profile has been outstanding. He's been as good as anybody has in camp. We know how good Isaiah Battle

Isaiah Battle
Jr. Offensive Tackle
#79 6-7, 285
Brooklyn, NY
View Full Profile can be and what he can bring. He does bring a hard edge and is physical. When he's in there, we're a different group."