| | |
| --- | --- |
| Swinney not in favor of player unions but does think reform is needed | |
---
| | |
| --- | --- |
| Wednesday, March 26, 2014 9:10 PM | |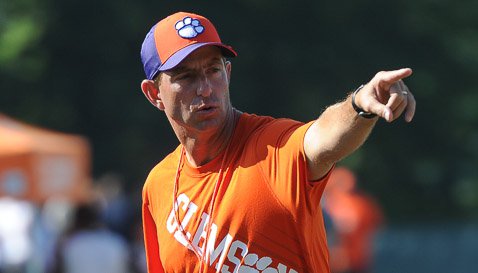 Seven down, eight to go.
It might be hard to believe, but we are almost to the halfway point in Clemson's spring practice. The Tigers wrapped up practice number seven Wednesday afternoon, and will practice again Friday. Monday will be the first of two stadium scrimmages before the spring game next month.
Swinney said the coaching staff ramped up the intensity for Wednesday's practice.
"Excellent practice, I thought the guys came out there today with a good edge to them, good enthusiasm, ramped it up a little bit today, because Friday will have a half live part," Swinney told the media after the workout. "Obviously, we'll have our first full scrimmage on Monday. We just continued to work some different situations, that was the biggest thing.
"We've still got a lot of things going on, still kind of holding judgment. We've just had two days since we got back. Next week will be a big week, from a personnel standpoint, making some decisions and just kind of seeing where we are, going into the last few days of spring ball."
Offensive lineman appears to have worked his way out of Swinney's doghouse – at least for now.
" David Beasley
David Beasley
RS Sr. Offensive Guard
#68 6-4, 315
Columbus, GA
View Full Profile has picked himself off the mat and has fought back hard. He's kind of been in the doghouse a little bit," Swinney said. "He's battling through it."
The news was released Wednesday that Northwestern football players qualify as university employees and can unionize, according to the Chicago district of the National Labor Relations Board.
In an article listed on ESPN's national website, NLRB regional director Peter Sung Ohr cited the players' time commitment to their sport and the fact that their scholarships were tied directly to their performance on the field as reasons for granting them union rights.
Ohr wrote in his ruling that the players "fall squarely within the [National Labor Relations] Act's broad definition of 'employee' when one considers the common law definition of 'employee.'"
I asked Swinney about his feelings on the subject, and while he claimed to not know even to give a comment, it was clear he is passionate about the subject of play-for-pay.
"I don't really know about it. I don't really know enough about it to even comment," he said. "What does that mean? Does that mean they don't practice when they don't want to practice? Heck, we don't practice enough as it is. What does that mean? I don't know what all that means."
However, he does see room for change within the current scholarship system.
"When I was in college, it was the same discussion. I am 1,000 percent in favor of a stipend or a scholarship enhancement, modernizing the scholarship is probably the better term," he said, "Because it hasn't changed, yet it costs more to go to a movie, it costs more to buy gas, it costs more to wash your clothes than it did when I was in school."
He is not in favor of bringing a professional flavor to intercollegiate athletics.
"There needs to be an adjustment there, but as far as professionalizing college athletics - first of all, college athletics would go away. I'm 1,000 percent against that. We've got enough entitlement in this country as it is and it totally devalues an education. It just blows my mind. They don't even want to quantify an education. I'm standing here because I got my education.
"I didn't get into coaching to make money. Coaches weren't making any money when I got into coaching. I got into coaching because it's what I wanted to do in my life and because it's what I was passionate about, but I was able to do it because I had my education. That's what changed my life. That's what changes everybody's life."
Swinney then said that he would be in favor of a minor league system for those players who don't want an education.
"The NFL could fund it or whatever, like baseball," he said. "Guys that don't want to go to school, guys that don't value an education don't have to come. Go to work, it's just that simple," he said. "Guys that are serious about getting an education and changing their life go to college. I think that's a simple way to resolve the whole fact.
"Guys that take advantage of their opportunity, they don't let football use them. They use football. Those guys are very successful. Tajh Boyd

Tajh Boyd
Quarterback (2009 - 2013)
#10 6-1, 225
Hampton, VA
View Full Profile could quit football now and they'd be lined up from here to California to hire that guy. You know why? Because he took advantage of his opportunity and his platform, the marketing and the brand."