| | |
| --- | --- |
| Swinney not in favor of Big Ten schools holding camps in ACC territory | |
---
| | |
| --- | --- |
| Wednesday, April 22, 2015 4:03 PM | |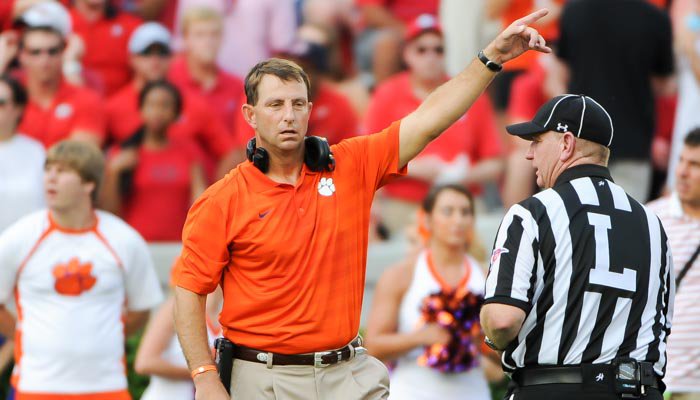 This summer, coaches from Penn St. will travel into North Carolina to hold a "satellite camp" at Davidson College near Charlotte, effectively setting up camp in the backyards of schools like Clemson, South Carolina, Wake Forest, North Carolina St. and North Carolina.
Penn St. is not alone – Michigan's coaching staff will hold satellite camps in Alabama, Florida and Texas, and Clemson head coach Dabo Swinney

Dabo Swinney
Head Coach
View Full Profile is not a fan of Big Ten schools taking advantage of a conference loophole and reaching into what has always been a fertile recruiting ground and effectively holding combines.
"I'm against it. I think from a conference standpoint, we - the ACC and SEC - had rules against that for several years," Swinney said Wednesday morning. "I think it's a loophole that people take advantage of and I think it's something that needs to be addressed. I don't think it's a good thing because I think ultimately what happens is instead of having camps, you're having combines. I think there is enough of that and you're going to have camps in every city and basically it becomes a combine."
The NCAA rules state that camps must be hosted within a 50-mile radius of the university's campus, and Big Ten coaches take advantage of that by being "guest coaches" at another institution, like Davidson. The ACC and SEC prohibit their coaches from guest hosting at camps outside of that 50-mile radius, meaning the coaches from those conferences can't participate in satellite camps.
Last year, Penn St. held camps at Stetson University in Florida and at Georgia St. in Atlanta, yet failed to sign a prospect from the area in their 2015 recruiting class.
However, Swinney said that he wouldn't be in favor of Clemson going into Big Ten territory and holding satellite camps because he would rather get recruits on Clemson's campus.
"My philosophy is we put a tremendous amount of emphasis on our camp here at Clemson and I want to get guys on our campus," he said. "That's the best part of everything we do from a recruiting standpoint - our campus itself. We can go out of the road, recruit and evaluate and do the things that we need to do, but we want to get guys here at Clemson. Because we know if they come, we've got a good shot from a recruiting standpoint. It's something that will probably come to a head one way or another, but I don't have a problem with it because it's been "the rules," but it really hasn't been that big of an issue with us."