| | |
| --- | --- |
| Swinney laments mistakes that cost Tigers | |
---
| | |
| --- | --- |
| Tuesday, January 12, 2016 10:38 AM | |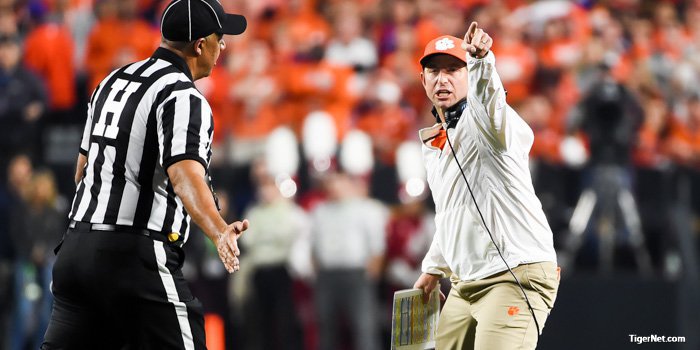 GLENDALE, AZ – Football is a 60-minute game, but it's just a few plays here and there determine the fate of a team.
Clemson has had the breaks go their way this season – a fumble out of bounds against Oklahoma, stopping Notre Dame on the goal line at the end of regulation, stopping Dalvin Cook late in the fourth quarter against Florida State – but the little things didn't go the Tigers' way Monday night in the College Football Playoff National Championship.
The Tigers lost in the season finale 45-40 to Alabama, but when coaches, players, and fans look back they'll be able to point to just a handful of plays that determined the outcome of the game – the onside kick and the three busted coverages just to name a couple.
Head coach Dabo Swinney said that momentum swung in Alabama's favor on those couple of plays, but he was proud of how his team never gave up.
"Championship football is a game of a few plays, and that's really what this one came down to, just a few plays," Swinney said during his postgame press conference. "Give them credit for that. I want to congratulate Alabama. Obviously, they've been a great champion, and again, it was a slugfest out there, and I thought that they – obviously the couple of special teams plays were huge momentum plays, but again, I'm just proud of our team because they kept playing, kept fighting all the way to the end."
The most glaring of the plays was the onside kick after Alabama tied the game at 24.24. Swinney said he thought it was similar to an onside kick Clemson tried against South Carolina two years ago that was reversed.
"Well, we had the same play against South Carolina last year, and we caught the ball and they took it away from us, said that we didn't have an opportunity, didn't give them – no matter what, they have to have an opportunity to catch the ball," Swinney said. "I was just arguing the call that went against us. That was really it."
However, it was the plays after the onside kick that really sealed Clemson's fate - a long pass to O.J. Howard and a kickoff return for a touchdown shortly thereafter.
"Hey, great play by them. It was a great kick. First of all, he put it right in a good spot, and their kid did a great job of going and getting it. It was a huge play," he said. "But then we followed it up with a bust for a touchdown. So it was a combination of mistakes. It was one thing to give up that play but that doesn't mean you don't go out and do your job on another play. But it was a huge momentum play, but we overcame it."
Each time Clemson faced adversity throughout the game, the Tigers fought back to even score.
"We came back and put ourselves in a good position there, and again, we missed the tackle on the tight end out there in great position, just don't make the play," he said. Had a few miscues like that. Had a great situation on offense a couple times and missed a throw to Hunter Renfrow. We had a snap issue. But we just had some little miscues like that. But again, give them credit, they took advantage of all those opportunities and they created their own opportunity, as well. That was a huge, huge play in the game because I felt like we had all the momentum and were getting ready to get the ball back. We were confident in where we were, and it was a huge play."
In the end, there were simply too many little mistakes that cost Clemson the chance to hoist the national championship trophy. However, Swinney said the Tigers are built to return to the national stage and next time they'll understand what it takes to win at the highest level.
"But there's no doubt that we will be back. It won't be 34 years before we're going to be back, I promise you that," he said. "Our team is built to sustain success. We've got the right ingredients from a toughness standpoint, talent standpoint, and then just, again, the will to win and the culture that we have in our program. We'll learn from this, we'll grow from it, and I appreciate our fans. I thought that the crowd was amazing tonight. I really, really appreciate our fans. My heart breaks for them, too, because, like I said, it's been a long time since we've stood on top of the mountain, but we're not quite there, but we can see it, and we'll get there."