| | |
| --- | --- |
| Swinney has one goal for Watson: Stay healthy all season | |
---
| | |
| --- | --- |
| Thursday, April 16, 2015 9:29 PM | |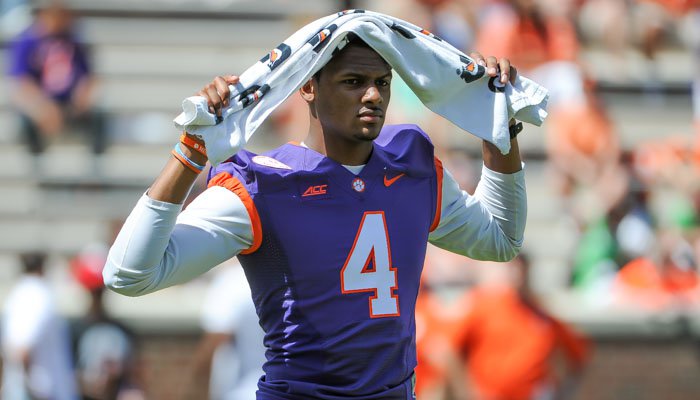 GREENVILLE – Clemson head coach Dabo Swinney

Dabo Swinney
Head Coach
View Full Profile knows that quarterback Deshaun Watson

Deshaun Watson
So. Quarterback
#4 6-2, 205
Gainesville, GA
View Full Profile will be in line for several major college football awards next season, and that with a bevy of playmakers on the roster the record book may not be safe. However, he only has one goal for his superstar sophomore: stay healthy all season.
Swinney spoke with the media prior to Thursday's Prowl & Growl at Fluor Field, and Swinney said that everything else will fall into place as long as Watson stays healthy and plays all season.
"I want to see him better. I want to see him have a great season," Swinney said. "Just clean up some of the things he did last year. Biggest thing is, let's play all year. Hopefully get a little lucky and avoid a couple of those little injury things. But just mentally, execute at a higher level. I thought he did a great job for us last year. But playing faster because he's so much more confident. Last year at this time, he hadn't done it. It ought to look like he's won big games. Just asserting himself as the leader of the team, the program. Because I think his leadership crosses over. Whereas this time last year, he was that work in progress, kind of earning his way there. But now, he's going in as the guy. And really asserting himself that way and taking advantage of his platform."
Watson was 93-for-137 passing for 1,466 yards and 14 touchdowns against only two interceptions in 330 snaps over eight games (five starts) a year ago, but missed time after a hand injury against Louisville, a knee injury against Georgia Tech and a torn ACL suffered in a late-season practice.
Watson missed the bowl game and spring practice, but has been seen running at practice and walking without a limp, something that Swinney credited to both Watson and the Clemson medical staff.
"Just par for the course for (trainer) Danny Poole. They're all important to us. Everybody is a critical piece to our success," Swinney said. "He's (Poole) been doing it for a long, long time and I have great confidence in those guys out there. Our whole training staff and Dr. Bowman, they do a fantastic job, but the player has to do their job, too. That's what doesn't get talked about sometimes. The player has to really buy into the process and the things that you have to do to get better. Deshaun is to the nth degree with anything and everything you ask him to do and his rehab is no different. That's why he's responded so well. He has really worked hard to get back. They have a good plan in place and he's executing it."
His mental makeup has also allowed Watson to stay ahead of schedule.
"I've never been around a guy so mature at that stage as far as understanding the big picture. He's really like talking to a coach," Swinney said. "It's at a level of no freshman that I've ever been around. I think the things that he's dealt with off the field - personal things with his mom - has really focused him and give him this drive that sometimes people don't always have until they get a little bit later in their career. I think he has a real sense of urgency. He has an appreciation for the platform that he has, the opportunity he has and he just gets it. He understands what he represents and what comes with that. He knows that there is going to be failure and success and he just does a great job keeping all of that stuff on an even keel."
Other notes
Position changes?
"Position changes? Not really. I think we've got them all where we want them going into fall camp, coming out of spring ball. We worked Huggins at end and D-tackle, we got Register I think where he needs to be (at DE.) I think we did a great job this spring of cross-training Korrin Wiggins

Korrin Wiggins
Jr. Defensive Back
#12 5-11, 195
Durham, NC
View Full Profile . He got a lot of safety work, and obviously he's done a lot at nickel. We've done some cross-training at backer. We've done some cross-training at wideout with Mike Williams

Mike Williams
Jr. Wide Receiver
#7 6-4, 210
Vance, SC
View Full Profile and Charone Peake

Charone Peake
Gr. Wide Receiver
#19 6-2, 205
Moore, SC
View Full Profile , creating some depth there. We got Maverick Morris

Maverick Morris
RS So. Offensive Line
#69 6-4, 295
Broxton, GA
View Full Profile at guard; I think that's his spot. Really like him there. He had a great spring for us. Falcinelli, we needed to get somebody else there at center obviously with Guillermo out. Really, really pleased with what (Falcinelli) was able to get done. I think we've got them all where they need to be going into fall camp."
Albert Huggins

Albert Huggins
Fr. Defensive Line
#67 6-3, 280
Orangeburg, SC
View Full Profile to DT?
"We'll go through the summer, come back, probably start him off there. But he can play end as well. The final spot's going to be dictated by personnel and injuries, because he's too talented a guy to not have in the mix somewhere."
Adam Choice

Adam Choice
So. Running Back
#26 5-9, 215
Thomasville, GA
View Full Profile an option to redshirt this season?
"Certainly we'd consider him for a redshirt, but that would be a real luxury. That would be like having a lot of money in a savings account or something. You're talking about a guy who became a starter for us as a true freshman since everyone else got hurt. So we'll see. I think we're obviously blessed with some real depth. But y'all know how it is: you can get thin real quick. Those are decisions you don't make in April. Those are September-October type of decisions based on what happens in fall camp and the early part of the season. Certainly, it's always an option with a guy who hasn't been redshirted. We were able to redshirt Zac Brooks

Zac Brooks
Running Back (2012 - 2015)
#24 6-0, 200
Jonesboro, AR
View Full Profile just because of the timing of his injury last year. Definitely a possibility, but not even close to any type of decision."
What do you expect from Travis Blanks

Travis Blanks
Safety (2012 - 2014)
#11 6-0, 210
Tallahassee, FL
View Full Profile ?
"He'll be back in the box. Which, I think is the best spot for him. It's where he had the most success. He'll be nickel-sam. Could possibly even learn a little will backer. He's very, very smart, very instinctive, great tackler, physical, and tough. Just a violent player in there. Really, that's more his niche. So don't count Travis Blanks out. You're talking about an outstanding football player. A freshman All-American. Played a lot, made some big plays for us in big games. But just getting him back with his wheels underneath him so he can compete like he needs to because we've got good depth there."