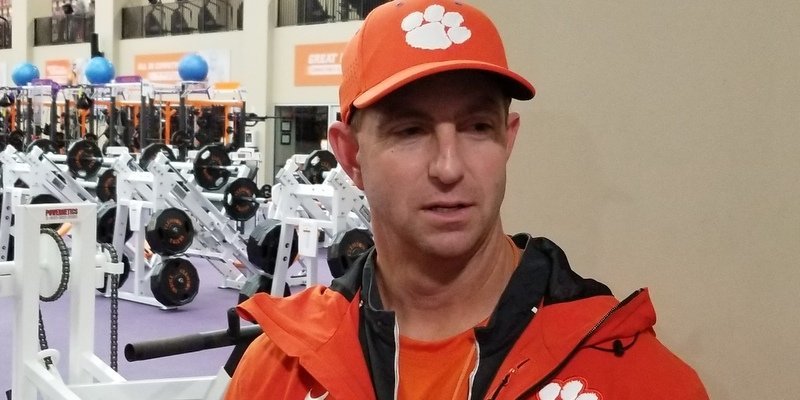 | | |
| --- | --- |
| Swinney has military escort as he leaves the practice field | |
---
CLEMSON – Clemson head coach Dabo Swinney had a military escort as he left the practice field Wednesday night, and he was all smiles as he talked to the media a few minutes later.
No. 2 Clemson practiced for two hours Wednesday evening as they prepare to take on The Citadel Saturday (12:20 kickoff, ACC Network). It's also Military Appreciation Day, and several members of the armed forces were at the practice.
"Amazing people from all over the place, but they're all working out of Clemson right now. They're career guys," Swinney said. "Some of them have been in for 25 and 21 years. They fly Apaches. Some of them are demolition guys who have been overseas four or five times. We had a pretty young guy in there who fly Chinooks. He does missions where he takes troops in and then they count on him to pick them up and get them out. Just amazing what our military does. It's amazing what we don't' know and how they sacrifice.
"I had a guy named John bring me a flag today that he flew on a mission in Afghanistan. It's really cool. He's a big Clemson guy. He thought he was going on a mission, but they postponed it a month, so he was able to come to Tampa. I asked him what that intensity is like and he said he's way more nervous about that than he is doing his missions. It was really cool because he said, 'When I'm doing that, I've put the work in. I'm prepared. I have a great team around.' That really resonated with me because when he's sitting in the stands he's got no control and he's like, 'What's going to happen?' He said it's a different intensity than some of the missions he goes on."
Swinney said the visit meant something to his team.
"What a great message for a team, too, to have peace because you know that your team around you is going to get their job done," he said. "You know you can count them. You know everyone is committed to the task at hand. That's pretty special."
Injury report
"We've got a bunch of them that are in the tub right now. We're trying to get them all healthy and ready to make a good stretch run. Dexter (Lawrence) is just progressing. I think the biggest thing for him is getting some time. Obviously, we held him last week and we're not going to play him this week either, so hopefully, he'll be ready to go next week.
"Tre (Lamar) is kind of the same way. He's much better today than he was Sunday. He's getting better each and every day. I feel good about him and his progress.
"Mark (Fields) has practiced all week. I think he's still not quite 100-percent, but he is getting back into the flow of things.
"Kendall (Joesph) is moving around a lot as well. He's made a lot of progress since last week. We had hoped he could go this past Saturday, but he just wasn't quite there. These guys are smart enough to know when they can and when they can't and they don't want to hurt the team. They're not selfish in that regard and they know that we've got good depth. He's made really good progress this week, too.
"He's (Tanner Muse) in a much better spot. He's got most of his hand and a lot of flexibility there and range of motion. He'll look semi-normal out there and you probably won't notice a whole lot with him, so that's really good."

Upgrade Your Account
Unlock premium boards and exclusive features (e.g. ad-free) by upgrading your account today.
Upgrade Now