| | |
| --- | --- |
| Swinney gets a "kick" out of practice this week | |
---
| | |
| --- | --- |
| Wednesday, September 24, 2014 8:22 PM | |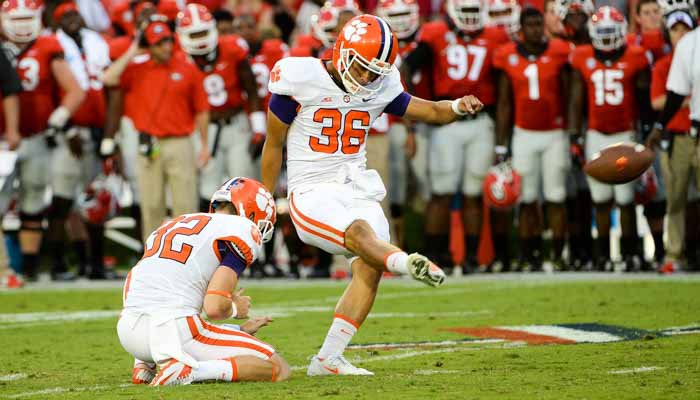 CLEMSON – The competition at kicker has been stiff this week during practice, and the winner of the job might just be head coach Dabo Swinney

Dabo Swinney
Head Coach
View Full Profile .
Starting kicker Ammon Lakip

Ammon Lakip
RS Jr. Kicker
#36 5-10, 200
Alpharetta, GA
View Full Profile missed two field goals last weekend in Tallahassee as Clemson lost 23-17 in overtime to Florida St., and Swinney promised after the game that he would open the competition and let punter Bradley Pinion

Bradley Pinion
Jr. Punter
#92 6-6, 230
Concord, NC
View Full Profile and freshman Alex Spence

Alex Spence
Fr. Kicker
#47 6-2, 190
Florence, SC
View Full Profile compete for the job this week. What he didn't mention that he would take a shot at the position.
"It's a matter of getting everyone mentally dialed in," Swinney said after Wednesday's practice. "I had some fun with them the other day. I've never kicked in my life and I called them all up and told them, 'Look, I'm fixing to kick a a 23-yarder right here. I'm just going to make a point to all of you guys. I'm 44.' My son was there and said what if you would've missed and I told him, 'Well, it wouldn't have gone as well.' I nailed it - toed it old school right through there. They guys loved it and went crazy. The point being is that it doesn't take a lot of talent to kick a 23 yarder. It's not talent. It's not physical. It's just mentally being in the right frame of mind."
Swinney said it's been a good week of competition for the kickers.
"We're having a lot of fun out there this week. It's been a lot of fun for everybody this week," he said. "I like how they're responding. I have no idea who's going to run out there first. We have another day of practice and we'll make a decision tomorrow after practice on who's going to get the first one. I'm dressing them all. I might run Kalon (Davis) out there to kick one. I'm going to find someone who's going to go out there and do the job for us. I am really proud of Ammon. He's shown some mental toughness this week and he's responded really, really well. Pinion is champing at the bit. He's out there competing. Young Alex Spence looks like a different guy than he did during fall camp. We've got some good things going on. We'll get it all worked out."
Swinney said he's even played the part of the heckling fan.
"We've done some different things. Today, we lined the whole team up - offense on one side and defense on the other," he said. "Nobody on the field but a snapper, holder and kicker and called Ammon out. He's missed three kicks and we went through all three kicks. If he missed it, it was instant consequences for the team. Everybody had to sprint over and back. I was the heckling fan. I was the one telling him his shoe was untied, his hair was messed up, hook it left. He nailed every single one of them. He was not going to run. He was going to watch the team. Just trying to have some fun and simulate some different situations."
Swinney that Deshaun Watson

Deshaun Watson
Fr. Quarterback
#4 6-3, 204
Gainesville, GA
View Full Profile has had a good week of practice, and that earning the starting job hasn't changed the freshman. He also said that senior Cole Stoudt

Cole Stoudt
Sr. Quarterback
#18 6-4, 231
Dublin, OH
View Full Profile has had a good week.
"You don't ever notice anything different with him (Watson)," Swinney said. "The guy that I'm really proud of is Cole. He's displayed great leadership. Everybody on the team has great respect for him. He's trying to be the guy and win the job again. It's nice to see the competition."
On the team being ranked 12th nationally in total defense
"I'll feel better about it in December. We've got a long way to go. We've played two of the best offenses in the country in Georgia and Florida St. I'm proud of the them for the start we've had. I think we can be a really, really good defense. My comment has always been that I would be very disappointed in December if we're not one of the best. We've got some things to clean up. We've got to want it. We've got to stay hungry. We've got to want to dominate people every time we step on the field"
Injured running back Tyshon Dye

Tyshon Dye
RS Fr. Running Back
#23 5-11, 214
Elberton, GA
View Full Profile was in full pads at practice, and Swinney said he hopes the Tigers can get Dye back at some point this season.
"He's doing some cutting. The biggest thing with him is the mental side of it," Swinney said. "He is so much further along mentally and physically than he was in August. He had a setback in August - mentally. He was on schedule physically but he hit that mental wall. Now he's a different guy. He really is starting to see the light at the end of the tunnel. We're taking our time with him. We'll get him back at some point and it doesn't matter when it is because I know what he can do."
Injury news
Swinney said that tight end Sam Cooper

Sam Cooper
RS Sr. Tight End
#86 6-6, 250
Brentwood, TN
View Full Profile will not play this week.
"I don't think he'll make it back this week but he's done well in practice. He's done some things. We've really strained him this week and he's done some running and some cutting. He'll do some things tomorrow and then we'll shut him down Friday, Saturday and Sunday and get back with him Monday. Our hope is that we can get him back next week."
Center Jay Guillermo

Jay Guillermo
RS So. Center
#57 6-3, 314
Maryville, TN
View Full Profile is expected to play.
`He's better. He had that bruised hamstring. He's practiced every day this week. I wouldn't say he's 100-percent but he's getting better each day. He'll play."
How the team has responded this week
"Tremendous. Like champions. It's been really, really good. The first game I was really mad because I thought we were good enough but my challenge to them was that I didn't think they cared enough based on some of the mistakes we made. I've seen a team that really cares. Life is about responding the right way. Every indicator we have, we hit and we didn't win. Sometimes that's happens and it's part of life. Our guys have a great mentality."