| | |
| --- | --- |
| Swinney fires back at "Clemsoning" question in postgame press conference | |
---
| | |
| --- | --- |
| Saturday, October 10, 2015 8:53 PM | |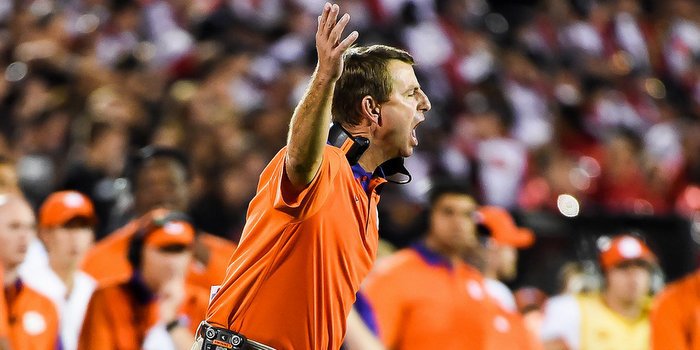 CLEMSON – Clemson's win over Georgia Tech Saturday afternoon was its 33rd consecutive victory over an unranked opponent, but the Tigers still can't shed the "Clemsoning" label with the national media. As of Saturday evening, head coach Dabo Swinney

Dabo Swinney
Head Coach
View Full Profile has had enough.
ESPN's David Hale's intent was to ask a question about the Tigers shedding the label – Hale told TigerNet that he saw it mentioned on GameDay several times earlier in the day – and Swinney didn't like the question. But the answer is yes.
"I think it's ridiculous that you're even asking me that question, that you even say the word. I'm serious. I'm sick of it," Swinney said. "I don't even know why we bring up the dadgum word. How about some of these other teams out there that lose to unranked opponents all the time? That's our 33rd win versus an unranked opponent. We haven't lost to anybody unranked since 2011, but I have to come to a press conference in 2015 and get asked that, and that's all media bullcrap. I can tell you how they feel about it. They don't don't like it. It's a lack of respect. It's not doing your homework and paying attention to what reality is. I should not be asked that question. Period. That's how we feel about it."
Clemson has won 31 consecutive games against teams not ranked in either the AP or USA Today polls. The streak is 33 in a row against teams not ranked in the top 25 by only the AP poll. It is the second longest streak in the nation behind Alabama, who plays unranked Arkansas on Saturday night. All 31 of the wins have been by at least three points. That 31-game streak by at least three points over unranked teams is the longest streak of its kind in the nation.
The Tigers smacked Georgia Tech 43-24 Saturday afternoon, and Swinney said the Tigers have earned the right to be respected.
"This football team right here has earned the respect, ain't nobody given us anything - not one ounce of anything," he said. "They've earned everything they've got. When I have to turn on the tv and people bring up that word and they try to casually throw the word out there like you do, but it's still the word. It shouldn't even be in the conversation. That's how we feel about it. That's how I feel about it."
He then admitted to seeing the disparaging term earlier in the day, calling it the "same old bullcrap."
"The same thing today and the rhetoric on TV today. Same old bullcrap," Swinney said. "People need to get some more adjectives. This football team has shown up. What else do they have to do? We've beaten Ohio State, Notre Dame, LSU, Oklahoma, Georgia and Auburn. We've beaten 33 unranked opponents in a row. We're 7-3 versus top 10 teams. People need to quit talking about that. It's like people trying to push their own agenda out there, and I can't believe I have to come in here with a 5-0 football team that just had a great win and have to talk about "Clemsoning." It shouldn't even be in the conversation."
Swinney said even the word shows a lack of respect for what his program has accomplished.
"If we lose this week, it ain't because of Clemsoning. It's because we just got beat," he said. "We're human. We're just human. Good God Almighty, man. Look all over the country, you've got all kinds of teams out there getting beat. We're a football team that has earned everything they've got. Again, they don't like that. It's a lack of respect for what these guys have done. This program doesn't take a backseat to anybody. We're not better than anybody. We can lose. Boston College, that's the biggest game of the year. They're dang capable of beating us. They had a great chance to beat us last year. We were fortunate as heck to win that game, but we won it. If they beat us, it's because they just beat us. That's just football. It's like everybody is sitting around waiting on us to lose a game so they can say, 'Oh, there they go again.' That's bullcrap."