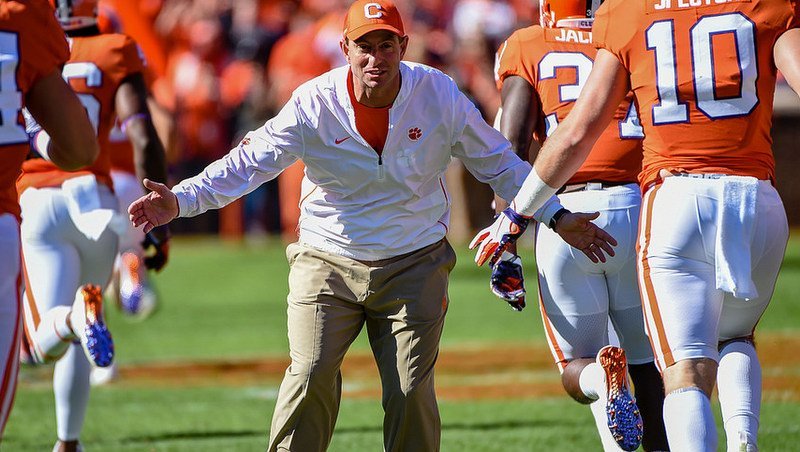 | | |
| --- | --- |
| Swinney doesn't agree with Terrell targeting call, updates kickoffs and injuries | |
---
Clemson defensive back AJ Terrell was ejected following a controversial targeting call in the first half of Saturday's win over Louisville, and head coach Dabo Swinney says that after watching the play on tape, he doesn't agree with the original call or the review.
Clemson punted and Terrell turned his head to the side to avoid the returner, who in turn lowered his helmet and hit Terrell in the side of the helmet, right at the paw emblem. Despite what Swinney believes is video evidence that it wasn't targeting, Terrell was ejected.
"I did not agree with that call (on A.J. Terrell). I thought he tried to turn away," Swinney said during his Sunday night teleconference. "The height of the runner got a little lower and it was kind of a bang-bang play. You have to live with the play. It's tough for sure. Hopefully, it's something we can continue to improve on. Sometimes you will have some of those plays. You have to do your best to make sure they know they can't lead with the crown of their helmet and stay away from the neck and head area."
Swinney said the team practices the proper way to tackle but sometimes a call is unavoidable.
"We tackle all the time. We practice it every week, teach it every week," he said. "Sometimes there are some football plays that are unavoidable. Refs aren't perfect. We send things in (to the league office) we don't agree with to make sure we have good clarification and if they missed it, to see if they get clarification."
Despite the Terrell ejection, the Tigers delivered a 77-16 whipping to the Cardinals to improve to 9-0 overall and 6-0 in the ACC. Clemson plays at Boston College Saturday at 8 pm, and a win would clinch the ACC Atlantic Division title.
"A quick turnaround for us getting ready for a huge challenge this week," Swinney said. "A fun tape to grade yesterday. The focus and leadership have been awesome. To see these guys focused and ready to go is huge. "Offensively we set the tempo out of the gate yesterday and that continued. We got to play a lot of guys. That's always a good thing. Really proud of Mitch Hyatt. He's played more snaps than anybody ever here. What a huge accomplishment that is. It speaks to his temperament and durability and determination.
"A dominant game. We played with great discipline. Offensively it was one of those days where we ran the ball very well. We set record yards per play. We set a record for yards per carry. On the offensive line, a huge shoutout to them. No sacks for back to back games. We had eight negative yards which was from the fumble and a backward pass to Hyatt. We were really good in the red zone. All the backs ran well. We just played a clean game, one of the best games offensively I've ever been around."
The defense also played well.
"Defensively we did a good job against the run. We dominated third down but didn't do a good job against third down in the first half," he said. "We got some stops on fourth down. We got some sacks. We continued our takeaway streak, which was 17 games. We had 21 points off of turnovers, so I'm very proud of our defense for the job that they continue to do. We blocked an extra point. I'm most proud of that. You're up 60 points and they score and our guys are still out there trying to block an extra point. That one play says a lot about our team. Great crowd and I appreciate the energy we had in our stadium.
"We are excited about this week. This is what it's all about. We hope to have an opportunity like this down the stretch, so here we are. It's a really good BC team. It'll be exciting to go up there. Game Day. A chance to compete for the division title. The staff, we're hard at it tonight."
Sean Pollard injury update
"His hand was fine. He was good to go. He had a back spasm on Wednesday in practice and was sore on Thursday. He wasn't able to do much on Thursday. We went ahead and started Gage Cervenka. We had two touchdowns on five plays, so we were able to not have to play him, but he was ready. He was able to play. He'll have a cast on his hand, but he's fine."
"We'll have to see on Mark. He pulled his groin. Hopefully we will be able to get him back. We'll see how he practices."
The short kickoffs from BT Potter against Louisville
"No (they weren't short on purpose). I guess he didn't eat his Wheaties. He didn't quite catch them like he's been catching them. We've got to cover them regardless. He hit it pretty good most of the day but it didn't have the carry and pop that we're used to. We've got to expect that every kick is coming out anyway and be prepared for it."
Noah DeHond surgery update
"Noah had some surgery on Wednesday. He has been dealing with a neck, shoulder issue. He had his surgery on Halloween, actually. He is recovering. It'll be a two to three-month process getting him back where he needs to be. Hopefully, that will go well. He's doing good."

Upgrade Your Account
Unlock premium boards and exclusive features (e.g. ad-free) by upgrading your account today.
Upgrade Now