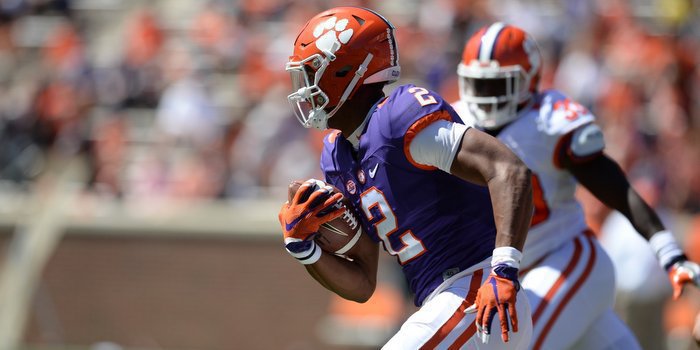 | | |
| --- | --- |
| Swinney announces starting QB, lists who will likely play and who will redshirt | |
---
CLEMSON – Kelly Bryant, it's your turn.
The Clemson football team practiced in Jervey Meadows late Monday afternoon, and head coach Dabo Swinney told TigerNet following the practice that junior Kelly Bryant will get the start against Kent St.
"He's going to be our starter and we are excited about that. I'm really proud of Kelly first of all," Swinney said. "If you guys (only) knew how precise we are in our grading and evaluation and the things we put these guys through. This has been a great competition. I'm really proud of all the guys because they are just good people. I love to see competitors and they all want to be the guy, but I love to see them happy for somebody else. It's been a really good spirited competition but this part of the competition is over and Kelly won it. Just that simple. He won it. Grades have to count. Everything matters and I'm really proud of him."
Swinney said the coaches have seen a different Kelly Bryant than the one that first stepped on campus.
"From when he got here he had a long way to go. He's embraced it and now he is really playing with a ton of confidence," Swinney said. "He is doing a great job of leading. So that is where we are. Zerrick (Cooper) will be number two, the first guy off the bench, and Hunter (Johnson) is right there. I mean they are right there together. Hopefully, we can get all three of those guys some playing time in the first part of the season. We've got no experience so that is an issue hopefully we can remedy as we go through the first month. It's going to be hard. We all know we have a tough schedule, but it is what it is. But I love the guys. I am proud of them as far as how they competed. Now we go to the next phase and that is now you get into the games."
Decisions have been made on most of the true freshmen.
"We still have a couple guys on the bubble. I think we have several that I think will play. The two receivers (Tee Higgins and Amari Rodgers) for sure will play. I believe A.J. (Terrell) will play on defense. Justin Foster - he's probably not ready to play, but we almost have to play him. We have to get him ready as the season goes just because we have talent at that position, but not much experience without having to move Christian (Wilkins) out (to end) and all that stuff. Losing (Richard) Yeargin was a big loss for us.
"He's a kid that if Yeargin was back, we would probably be able to hold him but with Yeargin out. You are sitting there and Logan (Rudolph) has a bum shoulder. Logan, right now, we are going to keep trying to see if he can go. I don't know. I don't how he will hold up. Hunter will play. Travis (Etienne). Probably hold those three offensive linemen. Blake (Vinson) is a guy we will probably keep with us for a little while. We just have a lot of versatility in our line, guys that can move. But we will probably keep repping him a little bit. He's one of those bubble guys that probably we will not make a final decision on until a little later. We're going to try to hold Chase (Brice).
"Jordan Williams – we will probably hold him but we are really excited about Jordan. He's playing a new position so it is a little bit of transition for him, but man, he is going to be a good player. Fast twitch. Hopefully, we can hold, but again this first part of the season you don't know because you have injuries and things like that. All bets are off. As of right now, we would like to hold him. LeAnthony (Williams) - we would like to hold him. He's another kid that he's going to be a great player. He just needs to get a little stronger and we've got good depth right now at the position. We've got two seniors at that position, as well. We don't want to waste a guy. If we're going to play one, we want to have a chance where we have depth and get him the type of work where he can definitely improve."
Freshman running back Travis Etienne has impressed in camp but is still fourth on the depth chart.
"He's fourth. C.J. Fuller, Tavien Feaster, and Adam Choice are all right there and they're ready to go and they're complete guys and I think we can go win big with those guys," Swinney said. "Travis is exciting because he runs like somebody is trying to kidnap him from behind everytime he gets the ball. He's desperate. He's so fast and has great vision, but he's still got to put it all together. He's a guy that's going to have some great opportunities as we go through the season. Whoever is the hot guy, that's where the ball goes, but I think all of those guys will have an opportunity."
Will Spiers will get the first crack at punter.
"Spiers will be our starting punter. He's won the job," Swinney said. "He's won the competition. He'll have the opportunity to go and be the guy. I'm proud of him."
*Position battles to be determined
"All of the spots in the secondary are a battle right now. We've got several jobs where it's who practices best," he said. Sean Pollard and Tremayne Anchrum have a great battle. They're going to both play starter snaps, but who runs out there first? You better have a good week of practice. Same thing at running back."
*Marcus Edmond was back at practice – in a green jersey – after battling a groin injury.

Upgrade Your Account
Unlock premium boards and exclusive features (e.g. ad-free) by upgrading your account today.
Upgrade Now

Tags: Clemson Football
,
Kelly Bryant
,
Tee Higgins
,
Amari Rodgers
,
Justin Foster
,
Jordan Williams
,
Travis Etienne
,
C.J. Fuller
,
Tavien Feaster
,
Adam Choice
,
Will Spiers
,
Sean Pollard
,
Tremayne Anchrum
,
Marcus Edmond