| | |
| --- | --- |
| Swinney: "We all live and die with this one all year long" | |
---
| | |
| --- | --- |
| Tuesday, November 25, 2014 12:16 PM | |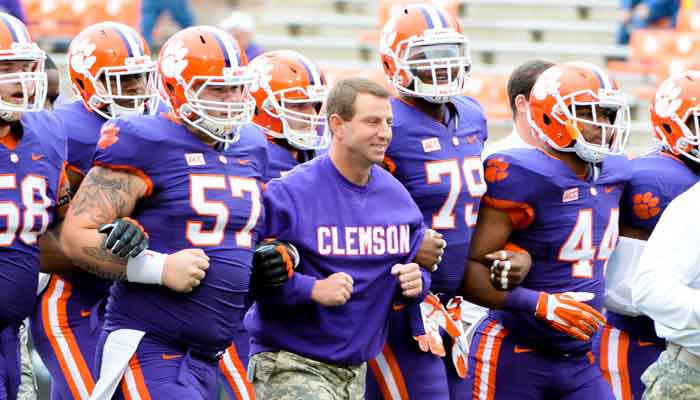 CLEMSON – Outside of taking time to give thanks on Thursday, Dabo Swinney

Dabo Swinney
Head Coach
View Full Profile is focused on one task this week. Beating South Carolina.
Fans think that Swinney doesn't understand the rivalry between Clemson and South Carolina but there isn't a day that goes by that Clemson's head coach doesn't hear about the Tigers five-game losing streak.
"Hard to believe it's the last week. I don't know where the season has gone," Swinney said during his Tuesday press conference in the West Zone. "It's been an incredibly fast year. Want to wish everybody a Happy Thanksgiving this week. Life is short. It's a blink of an eye for all of us. I know we are all living and dying with what's going on this game this week. Brandon Thomas

Brandon Thomas
Offensive Line (2009 - 2013)
#63 6-3, 305
Spartanburg, SC
View Full Profile ' mom passed away yesterday. He flew home from San Francisco and that certainly puts things in perspective. So take the time this week to say thank you.
"As far as South Carolina, it's obviously a big game for everybody. We all live and die with this one all year long. South Carolina is an excellent team. I don't think either one of us have the record that we want to have right now. They have had four very difficult losses that could have gone either way. A play here or a play there and they have nine or 10 wins – tough, close losses. Same thing with us with a couple of tough ones."
Swinney has heard from both Clemson fans and South Carolina and understands what it means to be a part of the Tigers and Gamecocks rivalry.
"Homes are divided. People don't speak to each other this week," Swinney said. "Schools are divided. Friends don't talk. It's bragging rights. Everybody wants to brag. Lately it's been lopsided and South Carolina has been on top. That's added fuel to it to even things out. I've been on both sides - and it's a lot better when you win. I've had people come up to me and say, 'I don't care if you go 1-11 just beat South Carolina.' But those are the people that are first wanting to fire you if you do that. So you can't please everybody. But it's obviously a season unto itself."
Swinney said he knew it wouldn't be easy when he took Clemson's head coaching job, but he's been the fortunate one to face South Carolina's best team.
"God never said it would be easy. I always say God never said 'oops.' For whatever reason God chose me to be at Clemson with the best South Carolina team in their history," he said. "Spurrier is a great football coach. To me what he's done at South Carolina is his legacy because of what you are saying. They've been really good. Everybody wants to get mad at Clemson and nobody wants to give South Carolina any credit. You know, we've lost to Florida State the last couple of years but everybody has lost to Florida State. They've been in the top 10 three years in a row. Give them credit. I don't like doing that but give them."
The countdown clock has been ticking toward the day when Swinney and his coaches and players can turn the rivalry in Clemson's favor and he said a noon kickoff just means the winner and loser will be decided sooner.
"We've talked about that before. That's something the coaches brought to me in the spring. It's not something that's ruined our six years but it's something that has to change," he said. "We wanted to remind everybody everyday about that game. It only comes once a year. It's a season to itself. When you lose this one - it never stops. It's something that everybody is really passionate about. It's an honor t be a part of such a great battle like this.
"Shoot man let's get up and play. That clock has been ticking for a year. Let's go play! Saturday night everybody is either going to be happy or really unhappy. We are going to go find out. It's great to be at home. I haven't looked at the weather yet."
No matter the kickoff time, though, Clemson will need to do the little things right – something that hasn't been done over the last five years.
"Biggest thing for us is just trying to finish. It's the last week," he said. "We have to do the things that give us a chance to win. Taking care of the football. Last five years we have had 15 turnovers to their 3. They've scored 62 points off those and we've haven't scored any. We've got to do the things that give us a chance. Sound in the kicking game. Take care of the football."
Despite losing the last five, Swinney said he doesn't focus on the negative but instead on what he can change and get his team to improve upon.
"I'm disappointed as anybody else," he said. "I don't sit around and just focus on the negative. That's the society we live in. A lot of people out there always focus on the negative and they are never happy. I don't do that because we have one major disappointment the last couple of years. We know the reality of the situation. To sit here and say that one game has destroyed what we've accomplished here at Clemson the last five years is disrespectful. You can't stick your head in the mud."
Other notes
On Deshaun Watson

Deshaun Watson
Fr. Quarterback
#4 6-3, 204
Gainesville, GA
View Full Profile 's health
"He practiced yesterday in a green jersey. We will put him with a normal jersey and he will practice with the rest of the guys (today). It really is a day-to-day thing. It's really a day-to-day thing. It's not a conspiracy. We just don't know. It's a situation we may not really know until game time. He's getting a little bit better each day. He had a new brace yesterday that he was more comfortable with. The speed of the game will be a little bit more today.
"As long as he can do what he needs to do to win the game, he's our starter. He's proven that. He's not going to be at 100 percent. He's just got to be able to do the things we need him to do to run our offense. He doesn't have to be at his 100 percent. To be honest, very few players are at 100 percent on both teams. He's got to be able to execute at a high level."
On South Carolina's offense
"Offensively - they are really good. They have great balance. They are scoring 34 points a game and have great balance. Dylan Thompson has had an excellent year. Very experienced. Understands their system. They have a stable of running backs. All of them can play. They've all had their moments for them throughout the year. Bunch of vets up front. They are pretty much all back from last year's game. Really talented offensive line. Their receivers – Nick Jones isn't really big but he plays big. They've done a great job this year with Pharoh Cooper - he's really become a featured guy for them. Playmaker. They run a ton of wildcat with Cooper. He's thrown touchdown passes. Dynamic player. They do an excellent job involving their tight ends. They can stretch the field on the vertical routes."
On South Carolina's defense
"Defensively, they are a young defense that has gotten better. They've given up 12 points and 20 points. They are playing with confidence. They only have three seniors on that side. Their defensive line is big strong, physically thick guys. Dynamic players at linebacker. Special teams can also impact it - like what we saw last year. We had two turnovers on special teams that led to two turnovers and that was the difference in the game."
On Tyshon Dye

Tyshon Dye
RS Fr. Running Back
#23 5-11, 214
Elberton, GA
View Full Profile 's performance
"When he got back to practice earlier this year it was the first time he's practiced since his first three practices of his freshman year. So you can't just throw a guy out there. He didn't even go through summer workouts this past summer. So he's been through a lot. It's taken him a good three weeks just to get him into football shape and just to get him confident in what he needs to do. He had a few missed assignments but he played well. I felt after watching him he needed a chance. We wanted to feed him. I told Tony [Elliott] that we were going to play him in the first quarter. We didn't really know what he would be able to do. But he continued to get better and better. We knew he would be a factor at some point. We've gained more confidence in him to be able to go out and play."
On if he thinks this will be the last time he coaches against Steve Spurrier
"Heck no. Man Coach Spurrier is going to coach until he's 100. My father in law is 70. My dad is 70. And they don't look like Coach Spurrier, I can tell you that. He's taken good care of himself. Plus he's got a good staff- good people around him. He's been there long enough where his system is in place. I hope not. I have to try to catch him before he gets out there."