| | |
| --- | --- |
| Swinney says Tigers should embrace being the favorites | |
---
| | |
| --- | --- |
| Wednesday, July 22, 2015 9:18 AM | |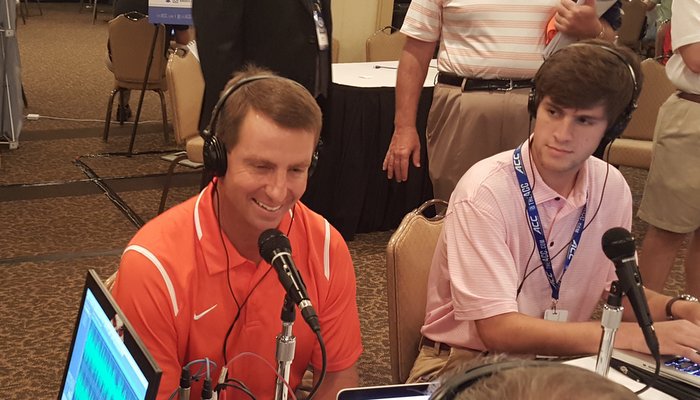 PINEHURST, NC – The ACC media voted Clemson as the preseason favorite to win the Atlantic Coast Conference Tuesday morning at the ACC Kickoff at the Pinehurst Resort, and head coach Dabo Swinney

Dabo Swinney
Head Coach
View Full Profile didn't downplay the pick.
Swinney said the Tigers are one of the teams that has a legitimate shot at a special season.
"Ya'll know my answer to that and I've been pretty consistent with my answer for a long time whether we're picked third, fourth or first," Swinney said. "I think the one interesting thing about nationally where we are - I think about every year I've been the head coach, we've finished higher than where we were picked except maybe once. Hopefully, we can meet the expectations that other people have. I think there are a bunch of teams that have a chance to win the league. I really believe that. I believe that we are definitely one of those teams that has a shot. Whether or not we should be first, that's for people to debate. Hopefully when it's all said and done, the people who voted for us, we can make them look smart. "
Swinney said the season could be special because of the presence of talented sophomore quarterback Deshaun Watson

Deshaun Watson
So. Quarterback
#4 6-2, 205
Gainesville, GA
View Full Profile .
"We're very fortunate to have a bunch of good players, especially one like Deshaun. He's a good player but he's just a great young man," Swinney said "He's fun to be around. He's consistent. He's always the same from day to day. He's a great preparer. He loves to prepare. He loves the process of being a good quarterback. He has a work ethic that's contagious and that's what we need from him.
"Last year he was trying to become the guy and this year he is the guy and we need him to assert himself that way from a leadership standpoint. He's done a great job of that this summer. Hopefully, that's what will be different about us this season - you've got that definite leader out there. He's a guy that doesn't expect anything from anybody that he's not willing to do. When your best player is also one of your hardest workers and best leaders, that's a good combination."
Watson was named as the favorite to win the ACC Player of the Year, and Swinney said Watson will have to have the breaks – no pun intended – Watson didn't receive last season.
"Hopefully, we catch a few breaks. We didn't get many breaks with him last year," he said. "The key is for him to be who he is and to execute within our system. He's prepared himself all year long to get back out there and get back to work. He's done a tremendous job in his rehab process and all of that. He's got to do a good job of taking care of himself."
Swinney then acknowledged that the Tigers will get the best shot each team has to offer.
"We're going to get everybody's best shot. We know that and that's how I prepare our guys," Swinney said. "There was a time when that might not have been the case. With what we've done at Clemson, we're not going to sneak up on anybody anymore. We're going to get everybody's best shot and that's why it's important that you - from a preparation standpoint and culture within the program - reinforce it. You can't say, 'Well, we're playing Florida State this week, so we're really going to have a great Monday and have a great Tuesday.' If that's your mentality, then you're never going to be consistent.
"I think that's the thing we've been done the best job of over the last several years. We've become an incredibly consistent program from week in and week out. I don't think we have anybody on our team that has a loss to anybody who didn't finish in the top-10. There's been a very consistent approach from our players week in and week out. They've come ready. You just can't overlook anybody. You better be all in every week because if you're not, you're going to get beat. It's that simple. There are too many good teams out there and too many people that are capable of beating you."
If the Tigers are to indeed play for the ACC title or even make a run at the College Football Playoff, Swinney said the Tigers will have to embrace the expectations and not shy away from them.
"I think that expectation has always been at Clemson. For me, it's trying to be a consistent program, continue to win at a high level and be one of the teams out there that people are talking about," he said. "The next step for us is that we have to get back to winning this conference. That's the thing, we've won the division, we've tied for the division, we've finished second for the division, we've won the conference, but we've got to consistently stay right there and I think we've done that but we've got to get back to winning this league if we're going to have a legitimate shot at being in the College Football Playoff. As far as expectations, it wouldn't matter what's on the roster, people at Clemson, they expect to win."
OTHER NOTES
Punt return and kick return
"Artavis is definitely a guy. The only new guy that will be in the mix is probably Ray-Ray McCloud

Ray-Ray McCloud
Fr. Wide Receiver
# 5-9, 175
Land O' Lakes, FL
View Full Profile . We pretty much have a good feel for who we want to work at punt return and kick return spots."
Tanner Muse

Tanner Muse
Fr. Linebacker
# 6-4, 205
Belmont, NC
View Full Profile
"Tanner just got there, so I haven't had a chance to get on the field with him yet, to really give you a good evaluation. I can tell you that we really like him as a prospect. He's an outstanding three-sport guy up here in North Carolina. He's a great baseball player. He's fast, big. I think he's got a bright future for us. He's done well the few weeks he's been there getting into our off season program. He's got a lot to learn."
Emphasis on South Carolina
"We've always put a huge emphasis on South Carolina. It's just when you win the game, it's easy to say, 'Well, they emphasized the game more this year.' That's bologna. We did not make it more emphasis. The only thing that changed was there was a clock put in a meeting room by the coaches. It wasn't to sit and talk about that game every day. It was just a reminder that, 'Hey, that game is out there.' We didn't prepare any differently. Our practice plan wasn't any different. There was really no change from that standpoint. It wasn't a weekly meeting. We just played better. We earned the win. The ones before, they earned. It's a simple as that."
Impact freshmen
"We've got a couple of those offensive linemen. They'll all get an opportunity to get in the mix. A couple of those young wideouts. Shadell Bell

Shadell Bell
Fr. Wide Receiver
#11 6-3, 190
Decatur, GA
View Full Profile came in in January. Deon and Ray-Ray just got there. Definitely a couple of those guys will have an opportunity to get in the mix. We've got some really good redshirt freshmen that will get their opportunity to step up - Trevion Thompson

Trevion Thompson
RS Fr. Wide Receiver
#1 6-2, 195
Durham, NC
View Full Profile , Kendall Joseph

Kendall Joseph
RS Fr. Linebacker
#34 5-11, 225
Belton, SC
View Full Profile - that I'm excited about. Mark Fields

Mark Fields
Fr. Cornerback
# 5-10, 185
Cornelius, NC
View Full Profile is a really promising young corner. It's hard to really give a true evaluation of that until I can get out on the practice field with them and see where they all are."
Kevin Dodd

Kevin Dodd
RS Jr. Defensive End
#98 6-5, 275
Taylors, SC
View Full Profile
"Kevin had a great spring. He's a guy that's kind of been laying in the weeds waiting on his opportunity, but he hasn't been just sitting idle. He's been working and preparing. He's been mentally preparing. He's been physically preparing in the weight room. I'm excited about Kevin Dodd. He's ready to step up and assume his opportunity. Kevin has prepared very well for his opportunity and I think he's going to take full advantage of it."
T.J. Green

T.J. Green
Jr. Safety
#15 6-3, 205
Sylacauga, AL
View Full Profile
"T.J. Green, last year was a big year for his development. He had a lot to learn as a safety but he has studied and improved. Athletically, we don't have a better athlete on the team. That's never been a question. As the season progressed, he improved. He had a big interception in the bowl game. I think that gave him a lot of confidence going into the offseason. He's an excellent leader for us. He's a quiet leader. He's as committed a guy as he is in the program."
On playing a game overseas
"Shoot yeah. I talk to Brad Brownell

Brad Brownell
Head Coach
View Full Profile about that all of the time. He gets to go to Acapulco and Turks and Cacaos and I get trips to you name it ACC. That's about the extent of it. I'd love it. I think it's a great opportunity for your team. I take my guys up to Lake Keowee and that's a huge experience. Some of these guys have never seen the mountains or the lake. I can only imagine what it would be like to take your team to a place like Ireland."