| | |
| --- | --- |
| Swinney: "No coulda, shoulda, woulda's" | |
---
| | |
| --- | --- |
| Tuesday, October 8, 2013 12:18 PM | |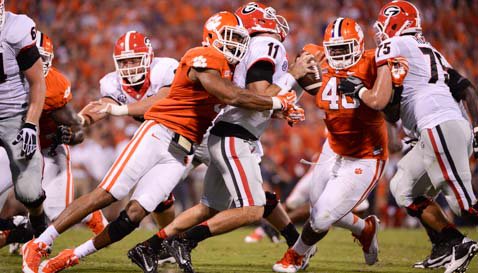 CLEMSON – "No coulda, shoulda, woulda's - Do what I can, while I can, so that when I cannot I will not wish that I would have when I could have."
Did you get all of that?
That's Clemson head coach Dabo Swinney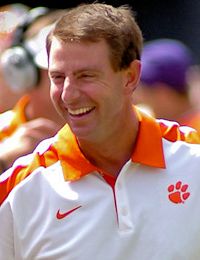 Dabo Swinney
Head Coach
View Full Profile 's way of saying focus on each and every opponent and don't take any opportunities for granted.
I think.
With a game against Florida State looming, Swinney was asked the ominous "how do you focus on Boston College question during his Tuesday press conference.
His response?
Florida State won't mean a thing if the Tigers don't take care of business this weekend.
"It's [Boston College] all we watch and see on tape," Swinney said. "You turn the tape on and they get your attention. They've been on the road already. If you don't play well, you'll get beat. Listen, this is the biggest game of the year. If you don't play well in this game, Florida State isn't the story next Monday. It's the biggest game of the year every single week. We have about 40 work days left for our players. That's taking off Sundays. In those 40 work days- that's going to determine this team's legacy. This team's post-season. And on and on and on."
The Eagles are much improved under first-year head coach Steve Addazio and it all starts with quarterback Chase Rettig, running back Andre Williams, and wide receiver Alex Amidon.
"Offensively, they have nine starters back," Swinney said. "They snap it about 61 times a game. Their quarterback is a guy we are very familiar with. He is a very good player, very efficient and smart. He manages the game for them and makes good decisions. Their offensive line - when you think of Boston College- is exactly what you think. They like to run the power and the counter. They have a bunch of a tight ends and fullbacks. Bunch of tight ends and sets. Really present some problems and you have to be sound.
"Their receivers - everybody talks about No. 83 [Amidon] and rightfully so. He killed us last year. Had almost 200 yards on us. He should be very confident playing against us. Their running back - leads the nation in rushing. He's the heart and soul with what they do. He's a very, very good player. As tough as a guy as we are going to play. We have to tackle him."
Clemson has given up big plays on the ground at times this season – including two last week against Syracuse – and Williams is capable of scoring every time he touches the ball; however, Swinney said that the mistakes are easily corrected.
"The issues we've had are very correctable," Swinney said. "We will always have mistakes. Wish we could have goose eggs every week and make every tackle but other teams have good players too. We aren't perfect coaches and we aren't perfect players. The mistakes are very correctable. On defense when you make a critical mistake you pay for it. Defensively I'm very encouraged. We are a totally different team defensively than we were this time last year (at Boston College). We will be fine. As long as we continue to improve."
The Clemson offensive line will have its hands full with a Boston College defensive unit that has 16 sacks this season.
"Defensively everybody is back," Swinney said. "They have 16 sacks - one of the best in the league at sacking the quarterback. No. 91 [Kasim Edebali] is as good as anybody we've played. He didn't play against us last year because he was hurt. He's a really, really good player. Very good player. No. 96 [Kaleb Ramsey] is another good player. Their two ends are active. Two physical guys inside.
"B.C. always has very good linebackers. They have two of the top tacklers in the ACC. They've got two starters back in the back-end. They are also different this year in their philosophy. It's a four-man front, but a lot more pressure than what we've seen in the past. Very unorthodox looks in the secondary. They do some very different things."
Other notes
Injury update
"Travis [Blanks] looked really good yesterday. I'm starting to get more hopeful about him. He ran great. Today we will have him do some cutting. Planting and cutting. Looked good this morning. Very encouraged. Ben Boulware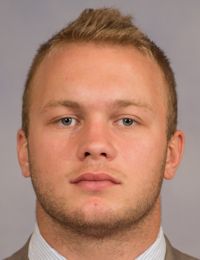 Ben Boulware
Fr. Outside Linebacker
#10 6-1, 230
Anderson, SC
View Full Profile is still a little sore. Martin Jenkins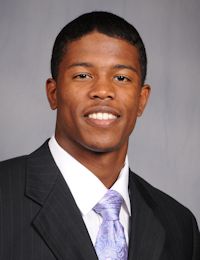 Martin Jenkins
RS Jr. Cornerback
#14 5-10, 180
Roswell, GA
View Full Profile - I expect him to be ready to go. Just a matter of what kind of swelling he picked up as a result of that surgery. He had that yesterday. Travis I'm more optimistic. Ben is questionable. Carlos Watkins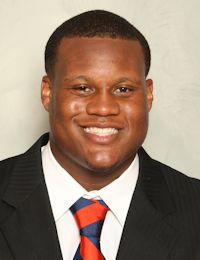 Carlos Watkins
So. Defensive Tackle
#94 6-3, 300
Mooresboro, NC
View Full Profile is still out. The biggest thing with Carlos, structurally he's fine. He picked up a massive bruise on both legs. They are trying to drain all that blood out of there so it improves his mobility. But he's not ready to stick his hand in the ground and go play football."
Spencer Shuey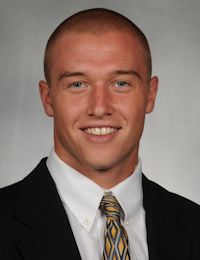 Spencer Shuey
Gr. Linebacker
#33 6-3, 230
Charlotte, NC
View Full Profile injury update
"It's kind of like what Spiller had. He's usually a little sore on Sunday. But it does get better through the year. He was better this Sunday than he was last Sunday."
On if he has ever had a player dictate playing time and what would happen
"No. I'm going to take the next question. I hope that never happens. I'm usually pretty in-tune with the injury report. On the same page with the trainers."
On the defensive line being the best since Swinney has been the coach
"We'll see. We've had some really good groups. We've had some good defensive lines in my 11 seasons here. This is the deepest for sure. In 2009 and 2010 we were really good. 2011 our first group was good. I think it's the deepest group. The most talented group. And the most experienced group. First time we've had all three of those things in the right order. We'll see."
On the defensive line and Grady Jarrett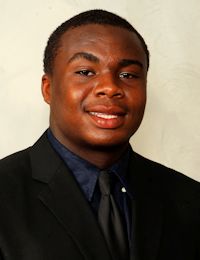 Grady Jarrett
Jr. Defensive Tackle
#50 6-1, 290
Conyers, GA
View Full Profile
"Probably biggest improvement in the defensive line is that people now know some of their names. I did a radio show with Eddie George and he travels around and he's talking about Tajh Boyd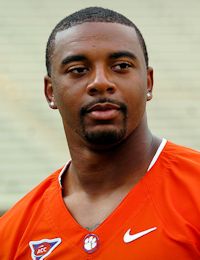 Tajh Boyd
RS Sr. Quarterback
#10 6-1, 225
Hampton, VA
View Full Profile . I asked him if he could name one defensive linemen. He couldn't. Not one guy. On our entire defense. Nobody knew who they are. Now they do. That's the first time anybody talks about Grady. Everybody knows Vic (Beasley) now. He's got nicknames. They are a blue collar bunch that is very unselfish. They take a lot of pride in what they do. But Grady is the heart and soul of their defense. Relentless in his preparation. Relentless in his effort. He made a play in the game the other night, and we stopped the tape, the quarterback got loose and scrambled, Grady got cut, flies around and throws his body to make this tackle. That's Grady Jarrett. He's that way everyday. Plays with a chip on his shoulder. He's really become a great leader for us."
On Vic Beasley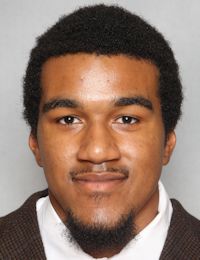 Vic Beasley
RS Jr. Defensive End
#3 6-3, 225
Adairsville, GA
View Full Profile
"Confidence. Experience. Development. He got serious about it. He had a little bit of success. It's amazing what a little bit of success will do for somebody. That's the best part of my job. Seeing a young person mature, develop and recognize his potential. It's better than any pay check. Any win. Anything. He's figure the game out. Figured life out. That never gets old. He's captain this week. He had some success last year and bought in. Marion Hobby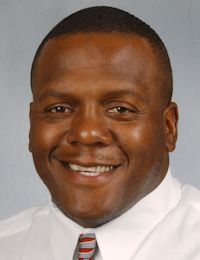 Marion Hobby
Assistant Coach / Defensive Ends
View Full Profile has done a great job. He's as good as a coach as we've had on this staff and as good as you'll find in the country. The big thing with Vic is he used to be a third down guy. Now he's an every down guy. He's really disruptive in the run game just as much as he is in the passing game. He's got great length. And his quickness and athleticism make him special."
On the college football playoff selection committee
" [Clemson SID] Tim Bourret gets my vote. Then you can count on Notre Dame being in the top four. That's the only problem with that. Somebody that pays attention to the game. Knows the game. Studies it. Knows their stuff. Is passionate about getting it right. Personally, I never understood why we didn't keep what we had. The BCS. Here's the top four in the BCS and roll with that. Keep the people out of it. I like a lot of the people they got on there. Would love to be a fly on that wall when you get down to it. We'll see.
"You definitely need to have a mixture. Heck Chad Morris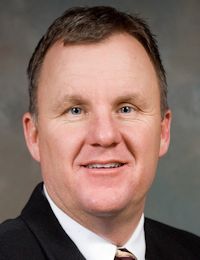 Chad Morris
Offensive Coordinator / QBs
View Full Profile didn't play college ball and he's a pretty good coach. That stuff is a little overrated. If you are passionate about something and you study it and you do your research, you know what you are talking about. Excited [Clemson AD] Dan Radakovich is on it [being mentioned as possible candidate]. He's got a great skill set for it."