| | |
| --- | --- |
| Swinney: "I'm just so proud of our team" | |
---
| | |
| --- | --- |
| Friday, January 1, 2016 11:34 AM | |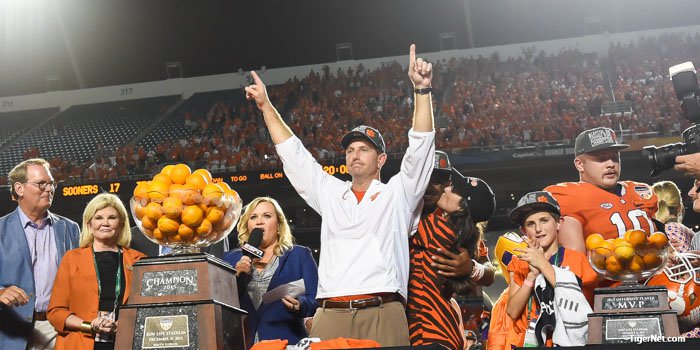 Dabo Swinney always knew the Tigers would get to the top of the college football world. It was just a matter of when.
"Seven years ago when I got this job, I knew that we would be here," Swinney said after the game. "It was just a matter of when. This is year seven, and we were able to kind of knock the roof off of it, win another ACC Championship, and when you win our league, you've got a chance to play for it all, and so here we are."
The Tigers didn't play a perfect Orange Bowl game – not even close – but they got the win and will be playing for their second National Title on January 11.
"You know, that's 17 in a row for us. That's the longest winning streak in the country and we've played a lot of good teams in those 17 games," Swinney said. "I'm just so proud of our team for their willingness to be coached, their willingness to prepare each and every week, each and every game. The mindset and mentality that they come to work with – because it's special. It's uncommon. That's what I tell them all the time. When you do the common things in uncommon ways you command the attention of the world."
Clemson officially has the attention of the world, and the team's leaders were still clicking following the final game whistle. Though Clemson came into the game undefeated and ranked number one, many people doubted their talent and had chosen Oklahoma to win. Swinney and his team seemed to be alone in believing they had what it took to get to the next level.
"These guys are amazing. I mean, again, it's one thing to have a talented team. It's another thing to have a talented group of guys who care about each other and want to serve each other and will let you coach them, and these guys are amazing," Swinney continued.
Watson added, "It's a family here. You know, all the hard work, especially over the summer and spring, just putting in the grind and waking up at 5:30 in the morning to go to the weight room and just go out there and sweat and put in the time to get to moments like this. We just serve each other, support each other, and just really love each other, and you know, if we do that, no one can break through us. As a unit, it's tough to beat us when we're all on the same page and have each other's back."
Though the Tigers dominated the second half of the game, the first half wasn't without its own highlights. One of the biggest plays was a fake punt on Clemson's first drive. After receiving a lot of harsh criticism following his impromptu fake during the ACC Championship game, Teasdall perfectly executed a play that would eventually lead to points for the Tigers in the Orange Bowl. His pass to the unassuming defensive tackle Christian Wilkins was a surprise to everyone.
"We shocked them, didn't we? Ain't nobody covering that big ol' guy," Swinney joked.
"It was a great play, and I thought a spark that we needed. I felt like we were a little stagnant right there, a little tight, and we needed – I wanted to send a message to the guys, listen, we're here to play, and let's cut it loose. So it worked out. If it hadn't, probably would have been a bad call. But it went our way, and I'm glad it did."
Now as the Tigers prepare to face Alabama in the National Title game they'll continue building on the strengths that were evident against a talented Oklahoma team. People are no longer discussing all of the impressive players Clemson lost following 2014's Russell Athletic Bowl. The up-and-comers have made their own statements this season.
"If you just look from last year to this year, because we lost all the guys in the trenches on both sides, but yet we were able to stop the run and we were able to run the ball at an incredible pace. So I'm really proud of those guys up front."
And Swinney isn't surprised at the depth on his team. With all of Clemson's successful recruiting efforts, this talent was anticipated.
"Everybody wants to talk about who's left and what you don't have. Sometimes you have addition by subtraction. I mean, I don't get caught up in all that. I worry about who we've got. Vic Beasley is the eighth pick in the draft, and oh, my God, what are we going to do? And I'm like, we've got a guy named Shaq Lawson, he's pretty good, we're going to be okay. And you go and recruit some of these other guys, that's what makes college football so much fun."
In 10 days Clemson will face Alabama for its biggest football achievement since 1981. Swinney seems to have found the key to success, so now everyone just has to stick to the plan.
"My message to them is you know what happens when we take the lead in the fourth quarter. Since 2010 we're 51-0. These guys finish. We know how to finish. We're 51-0 when we take the lead going into the fourth quarter," Swinney said.
However, first the Tigers are going to enjoy this win and take some time off. It's up to the coaches to get back Monday and start planning for what the team will face, but for now everyone will need to take a break and recover.
"We'll worry about Monday when it gets here. We're worried about enjoying the moment, ringing in the new year, celebrating this win, and then we've got 11 days, and as coaches we'll start that process tomorrow.
"We'll enjoy this but then we'll fix our eyes on what's next. Shouldn't be real hard to get guys ready to play for the National Championship. This is it."