---
| | |
| --- | --- |
| Thursday, December 25, 2014 4:16 PM | |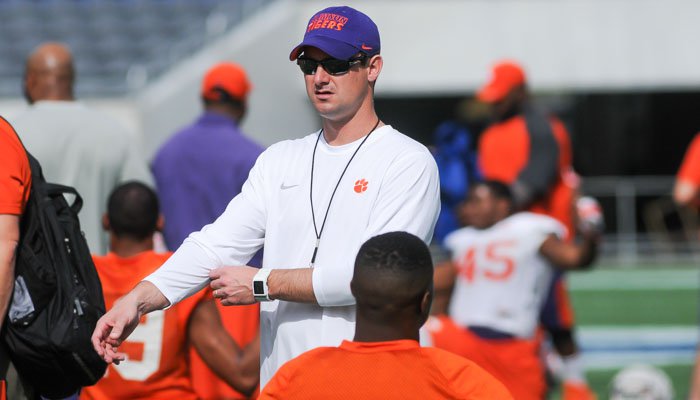 ORLANDO, FL – A college football team is a support system in and of itself but Jeff Scott

Jeff Scott
Asst. Coach (WR) / Recruiting Coord.
View Full Profile doesn't have to leave the Clemson football office to seek the guidance, support and advice that young coaches often seek.
Clemson's newly appointed offensive coordinator has had a frenetic couple of weeks – wrapping up his duties as recruiting coordinator, visiting recruits during the contact period and working with the other half of the offensive coordinator tandem, Tony Elliott

Tony Elliott
Assistant Coach / Running Backs
View Full Profile , to reenergize Clemson's offense and formulate a game plan as the Tigers prepare to take on Oklahoma in the Russell Athletic Bowl in just five short days.
However, Scott told the media following Wednesday's bowl practice at the Citrus Bowl stadium that it's the four or five minutes each day that he takes to sit down and pick the brain of his dad – longtime coach Brad Scott
Brad Scott
Assistant Athletic Director
View Full Profile - about the coaching profession or whatever the topic of discussion may be that have been his most valuable asset during his transition from receivers coach to co-offensive coordinator.
"It's always. It's constant. It's not just this situation but all of the time," Scott told the media. "It's really not like I go sit down in the office and have an hour long talk. It's really just those three to four minutes almost every day that I'll be able to catch him. I feel very blessed to have that opportunity at this stage in my coaching career. To have my dad as a great resource is very, very valuable. I think it's helped me to get to where I am today, having his influence the whole way through. It's definitely nice and obviously when all of this was going on we talked about it. It's something we had really been looking forward to over the last couple of years."
Brad Scott serves as the liaison between the Clemson football office and high schools to help recruits finalize eligibility and enrollment into the university, but before taking an administrative role Scott was the offensive line coach at Clemson for 12 seasons, Clemson's offensive coordinator for three years (2001-2003), head coach at the University of South Carolina (1994-1998), and an assistant coach under Bobby Bowden at Florida State from 1983-1993.
It may be the one piece of advice that had absolutely nothing to do with football, however, that has made the biggest impact on Scott's coaching career.
"Probably the best piece of advice is to do a great job at the job that you have," Scott said. "It's easy as young coaches to think about what's next - the next opportunity. If you're not careful, you get distracted chasing all of those. His biggest advice to me is if you do a great job with whatever you've been asked to do then eventually you're going to have an opportunity to move up. That's something that I've really tried to do in my career. Whatever my job was as a graduate assistant - making coffee - make the best coffee I can make. Then moving up and coaching wide receivers and being recruiting coordinator, I think that when you do a good job with whatever you've been asked to do people see that and eventually you get more responsibility."
Getting a promotion and added responsibilities can be both mentally and physically draining on person and their home life, but Scott said that working for a head coach like Dabo Swinney

Dabo Swinney
Head Coach
View Full Profile who values time and family makes his job a little easier.
"The best part about it is working under Coach Swinney," he said. "He's a guy that wants balance. It's very easy to get caught up and be a grinder in this profession but really when you're head coach is a guy that's really challenging you to keep balance and get the work done that we need to get done but don't waste time, it makes it a lot easier on your home life."
Scott's support system away from the confines of the football offices is just as good with his wife Sara, who has been around the football life since the two were dating.
"She's been great. The advantage she has is that we dated for three years while I was in college and so she spent a lot of time around my mom," he said. "My dad was on the field coaching and she stayed behind and watched games with her whenever we were on road trips. She kind of got to experience that firsthand of what it's like. I'd say the last two weeks I've been going home a little bit later than probably the last four years but she's been completely supportive of it. She understands the coaching profession and that are stages that you go through. When you add opportunity you also add responsibility and it's just part of it."