| | |
| --- | --- |
| Superman states his Heisman case on the field in rivalry win | |
---
| | |
| --- | --- |
| Saturday, November 28, 2015 5:37 PM | |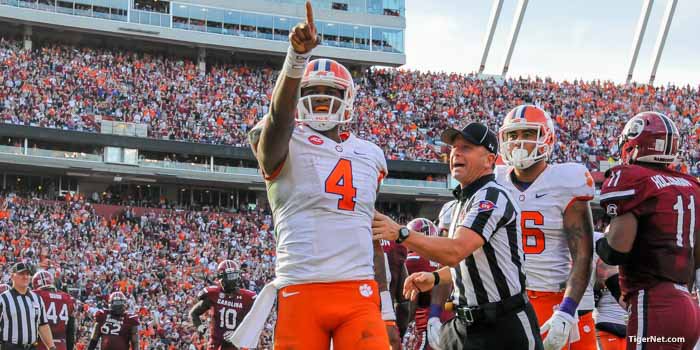 COLUMBIA, SC – Every player, coach and spectator took notice of Deshaun Watson Saturday afternoon as he put on a performance for the ages, but Clemson's sophomore quarterback is more focused on his team's goals rather than personal accolades.
The difference for Clemson in Saturday's 37-32 victory over South Carolina at Williams-Brice Stadium is that the Tigers had Watson on their side, as he made his case as the nation's best player.
The gameplan for Saturday was to put the ball in Watson's hands, and he completed 20-of-27 passes for 279 yards and a touchdown and added 21 carries for 114 yards and three scores.
Co-offensive coordinator Tony Elliott said he's not sure what the Heisman Committee looks for, but his quarterback certainly deserves to be in the conversation.
"I tell you what, he is an awesome young man and an awesome competitor," Elliott told the media after Clemson's win over archrival South Carolina. "We told him we were going to put the ball in his hands. We believe he is the best player on the field and the best quarterback in the country, and he continues to produce. It seems like the hotter the fire, the stronger he gets. I'm just excited for him and his opportunity.
"I don't know what the criteria is for those guys to make decisions, but I am going to give him my vote as the best player in the country. He goes in week and week out, and he can beat you running the ball or he can beat you with his arm. He makes good decisions. He didn't have any turnovers in the air, even though he did have the one fumble. He's a complete player - the best quarterback in the country. But that's for them to decide, but I know I am happy he is on my team."
Tight end Jordan Leggett said Watson's performance "ridiculous."
"It was definitely ridiculous. All of the jumping into the endzone and whatnot, it was some superman type thing that he loves to be," Leggett said. "He balled out today, and he showed up when we needed him."
However, in true Deshaun Watson fashion, he was more interested in talking about his team's accomplishments rather than his own.
"It's fun. It's what we work for. It's what we play the game for. That's why you get that adrenaline rush," Watson said. "It's all about the competition. When it's crunch time, we came out with the big plays. I'm always relaxed. It's a blessing to be out here. It's a blessing to have the opportunity to do this. I came here to show off my skillset and show what I can do."
More than his numbers, Watson prides himself on making plays when his team needs them the most, something he's been doing for as long as he can remember.
"It's just the type of person I've been since I was little," he said. "I know what I'm doing so there's really no pressure to the game. I'm just out there out having fun, making plays and doing what I can do. I know my skillset so I'm just out there enjoying it."
While Watson is having fun on the field and making play after play, people from all over the country are taking notice, but he's not focused on making it to New York for the Heisman Trophy presentation; he's just looking forward to getting win number 13 in Charlotte next Saturday.
"That's the committee and all of the voter's choice. I'm just here for the ride. If I get invited, then I'll be excited, but it is what it is," Watson said. "I'm just trying to be 13-0 next week and keep pushing forward this week. It would mean a lot. It's been one of my goals to get there one day and try to win it. Right now, I'm just letting everything flow, control what I can control – that's the way I play and prepare and lead this team. I just have to keep doing that week in and week out and everything else will take care of itself."